Analysis
The Marlins Created Their Own Tailspin
A make or break offseason looms for the Miami Marlins front office.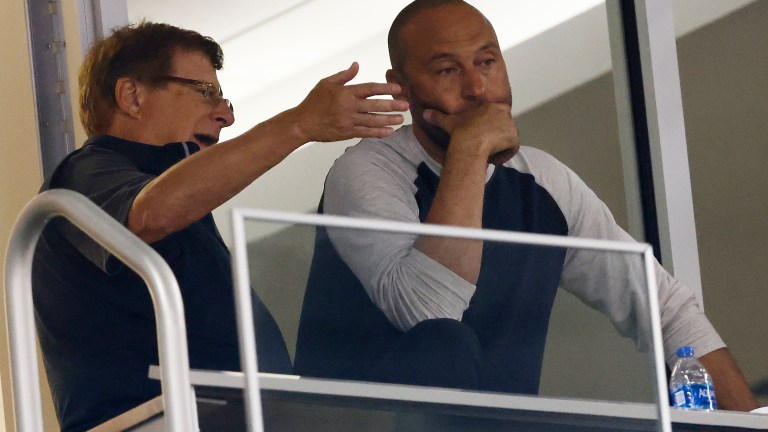 The last 24 hours of Miami Marlins baseball has provided enough ammo to sum up the misguided, and at times, inexplicable nature of the franchise's decision making. To boil it down, the team lost a game because Manager Don Mattingly went to reliever Anthony Bass with a four run lead in the ninth inning while a catcher manned left field.
Bass has a 15.00 ERA in the 9th inning this season, yet the Marlins continue to deploy their lone multi-year signing from the offseason in those situations. In what was a wonderful microcosm of malpractice, Bass was yanked after walking a batter and giving up a two run shot. Dylan Floro, who should've been the guy to come in initially, was not effective in cleanup duty either. Ultimately, Michael Conforto would slap a base hit to Jorge Alfaro, who for some reason was still in left field, but Alfaro kicked it and bobbled it before making the throw home. While this one can't be scored a passed ball on Alfaro, the error allowed Javier Baez to score all the way from first. On a routine single.
In a lost season, the Marlins have opted to move catcher Jorge Alfaro to the outfield in order to provide more at bats for recently acquired catcher Alex Jackson. Prior to this experiment, Alfaro had not made a single start in the outfield dating back to the beginning of his professional career. On the surface, the move could possibly make a tiny bit of sense if you squint really hard.
Alfaro has long struggled defensively, leading MLB in passed balls, but is a really good athlete with a cannon for an arm. The counterpoint is that Alfaro is not a great hitter, posting a 90 wRC+ in his career, with MLB's highest swinging strike percentage in the last two decades. At the end of the day, the Marlins are 23 games under .500, so if they really want to be 100% sure on Alfaro before heading in another direction, I can somewhat accept that. The problem is, the Marlins are simultaneously making bizarre moves that a team focused on longterm development shouldn't make.
While the Marlins are performing experiments on the baseball field, first base prospect Lewin Diaz has been thrown back and forth from Triple-A Jacksonville like a rag doll. Diaz has now been called up just to be sent back down on four different occasions this year. If the Marlins were in win now mode and needed Diaz in those moments as a fill-in, it could maybe be understandable in a year of chaos, but as the team is losing games due to continuously rolling out ineffective relievers in leverage situations and catchers in left field, then it is only fair to ask, what is the point of doing this to Lewin Diaz's development? It's a bizarre juxtaposition.
Marlins GM Kim Ng has said herself that calling Lewin Diaz up is "not ideal", citing a desire to see him get steady at bats in Triple-A. That was back on June 9th. The team has made the same "not ideal" move twice since. Diaz has understandably struggled in his sporadic big league at bats, but has been red hot in Triple-A when he is playing every day. In August, Diaz slashed .338/.433/.623 with six homers and a minuscule 13% K-rate. I'd argue the soon-to-be 25-year-old is ready for baseball at the highest level, but if the Marlins don't feel that way (made evident by today's move to send him down), then just let him keep rolling in Triple-A.
The Three Man Rotation
In the Marlins defense, the team's rotation was bit by the injury bug this year. Sixto Sanchez missed the entire season with a shoulder injury, Elieser Hernandez has missed a majority of the year. Pablo Lopez and Trevor Rogers have more recently missed time, but the issues stem way before that. The Marlins knew that they would be without Sanchez for the start of the season and Hernandez went down in his very first start of the year.
The Fish opted to roll with a three man rotation while the team awaited the return of its two young arms, shuffling a revolving door of prospect auditions and bullpen games. Back in June, Marlins pitching coach Mel Stottlemyre Jr. said that the team was looking for outside pitching help. That help never came. The Marlins have had 18 different pitchers start a game for them this season, yet only four pitchers have made more than seven starts: Sandy Alcantara, Pablo Lopez, Trevor Rogers, and Zach Thompson.
That doesn't quite sound like a team that was supposed to be "pitching centric" as Marlins GM Kim Ng described it. Especially when you consider the shortcomings of the Marlins bullpen as well. Injuries are an unfortunate reality of baseball, especially with pitching, but the complacency in addressing those injuries doesn't match the message being perpetuated from the team's front office. A message that implies a desire to be competitive in the present.
Endless Opportunities
I briefly touched on the Marlins continuing to roll out reliever Anthony Bass despite his massive struggles, but that is just the tip of the iceberg. The Marlins have shown an unrelenting desire to give players acquired in larger deals endless at bats and opportunities. Especially Isan Diaz (acquired in the Yelich deal) and Jorge Alfaro (acquired in the Realmuto deal). I've already touched on Alfaro, and the Marlins not investing in a viable back up after not playing Alfaro at all in the postseason is just irresponsible.
With Isan Diaz, the Marlins have long had hope for him. He has shown flashes of his potential in the Minor Leagues, but is a .181 career hitter in nearly 500 PA's. Diaz along with Alfaro, Magneuris Sierra, and Sandy Leon have combined for a WAR of -1.8 in a combined 334 games. Players with a negative value account for nearly 20% of the Marlins at bats this year.
Meanwhile, the Marlins have infielder Bryson Brigman enjoying a career year in Triple-A Jacksonville, slashing .294/.369/.425 (115 wRC+), with the ability to play the entire infield, and above average speed. Not only have the Marlins refused to call up the 26-year-old prospect, the team has even opted to promote journeyman Deven Merrero when Diaz has been hurt instead.
Coming into the season, the Marlins opted to part with outfielder Harold Ramirez in favor of Magneuris Sierra and Lewis Brinson. Ramirez's defensive limitations were likely the justification for the move, but Sierra and Brinson are both glove first guys. Why keep both?
Ramirez wound up being claimed by the Cleveland Indians, where he put up solid offensive numbers before injury. In fact, in a span of 12 at bats, Ramirez matched Sierra's RBI total for the entire season (5 RBI in 203 PA's). Rather than wheeling out Magneuris Sierra several times a week when you already know what you are going to get, it could make sense to bring up a player like Brian Miller, who has an identical profile, to see what he can do. After all, the Marlins have somehow ended up with a bench so thin on multiple occasions, that former reliever John Curtiss has had to pinch hit.
What's Next?
After a playoff appearance in a shortened season, I don't think fans were expecting a return to the postseason this immediately. However, fans were expecting some sort of action and a clear plan. They got neither. The team did little to nothing in the offseason, with the most impactful acquisition being Adam Duvall, who was later traded to the division rival Braves. The team invested little into its bullpen and has blown as many saves as nearly any team in baseball. The front office didn't address a catching situation that it knew was dire and has had the lowest catcher WAR and wRC+ of any team in baseball. The front office said that it would focus on not blocking prospects, but has shuttled Lewin Diaz between Jacksonville and Miami in every single month this season.
It's hard to follow a franchise that doesn't even know where it is headed itself. The thing is, the Marlins have done a great job of accumulating pitching talent, and there is a way to attain success in the near future. However, if the way the franchise has handled this season on and off the field is an indication of what the future looks like, it is understandable why fans still have little optimism for the future despite the team's enviable amount of young assets.
The 2022 offseason is a make or break one for this ownership. Leading into what would be season five of the Jeter and Sherman group, a tangible effort to compete needs to be demonstrated. Words have not met action, and trust is being lost. After more than doubling its television deal, selling name rights to the stadium, and clearing money off of the books, the team needs to make impactful moves. That doesn't mean signing Trevor Story, but Corey Dickerson isn't going to cut it. Anthony Bass can't be the only multi-year deal you delve out in an entire offseason, and you have to be willing to take the loss and move on from players you were wrong about. If not, the only difference between the last two Marlins ownership groups is a famous CEO.