Analysis
What's Holding the Angels Back From Winning the World Series?
The Angels are off to great start, but there are still holes that exist on this roster that need to be addressed if they want to win a World Series in 2022.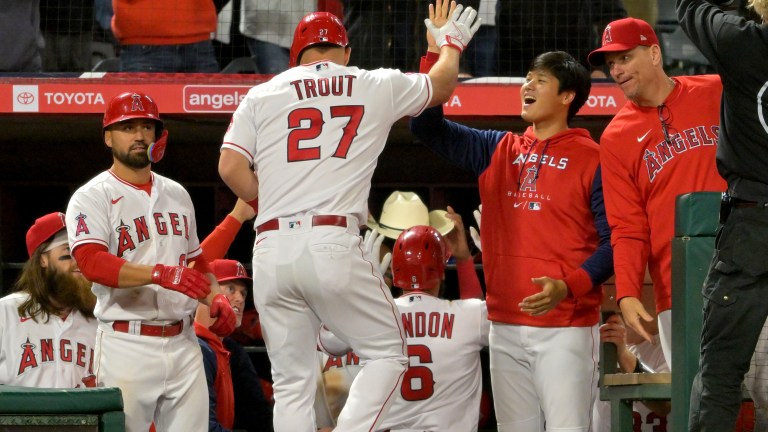 The Los Angeles Angels are slowly becoming my personal favorite team in baseball. Being able to showcase the talents of Mike Trout and Shohei Ohtani is generational, and they're finally starting to put it all together.
Sitting at 27-17, second place in the AL West, this might be the most talented team three-time MVP Mike Trout has been on over the course of his twelve year career. The last time we spoke, the Halos' commanded a division lead in the AL West. Since then, Houston has been the hottest team in baseball, toppling LA and taking a one game lead as of today.
Los Angeles has seemingly formed into a playoff-contending baseball team. For a squad that always had the potential to be something great, they're succeeding in 2022.
The emergence of right fielder Taylor Ward, locks down one of the corner outfield spots. Outfielder Brandon Marsh is also now fully operational over there in left field, accumulating a respectable 120 wRC+ in his first 39 games this season.
Star third-baseman Anthony Rendon is starting to come back to form, racking up a higher WAR total than phenom Shohei Ohtani at 1.2. Angels' pitching has drastically improved in 2022 with the addition of Noah Syndergaard. Also with the three-headed monster of Ryan Tepera, Aaron Loup and Rasiel Iglesias in the pen, late wins are hard to come by against this team.
While the Angels are oozing with talent, there are still issues that remain with this roster. If the Angels truly want to conquer MLB, these holes need to be filled instead of ignoring them. Star power can only get you so far in this league. The best teams in MLB have full, complete rosters that are filled with dependable players day in and day out. Trout and Ohtani are great, but this team won't succeed without the right pieces around those two generational superstars.
So, let's dive into the holes this Angels roster has, and how they could possibly be fixed.
Areas of Strength
With a team that's been so successful this season, naturally there are multiple positions that aren't in need of adjustment. Catcher, first base, second base, third base, and all of the outfield positions are solid at the moment. There you'll find reliable starters like Jared Walsh at first base, and superstars like Mike Trout and Anthony Rendon. Oh, and the designated hitter's position is alright I suppose, with the monster bat of Ohtani occupying the spot.
Catchers Max Stassi and Kurt Suzuki do serviceable jobs behind the dish. Luis Rengifo has done a decent job filling in for the injured David Fletcher, posting a .370 on base percentage in his 14 games this season. And the corner outfield spots occupied by Ward and Marsh, as previously mentioned, are both giving phenomenal production.
Now, let's dive into the two true holes I believe this team possesses.
Starting Pitching
While it seems incredibly redundant to continue to harp on the Halos' lack of starting pitching, it's still an issue. Ohtani, Syndergaard and Patrick Sandoval combine for a nice front three. Michael Lorenzen has also been a nice surprise, pitching to a 3.05 ERA over seven starts.
And hey, even rookie starting pitcher Reid Detmers threw a no-hitter against Tampa Bay just a week ago!
The bottom line is, you can never have enough starting pitching. Sure, the level of production Los Angeles is getting from their starters is good. But is it sustainable?
Obviously Ohtani will shove no matter what, Sandoval seems to be putting it all together in his fourth big league season, and if Syndergaard stays healthy he will continue to succeed.
Granted, this is a much-improved staff as compared to previous years. The organization was forced to see Andrew Heaney walk out every fifth day and consistently be torched by opposing batters. It's a clear improvement on their previous construction and must be applauded.
Maybe I'm being a little over dramatic about the situation at hand. With the fourth-best starter ERA at 3.06, this staff has been excellent!
But let's make it even better. I want to turn into a World Series contender here!
Trade for Cincinatti Reds starting pitcher, Luis Castillo
Luis Castillo and the Angels have been linked for some time now. The 28-year-old has a year of control following this season, and has been floating in trade discussions ever since this past offseason. Following the Reds' complete firesale after the lockout, many thought Castillo would already be donning a different uniform. But he remains with the Reds, currently.
But he'd be perfect for this Angels team.
Recently back from injury, he hasn't necessarily hit the ground running, posting a 4.60 ERA in his first 15 innings in 2022. But improvements will come, and he will transform into the solid arm we've come to know him as.
Truly one of the best ground-ball pitchers in the sport, Castillo has consistently put up a ground ball rate of over 50% during the past three seasons. He even led the league in that stat last year with 56.6% of hitters mashing balls into the dirt against the Red. Striking out nine hitters per nine innings, he is a very effective pitcher.
Castillo's FIP of 3.75 and xFIP of 3.63 show signs of unluckiness as compared to his 3.98 ERA from 2021. Going from a Reds team that has posted a -13 DRS thus far in 2022 to the Angels, who have saved 10 runs as a defense this season, should help out.
With a four-pitch mix including a sinker, four-seam fastball, changeup and slider, he brings it all to the table. This move not only solidifies the Angels rotation even more, it makes them even better than previously constructed. Noah Syndergaard is relying even more on ground ball percentage as compared to before, when he was a complete power pitcher. Castillo provides the same type of strategy once he takes the mound.
Adding Castillo would be the perfect addition to this group and could prime them for a serious playoff push.
Shortstop
This final position of need I personally have stakes in. As a New York Yankees fan, I was able to watch shortstop Andrew Velazquez play the final 28 regular season games at the position following Gleyber Torres' struggles defensively.
Gleyber was one of the worst defensive shortstops in the game during 2021, posting a -8 DRS. Lower than guys like Xander Bogaerts, Fernando Tatis Jr., and Dansby Swanson, change was needed.
And while Velazquez improved the defense, it wasn't anything spectacular. Posting a 0 DRS and -4 OAA in his 28 games in pinstripes, it was odd that Yankees fans were clamoring for him to be the shortstop of the future, especially with a slash line of .224/.235/.358 with a 57 wRC+.
It was a great story, yes. Being from the Bronx and able to make appearances as the New York Yankees starting shortstop was a dream come true for Velazquez. But these kinds of performances weren't worthy of recognition, quite the opposite actually. Yankees general manager Brian Cashman clearly had the same mindset, as Velazquez was DFA'd this winter. Los Angeles took a flier on the 27-year-old, and he's appeared in 37 games for the Halos in 2022.
Velazquez has begun to show his defensive prowess this season, posting a DRS of 8 in his appearances thus far. But the bat has been downright poor once again, slashing .198/.260/.297 with a 64 wRC+. Not great!
The Angels also acquired former Yankee Tyler Wade in the offseason, who is a solid bench/utility option, but not an everyday player. And 2020 breakout star David Fletcher seems to have fallen off a cliff since then, after not being able to post a wRC+ above 70 the past two seasons. With a stint on the 60 day IL, it seems unlikely we'll see Fletcher anytime soon.
So, where do the Angels go from here?
Gauging Shortstop Solutions
Los Angeles isn't begging for a new shortstop, with Velazquez occupying the nine-hole in their current lineup. The answer to this question seems to lie outside of the 2022 season, and probably onto the offseason.
Velazquez is fine with the Angels, for now. His elite defense is providing success to the Angels, sort of like a new age Andrelton Simmons. But following this season, I wouldn't be shocked if they moved on from him or gave Fletcher another shot over there.
If L.A. wanted to dip their feet into the shortstop free agent market, last year was the year. With the "Big Five" free agent shortstops coming off the board, you might consider it as a missed opportunity.
However, maybe there's a possibility the front office was looking towards this upcoming offseason, with a decent crop to pick from at the position.
Last week, I suggested the possibility of the Atlanta Braves swapping Dansby Swanson for Xander Bogaerts if Boston continued to struggle. Well, Boston is now steaming hot, 7-3 in their last 10. So the idea of that being a possibility is slowly fading away.
The Angels are another team we could suggest that would be in the trade market for Bogaerts. But with the lackluster defensive repertoire he brings to the table it doesn't feel like a great fit.
Names like Trea Turner, Carlos Correa (Assuming he opts out), Tim Anderson, and Dansby Swanson highlight the 2023 free agent shortstop class. In a perfect world, it would be incredible to assume that the Angels would jump on one of these guys to fill out that hole. But does it make sense?
With the need to lock up superstar Shohei Ohtani on a long-term contract, re-signing Noah Syndergaard, and already being tied up with Rendon and Trout's contracts, the possibility of the front office shelling out more money to another superstar might be out of the cards.
In all honesty, I don't think the Angels have many options to fix this issue. With Velazquez, Wade, and Fletcher on roster, it's hard to see a world where they make a larger play. For now, they have a good defensive shortstop with a negative bat. He is still providing value to an Angels team that was flawed defensively in 2021.
With an already loaded roster, the Los Angeles Angels really have two holes that need to be addressed. The plethora of talent on this roster should be able to get them to the playoffs. However, improvements could still be made to make this a true World Series team.