Analysis
Angels Enter Crucial Phase of Schedule After Pre-All-Star Skid
There is a whole lot more at stake than playoff positioning for the Los Angeles Angels as they kick off a nine-game homestand out of the All-Star break.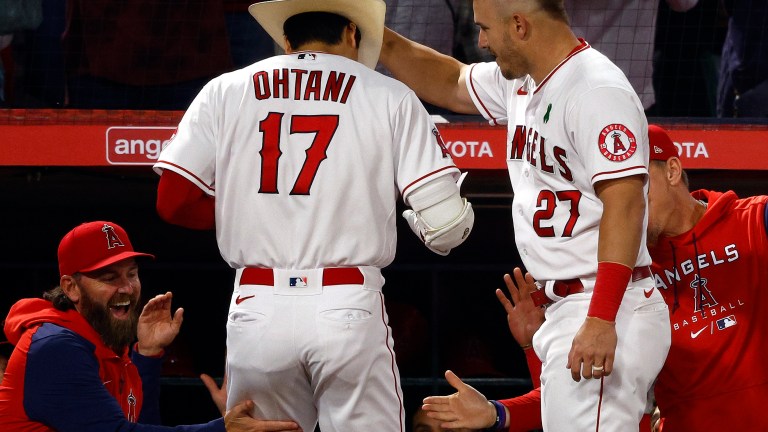 Now that the All-Star break has come and gone, the Los Angeles Angels are officially on the clock.
Losers of 10 of their last 11 and, after Friday's loss to the Houston Astros, six in a row, the Angels have an 8.7% chance of making the playoffs, according to FanGraphs. That number stood at 37.4% exactly one month ago.
Los Angeles has a nine-game homestand coming out of the break that could not only decide the fate of their season but also what they decide to do with Shohei Ohtani.
Friday morning, MLB Network's Jon Morosi reported that the Angels' front office is willing to listen to any Ohtani offers and that "The team's performance over the upcoming homestand will be a big consideration in the Angels' ultimate course."
With a trio of three-game sets with the Astros, New York Yankees and Pittsburgh Pirates, the Angels will have their work cut out for them in getting things back on track.
With a 45-47 record while sitting eight games back in the AL West, let's take a look at just how important this stretch leading up to the deadline is for the team, now more than ever, fighting against time.
Schedule Scouting
The Angels have one of the toughest schedules remaining across all of MLB.
Just 21 of their 70 remaining games come against teams below .500, and that includes series against the Minnesota Twins and New York Mets.
So if they exit the break slowly, there is no "easy stretch" in their schedule that they can use to make up ground. 
If there is a bright side to the Angels' tough second-half schedule, it's the number of games they play against teams ahead of and around them in the standings.
| | | |
| --- | --- | --- |
| Team | Games Remaining Against | Games behind in wild card/AL West |
| Houston Astros | 5 | 6.0 |
| Texas Rangers | 6 | 8.0 (AL West leader) |
| Baltimore Orioles | 3 | 11.0 |
| Toronto Blue Jays | 3 | 6.0 |
| New York Yankees | 3 | 4.0 |
| Seatle Mariners | 7 | 1.0 |
| Boston Red Sox | 0 | 4.0 |
| Cleveland Guardians | 3 | 0.5 |
However, to earn the third Wild Card spot, Los Angeles will have to pass five of those teams, with all but the Seattle Mariners and Cleveland Guardians already being three games up on the Angels.
The series against the Yankees and Toronto Blue Jays this month stand out as games that could make or break a potential playoff push for Los Angeles.
While making up ground on the AL West teams will be easier to do with more games in-division down the stretch, if the Angels drop their series against the AL East Wild Card contenders, they have no control over how those teams will play in August and September.
Who Are the Angels?
Through the first two and a half weeks of June, the Angels showed flashes of the team they can be. They went 11-6 and secured series wins over the Texas Rangers and Astros.
Since then, it's only been bad news and bad results.
With Mike Trout's timetable for return set four-to-eight weeks after suffering a fractured hamate bone on July 3, will Los Angeles be able to string together enough wins without the three-time MVP?
Looking at their season-long stats, the Angels actually look decent offensively. They have the fifth-highest wRC+ (112) and wOBA (.334) league-wide. But when you take away the hitters currently on the IL, those figures drop to 108 and .328, respectively. 
Just to showcase how much Ohtani has carried the offense in 2023, if you take him off the list and put the players on the IL back on, they drop to 103 and .322. 
While maybe an unfair evaluation, taking a slightly above-average lineup into a 16-game stretch that could decide the future of your franchise probably isn't going to get the job done when your pitching staff has allowed the 10th most runs in baseball.
Perhaps compounding that issue on the mound has been a defense that ranks 17th in OAA with a -3 mark.
So while the hot stretch in June was promising, the answer to the question of "Who are the Angels?" might just be that they're a .500 team that went on a two-week heater.
And if that's the case, then…
What Do You Do With Shohei?
It seems like a foregone conclusion that Ohtani will be leaving the Angels in free agency.
So while, yes, maybe you'd like to give it one last go and put your best recruiting foot forward, you run the risk of losing him with nothing — not even a postseason appearance — to show for it. 
It seems like a combination of the difficult schedule ahead and a team that just hasn't looked like a playoff contender would make the decision an easy one. But that's why the next two weeks will be so important for Los Angeles.
If the Angels can string together some wins without Trout against some key American League opponents, then there might be hope. They've already tried to add, trading for Eduardo Escobar and Mike Moustakas. But with, let's say, three straight series wins out of the break, you can start to see a path to the postseason.
Without a solid start, there might not be enough time for them to make up ground once you get Trout back for the stretch run.
No matter what happens, until Aug. 1, the Angels are going to be at the center of the baseball world.
All stats from before play on July 14.