Analysis
Are the Angels a Legit Threat to the Astros Winning the AL West?
The Angels fast start has them looking like a team that could push to win their division for the first time since 2014.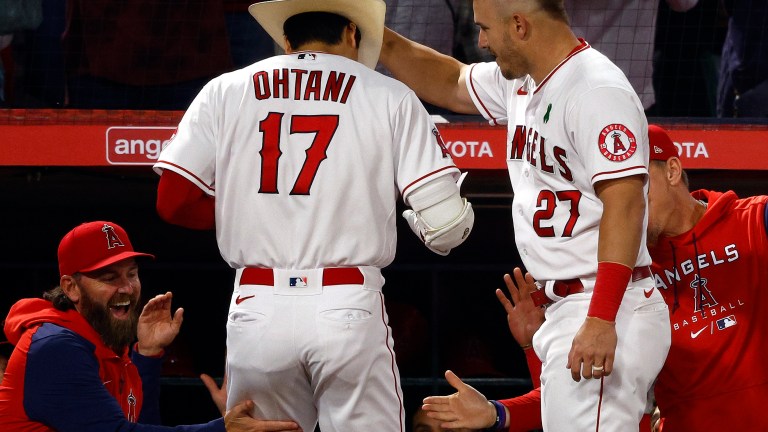 The American League West has been dominated by the force that is the Houston Astros over the last several seasons. In fact, they have been crowned as the divisional champions for five years in a row.
Regardless of what you have to say about their scandals, Houston has been lethal in this league. Five-straight trips to the American League Championship Series, three World Series appearances, and one World Series title relatively speaks for itself.
After losing star shortstop Carlos Correa in free agency this offseason, they haven't skipped a beat. Winners of seven in a row at the time of this writing, the Astros seem poised to run away with their division once more in 2022.
But at 18-11, they don't find themselves at the top.
A new foe has arrived in the AL West. The Los Angeles Angels sit atop this division with a 20-11 record, and they aren't showing signs of slowing down.
The Halos are a team that are so difficult to root against. Showcasing the talents of the greatest two-way player we've ever seen in Shohei Ohtani, and possibly the greatest player we've ever seen in Mike Trout, how could you possibly hate these guys?
I, for one, have always wanted the Angels to blossom into the playoff contender we always knew they could be. Trout only appearing in one playoff series in his 11-year career feels like a crime.
For a while, the Angels settled on the mid 2010's "superteam" approach that we saw so prevalently in the NBA. Shelling out massive contracts to the likes of Albert Pujols, Josh Hamilton, and Justin Upton resulted in minimal success, only finishing at the top of the AL West once in the last twelve seasons.
This past offseason we saw a much different approach from the Halos' front office, opting to improve a pitching staff that has struggled for years, solidifying a bullpen that had the seventh worst ERA in the league at 4.59, and acquiring two serviceable middle infielders further adding to this improved depth.
On top of a successful offseason, Los Angeles eagerly awaited the returns of both Trout and star third baseman Anthony Rendon, who were both injured for the majority of the 2021 campaign.
All of that, on top of the supreme talent that is Shohei Ohtani, has led to the Angels holding the third-best record in baseball through 30 games of play, one of three teams that has 20 wins thus far.
For years, the Angels felt like an easy write-off for a playoff race. Not enough pitching, no bullpen help, no depth, just Trout. That was it.
But now, they feel like the real deal.
Statistically speaking, Mike Trout isn't even the best outfielder the Angels have been able to showcase in 2022. It's been right fielder Taylor Ward, who has done nothing but flat out rake in his first 22 appearances this year.
Ward has produced at an elite level with the stick thus far, slashing .364/.490/.675 with a 1.165 OPS to go along with a 244 wRC+ through 96 plate appearances. A 19.8% walk rate is pumping that massive OBP line, as he's also contributed six home runs and 16 RBI's at the plate.
Ward is fully breaking out at the age of 28. Do I expect him to keep up this pace for the remainder of 2022? I do not.
However, this haul of offense that he has provided has been massive for an Angels fanbase that was forced to see Justin Upton struggle year in and year out on such a lucrative contract. If he stays consistent during the remaining 132 games, Taylor Ward will continue to be a huge factor in the Angels' success.
I mentioned earlier the reinforcements that were brought in during the offseason to a mediocre pitching staff. On the starter side of things, Los Angeles brought in Noah Syndergaard on a one-year, $21 million deal. Swapping the bright lights of New York City for the home of Disneyland, some saw this signing as a huge risk.
Syndergaard, 29, is coming off Tommy John surgery, and only appeared in two games last season with the Mets. But for an Angels team that could practically use everything they could get on the mound, "Thor" has been everything LA has hoped through his first five starts in 2022.
Long gone are the days where Syndergaard would pump 97-98 MPH consistently, but he's still finding himself success with a changed mindset. Through 29 innings, he's struck out 21 hitters with a 2.45 ERA, a 3.35 FIP, and a walk rate down from his career average of 2.07 per nine to 1.84.
His strikeout numbers are down from his prime in New York, where he would steady put up rates of striking out 9+ hitters per nine. But his sinker and slider have been elite this year, as hitters are hitting a combined .108 against this lethal combo. He's commanding the zone well, and forces a ton of ground balls, at a 49.5% clip.
Syndergaard is not the ace he once was. But now he's able to provide just enough to an Angels staff that held the ninth-worst starter ERA at 4.84 in 2021.
The bullpen has been NAILS as well. The three-headed monster of Raisel Iglesias, Aaron Loup, and Ryan Tepera has led this group to a much-improved ERA of 3.45, an entire run down from their average last year. Iglesias has formed into one of the top relievers in baseball, ranking as the fourth best in the game on The Just Baseball Show three weeks ago.
Loup and Tepera were a part of the offseason haul that came in to solidify this bullpen. Both have thrown in 13 games; both have sub-2 ERA's. Both have been successful additions.
Angels starters have also combined for a 3.54 ERA in their first 31 games. Syndergaard, Ohtani, and Patrick Sandoval have combined for a nice 1-2-3 punch, winning a nine games between the three of them.
Sure, the pitching has been overhauled, and it's been incredible to see. But as it currently stands, this Angels team has the best offense in all of baseball.
As of this morning, the Halos top the wRC+ chart at 121. Slashing .243/.324/.416 as a team, this offense has been deadly.
The glorious return of the king, Mike Trout, has been so soothing on the eye. He's a modern legend that is able to turn it on at any point, and it's so fun to watch. Trout has replicated his form from previous seasons, slashing .319/.441/.659 with a monstrous 223 wRC+ in 26 games, he's been nothing short of elite. Adding seven home runs and 16 RBI's to that stat line.
To go along with Trout and Ward's insane early season production, Ohtani, Brandon Marsh, and Jared Walsh are all providing over a 120 wRC+.
Anthony Rendon has struggled out of the gate, only posting a .669 OPS through his first 97 plate appearances. We are not far removed from Rendon's 2019 season, where he nuked 34 home runs and drove in 126 RBI's en route to a World Series championship with the Nationals. I have confidence that he will return to form soon, as it seems unsustainable for him to continue struggling like this.
And we aren't even seeing the best of Shohei Ohtani in 2022. The numbers that Ohtani are putting up, most big leaguers would drool at the idea of attaining them. Shohei is slashing .252/.315/.445, and is fresh off of a two homer game last night against the Rays, where he hit his first career grand slam!
This offense has been astounding over their first 31 games without two of their best bats at their peak.
The potential this Angels team has is truly incredible. With one of the best offenses in the league, a solid rotation, and a much improved bullpen, they fully have the ability to take over the AL West crown over the Houston Astros.
Only time will tell if the Halos are able to keep up this early season production, and I would absolutely love to see this team succeed in 2022.