Analysis
What Led To The Split Of Jacob DeGrom And The Mets?
After spending the entirety of his career with the New York Mets, Jacob deGrom signed a five-year, $185 million deal with the Texas Rangers.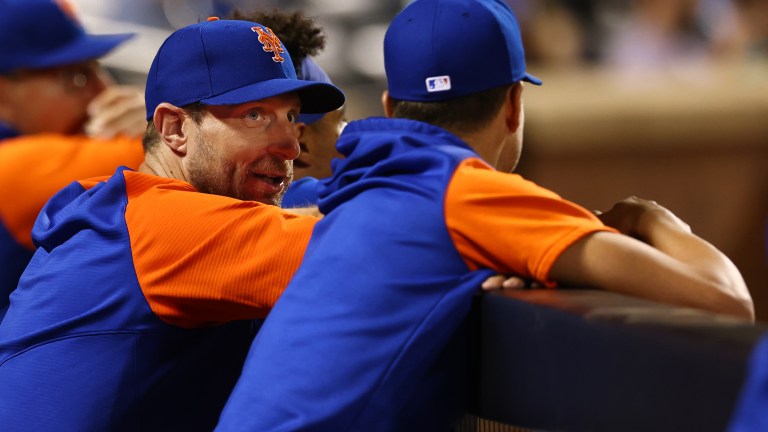 The Texas Rangers have done it again. For the second offseason in a row, the Rangers have struck big early in free agency, landing the top starting pitcher on the market in Jacob deGrom.
DeGrom received $185 million on a five-year contract, with a six-year vesting option that could take the total value of the contract to $222 million. For a two-time Cy Young, who's career earnings through nine seasons amount to less than $75 million, this is an incredible deal.
The Rangers needed a pitcher like deGrom and made an offer he couldn't refuse to get him to sign on the dotted line. The Mets reportedly offered deGrom a contract in the neighborhood of $120 million over three years, but according to reports, were never given a chance to match the Rangers offer.
Does this mean deGrom always wanted to leave, or just knew the Mets were never going to guarantee five years and found an offer from the one team that was willing to do it?
We may never know, but regardless, this is the first major domino to fall this offseason, which could lead to widespread movement around the league at the Winter Meetings.
What Factors Led DeGrom to Texas?
It is impossible for me to write this article devoid of any emotion when I am still trying to comprehend the fact that Jacob deGrom is no longer a New York Met.
As a die-hard Mets fan, I have watched every pitch of Jacob deGrom's career. It is absolutely gut-wrenching to think about deGrom throwing a pitch in anything other than a Mets uniform. Yet that is the reality we have to come to terms with, as deGrom will likely never pitch in the Blue and Orange again.
DeGrom always publicly spoke about wanting to remain with the Mets for his entire career, but whispers grew loud over the last year that he may have intentions of pitching somewhere else after exercising his opt-out. Ultimately, he did decide to move on from the Mets, but we really don't know if that was always his intention, or if talks with the Mets pushed him to that decision.
At this point, all we know is that the Mets were interested in signing deGrom on a three-year deal and deGrom clearly was looking for a longer commitment. His new contract has five years guaranteed at $37 million per season, with a complicated vesting club option for a sixth season.
The fact that deGrom did not give the Mets a chance to match that contract offer is illuminating, but doesn't necessarily mean he was always dead-set on leaving.
If deGrom really wanted to remain a Met, they could have presented this contract to them with the intentions of compromising on a new deal.
At the same time, if deGrom's camp got the sense that the Mets would be hard-pressed to go beyond a three-year commitment, why would they present this contract to them, just to have them decline to match it?
Instead, better to take the bird in hand, especially when we are talking about $185 million of guaranteed money in a state with no income tax.
Born and raised in Central Florida, deGrom was never a personality fit for New York, as the "Simple Man" is far more comfortable in the country than the city. DeGrom never even owned property in New York City, despite spending the last nine years pitching for the Mets.
If the Mets prioritized keeping deGrom for the entirety of his career and presented him with a five-year, $200 million contract to open free agency, he probably stays. But receiving that same $40 million per season over a three-year deal is far less convincing, especially when now-former teammate Max Scherzer received $10 million more on a similar three-year deal last offseason.
When you don't feel valued from the only franchise you have ever known, it becomes a lot easier to be swayed by another in free agency and the Rangers checked enough boxes to poach deGrom.
While they are nowhere near a guaranteed bet to win in the short-term, the Rangers have made it clear that they intend to be contenders with the way they are spending. DeGrom can rest assured that he will be playing with other star players and bet on his own impact to propel this team into contention.
If the Rangers don't win though, deGrom can still buy his family a massive house out in Texas and is now sitting on close to $200 million of guaranteed money.
Did the Mets Get What They Wanted?
If the New York Mets were looking for a way to move on from their franchise stalwart without looking like the bad guys, they just pulled off a masterclass.
Whenever we discuss Jacob deGrom, the same preface is always used. "When healthy, Jacob deGrom is the best pitcher on the planet." Unfortunately for deGrom and the Mets, the first part of that has been a huge problem over the last 18 months.
DeGrom was once a model of durability, as he did not miss a start across four seasons from 2017 through 2020. Prior to that, deGrom only missed time in September of 2016, but still made 24 starts and nearly pitched 150 innings that season.
From 2015 through 2020, only Max Scherzer and Zack Greinke threw more innings than deGrom. Then came the 2021 season, and everything fell apart for deGrom when it came to his health.
In the first half of the 2021 season, deGrom was on pace for arguably the greatest season in MLB history. He pitched to a 1.08 ERA across 92 innings, while striking out 45.1% of the batters he faced. DeGrom never took the ball though after the All-Star break, finishing his season with only 15 starts.
Nagging injuries had been plaguing him since the tail-end of 2020 and followed into the first half of 2021. He was able to manage them while staying in the rotation, but finally had to be shut down for the entirety of the second half to try to be ready for the 2022 campaign.
Then after looking great to start spring training this year, deGrom once again went down with an injury, as a stress reaction to his right scapula kept him out for a majority of the 2022 season.
DeGrom returned in August and made 11 starts down the stretch, including one more in Wild Card round of the playoffs. DeGrom did win that start in October and fared well in the season, striking out 42.7% of the batters he faced, while pitching to a 3.08 ERA.
Still, there is no doubt he is a massive injury risk moving forward.
Next season, deGrom will turn 35 years old, and it is fair to wonder if his body can take the strain of regularly throwing 101 MPH darts over the course of a full season. The Rangers certainly hope deGrom can, but the lack of widespread interest around the league for a pitcher of deGrom's caliber speaks volumes.
The Mets could not show no interest in signing deGrom, as fans would have been devastated to see the team make such a callous assessment on a player who has meant so much to the franchise. Yet they also had to know that a three-year, $120 million contract was never going to get a deal done.
When they signed Max Scherzer to a three-year, $130 million deal last offseason, they set a precedent that would have to be followed in negotiations with deGrom. The starting point really had to be that $130 million, and by coming in under it, the Mets in some ways showed their hand.
For a man of Steve Cohen's wealth, $10 million over three years is really nothing, as evidence by signing Scherzer to that contract in the first place. Point is, if the Mets were dying to keep deGrom, there initial offer would've been a bit more competitive.
Instead, they gave him what was certainly a fair offer, which they would have been happy if he returned on, yet kept the door very open to be topped. Maybe they believed the market would come back to them, which if not for the Rangers, could have become the case.
Still, it doesn't feel like the Mets brass is losing any sleep over deGrom's decision to leave and they are instead already turning their attention to other free agents who they likely believe are safer bets to perform anyway.
Justin Verlander and Carlos Rodon each eclipsed 175 innings pitched this season, with Verlander winning the AL Cy Young. The Mets are expected to pursue those two pitchers aggressively now that deGrom is no longer set to return.
Only time will tell how deGrom holds up on this new deal, but the Mets seem to be very content in spending that money elsewhere. The risk of deGrom being hurt was not something they ever seemed comfortable with over a long-term deal, and it appears like most of the league shared in that sentiment.
The Texas Rangers on the other hand, felt like adding the best pitcher in baseball was worth the risk, as a healthy deGrom can transform them into a playoff contender over night. Now they will look to add some more supplementary pieces, as they do everything they can to make the playoffs and really make the most of their investment in this new ace.