Analysis
What Does the Outfield Look Like When Duvall Comes Back?
Adam Duvall is set to return to the lineup soon, but with Jarren Duran playing well in his absence, how will the Red Sox make the pieces fit.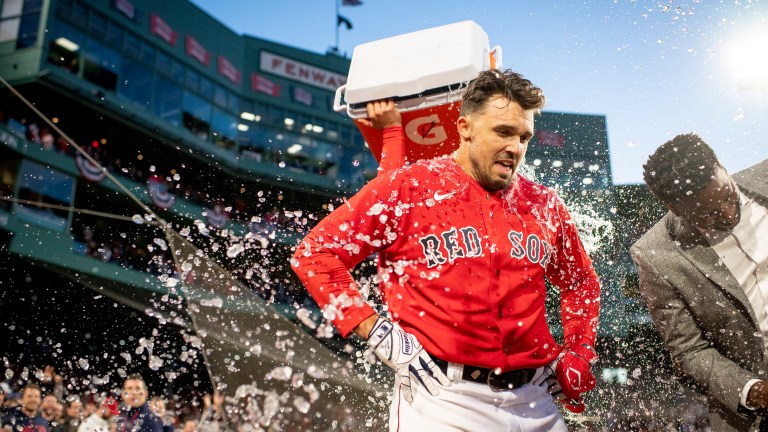 Back in April, the Red Sox lost outfielder Adam Duvall to a wrist injury. At the time, it was thought to be a devastating blow to the Sox. Duvall was arguably their best player, hitting .455 with four home runs and 14 RBIs. In the weeks since his injury, the question of what to do when Duvall returns has become more complicated.
The 34-year-old is set to make his first rehab appearance on Tuesday and is eligible to return to the majors on June 9th. His return will leave the Red Sox with six outfielders on their roster.
Jarren Duran has taken over as the everyday center fielder, and is making a strong case to stay there. Duran has made big strides since last season, improving his defensive routes and finding his groove at the plate. His speed makes him an asset in Fenway's expansive center field as well as on the base path.
The Red Sox have a few options for when Duvall is back on the active roster.
The first option is keeping Duran in center and letting Duvall DH. The Sox offense has cooled down recently and Duvall will add a much needed right-handed bat to the lineup. If the Red Sox went this route, Justin Turner would likely see more time at first base, and Casas, Refsnyder or Tapia would be sent down. The issue here, at 38 years old, Turner is the oldest member of the team. The Red Sox have already made it clear they are hesitant to overuse him at first.
Onto option two. Verdugo has made himself a non-negotiable in right field. While the Red Sox will want to keep Masataka Yoshida in the lineup, theoretically he could be moved to DH and Duvall or Duran could take over left field. However, this still leaves the Red Sox with the issue at first base.
The Red Sox need right-handed bats, so Turner and Duvall have to be consistently in the lineup. Realistically, that only happens with Turner as DH and Duvall in center.
Duran is at a point in his career where he needs to continue to play everyday. So, the Red Sox best option might even be sending him down to Triple A. The team is much better severed letting Refsnyder and Tapia stay on the bench and having Duran continue to play and improve.
It's a tough call to make but at 26 years old Duran has a lot of career ahead of him, and there's a lot of season left to played. There are many scenarios that could land Duran back on the Red Sox roster later in the season. But for now, Duvall needs to be back as the starting center fielder.