Analysis
The Indefensible Red Sox Defense
The Boston Red Sox need to play better defense if they're going to stay in the race for an AL postseason berth.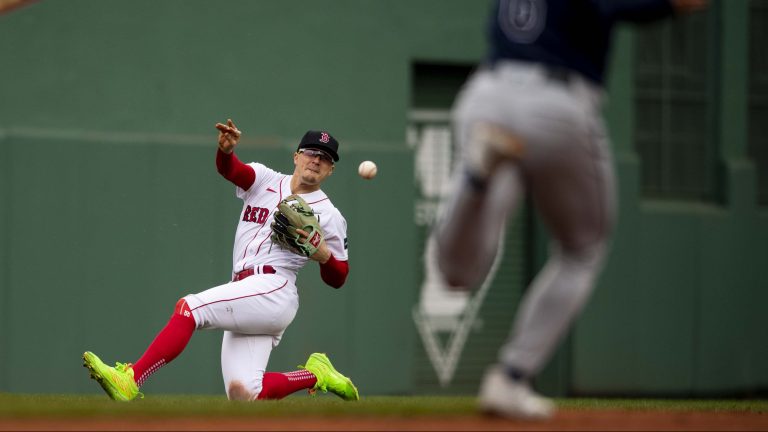 The Red Sox went on an eight-game win streak in early May that lifted the team from last place in the AL East standings and into Wild Card contention. Now, the team sits just one game above .500 and has won only eight of their last 24 games.
Why? The defense.
Pitching issues aside, the Red Sox have committed 16 errors since their win streak ended. On the season, they have -10 outs above average (26th in the majors) and -17 defensive runs saved (also 26th).
"I'm the manager of this team and defensively we're not good. We're not. We keep working. Show up early… and we're going to coach the players until they get it right," Alex Cora said in Sunday's postgame interview.
The full scope of the Red Sox's defensive shortcomings was on display in Sunday's game against the Rays. Multiple Red Sox errors led to multiple Tampa Bay runs, including a two-out Little League home run by Yandy Díaz.
The play was horrendous. Alex Verdugo was slow to the ball, later saying he "lost sight" of it. Enmanuel Valdez, who had little chance of catching Manuel Margot at home, threw the ball off-line. Connor Wong then immediately fired the ball to second base, where he could have caught the runner if his throw didn't land in the outfield. Now, with the damage already done, the Red Sox just stood there stunned as Díaz crossed home plate.
"I don't like it, man. I don't like it. I've seen that play too many times the last two years," Cora said regarding Díaz's hit.
Cora kept his usual calm, even tone during the press conference, but his frustration was visible. He's been talking for months about the importance of the team improving on defense. It was heavily emphasized during spring training, and yet the Red Sox have 39 errors on the season (second worst in the majors).
Yes, the Red Sox have dealt with injuries this season. But, the players they've lost aren't exactly strangers to the injury list. The team should have been better prepared for this.
They came into the season knowing Trevor Story would likely miss half of it. Instead of figuring out a solid game plan for shortstop/second base, they elected to stick Enrique Hernández at short and wait out Story's return. Hernández now leads the majors in errors with 13 in 45 games played at short.
While shortstop is their most glaring issue, the Sox are struggling at every position. At first, Triston Casas ranks 35th of 38 in outs above average, Valdez ranks 43rd of 46 at second, Masataka Yoshida ranks 17th of 29 in left, and Jarren Duran ranks 20th of 35 in center.
Rafael Devers has improved defensively, but he still has five errors on the season and ranks 19 of 41 third baseman in outs above average; he's still just a mid-tier defender at best.
Surprisingly, Verdugo has emerged as the Red Sox's best defender after a rough 2022 season. He ranks fifth in outs above average for right fielders (one spot above Mookie Betts) and has only one error to his name. He also seems to be the only player taking accountability for the defense's poor performance.
"We are the players. We are the ones who have to go out there and make the play and get it done. We can talk about it all we want, but we got to be better," Verdugo said in defense of Cora after Sunday's game.
If the Sox want to have any chance of making the playoffs, they have to clean it up in the field. But, will the return of a few players and some defensive realignment be enough?
On Monday, the team welcomed back Christian Arroyo, who had 44 putouts, 53 assists and no errors in his 23 games at second base prior to his injury. The Red Sox have leaned on him a lot in the past. If he stays healthy, he should be able to hold down the fort.
Hernández is making his return to the outfield this week, a position he's proven to be solid in. He'll be in center field for now, but Adam Duvall could be back as early as Friday, allowing Hernández to play in left when needed.
The biggest question mark for the defense remains at shortstop. A Yu Chang return is on the horizon, which should offer some relief. But that position problem really can't be solved until Story is back, and that timetable is still unclear.
What is clear, however, is that the Red Sox are running out of time. Defensive improvements need to come, and they need to come now.
"We'll keep working and we're going to coach the players until we get it right," Cora said. "When? I don't know. If it's tomorrow, it's 59 games too late."