How Will the Red Sox Handle the Loss of Adam Duvall?
The Boston Red Sox find themselves in a tough spot after their hottest hitter fractured his wrist on a slide in center field.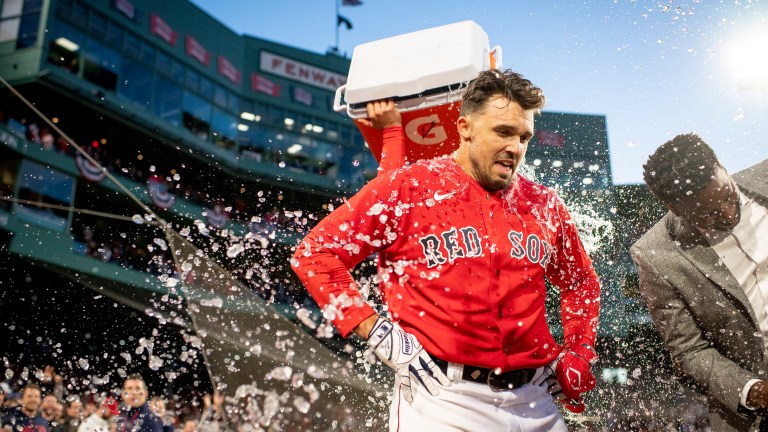 The Red Sox announced Monday that Adam Duvall fractured his left wrist and is out indefinitely. The injury, which occurred when Duvall attempted a sliding catch Sunday in Detroit, is a huge loss for the Sox.
Prior to the injury, Duvall had been the Red Sox's hottest bat. He was slashing .455/.514/1.030 with four homers, five doubles, a triple and 14 RBIs.
He will not require surgery but is still expected to miss significant time. Duvall had the same wrist surgically repaired last season during his time with Atlanta.
"It's a big blow," Cora told reporters. "But at the same time, somebody has to step up."
Kike Hernández remained at shortstop Monday night, but he will need to spend some time back in center field.
"He's done it before," Cora said. "It really doesn't matter where he's at. We need him to be an athlete, and whenever we need him in the outfield, we'll use him."
Rob Refsnyder will also help out in center, and he got the start Monday night. But Cora noted the importance of keeping Refsnyder healthy and not overusing him, so Raimel Tapia will see time in center as well.
With Trevor Story injured, the Red Sox's options at shortstop are limited. On days Hernández is needed in the outfield, the Red Sox will have to turn to Yu Chang or Bobby Dalbec to play short.
Dalbec was called up Monday to fill Duvall's spot on the roster. He had a pinch-hit single in the eighth inning.
Dalbec has spent most of his big league games at first or third base, but this season he's been getting reps at shortstop and second base, another position the Red Sox may need help at as they shuffle everyone around.
Despite Dalbec's limited time at shortstop, Cora said he's comfortable using him in that position.
"He's always ready," Cora said. "Bobby's one of those guys, regardless of his situation. He's always ready to play, and he's excited for the opportunity."
The Red Sox have a versatile group of players that should be able to handle Duvall's absence in the field. Whether or not they can survive the loss of his bat remains to be seen.
On Monday, the team managed only three hits and scored no runs in the first of four games against the undefeated Rays. On Tuesday, they fell 7-2, managing just six hits against Shane McClanahan and the Rays bullpen. The rest of this series will be a big test of the Red Sox's offensive abilities without Duvall.