Analysis
Welcome to The Show, Grayson Rodriguez
One of the top pitching prospects in baseball is finally here, and Grayson Rodriguez is ready to make some noise in Charm City.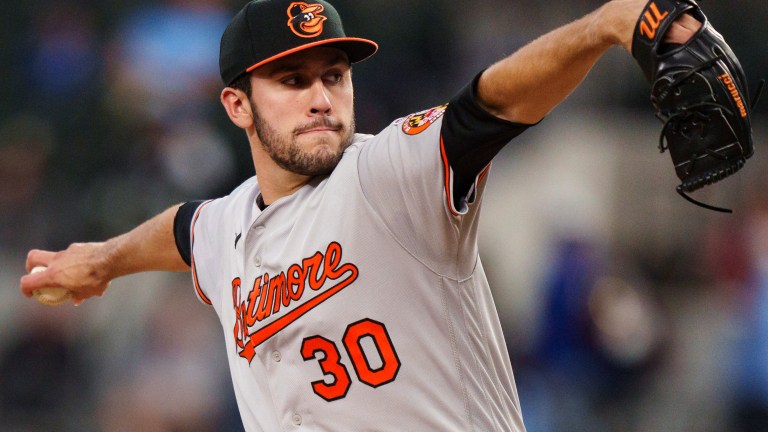 On April 5, Baltimore Orioles top prospect Grayson Rodriguez made his major league debut on the road against Jacob deGrom and the Texas Rangers. On April 11, he made his Oriole Park debut in a start against the Oakland Athletics. After a strong showing in Texas, he had some hiccups against the A's. Despite a couple of rough patches in his second start, the promotion of Rodriguez could be a sign of a new era for Baltimore baseball.
Minor League Career
Grayson Rodriguez was drafted by the Orioles in the first round of the 2018 draft as an 18-year-old out of high school. Since then, he has dominated at every level of the minors.
In 296 innings of minor league pitching, Rodriguez put up very impressive numbers, a career 2.49 ERA and 0.963 WHIP among them. Rodriguez has also never struggled with sitting guys down; he struck out 12.8 hitters per nine innings over the course of his minor league career. That is good for 421 total strikeouts in the minors.
It was clear to the Orioles early on that they had the makings of a superstar on their hands. There were hopes that Rodriguez would be able to make his major league debut last season. Those hopes were nipped in the bud after Rodriguez suffered a back injury. Even still, there were hopes of Rodriguez starting a Wild Card game had the Orioles made the postseason. Once it became clear that the Orioles' playoff push would fall short, fans knew they would have to wait another year to see Rodriguez.
2023 Season
Spring Training
Both Grayson Rodriguez and Orioles fans entered spring training this year with very high hopes. The writing was on the wall that this would be a year of prospects.
The only thing is Rodriguez stumbled during spring training. He made five starts, two of which were particularly rough. He gave up four earned runs in just three innings to Boston and then five earned runs against Detroit in his final start of the spring. Those starts would divide fans into two camps: those who thought Rodriguez needed to spend more time at Triple-A Norfolk and those who wanted him on the roster for Opening Day.
Ultimately, those two shaky starts were enough to convince Brandon Hyde and Mike Elias to send Rodriguez to Norfolk. Given his success in the minor leagues, including in Norfolk, it was surprising to see him sent down. Even if Rodriguez had needed some more development, it seemed appropriate for that development to happen in Baltimore.
Norfolk
After being sent down to Triple-A, Rodriguez would start for the Norfolk Tides on Opening Day. In that start, he gave up two runs in four innings but also issued four walks. He still wasn't quite looking like the Grayson Rodriguez many had become accustomed to seeing.
Rodriguez was still one of the best prospects in baseball, but a bumpy Triple-A start presented more questions than answers. A lot of people were left wondering if Rodriguez was ready for the big leagues yet. Prior to 2023, it looked as if he had nothing left to prove, but maybe he did.
On April 3, Orioles starting pitcher Kyle Bradish took a line drive off of his lower leg in the second inning against the Rangers. Tyler Wells, who was scheduled to start the following day, was forced to come in to relieve Bradish. Wells threw five strong innings, but it left a hole in the rotation. The Orioles had Kyle Gibson on normal rest for the next game, but that left no one to start the series finale. This rather unfortunate situation forced the hand of the Orioles, and Grayson Rodriguez got the call-up to the big league squad to start the final game of the series.
April 5 vs. the Texas Rangers
5 Innings Pitched, 2 Earned Runs, 4 Hits, 1 Walk, 5 Strikeouts
Grayson Rodriguez's major league debut was nothing short of a success. He threw five strong innings, the walks went away, and the strikeouts were there. He gave up some contact in the first inning, which led to a couple of runs, but after that, he settled in and looked like the Grayson Rodriguez everyone was expecting.
The biggest takeaway from this start should be his ability to limit hard contact. Of the 14 balls put in play by the Rangers, only four of them were hit hard. Of those four, two fell for base hits, a single and a double. On top of limiting hard contact, Rodriguez was excellent at keeping the ball out of the air. With an average launch angle of negative five degrees, many of the baseballs put in play by the Rangers were driven into the ground.
Rodriguez certainly made some mistakes, as would any rookie. You probably don't want to throw a fastball down the middle in a 2-2 count with a runner on second. On the flip side, he also got unlucky at times. You certainly don't expect Josh Jung to hit a good changeup that you located beneath the zone.
The fastball looked great in this start. Four of his five strikeouts came on his fastball, and he only gave up two hits with the pitch. His fastball also averaged 96.5 mph and topped out at 98. Having the ability to locate and generate swings and misses with that pitch is his greatest strength.
April 11 vs. the Oakland Athletics
4.1 Innings Pitched, 5 Earned Runs, 6 Hits, 4 Walks, 6 Strikeouts
This start looked a little different for Rodriguez. While it is fair to say that he struggled, there are a lot of good things to take away from this start as well.
When looking at what went wrong for Rodriguez in this start, the first thing that stands out is the walks. Four walks in four innings is not where you want to be. With that said, the walks are easier to stomach when you realize three of the walks were issued during his last four plate appearances. At that point in the game, he was well over 70 pitches and starting to show fatigue. His other walk was to Tony Kemp to start the game.
The earned runs should also be taken with a grain of salt. The first three batters he saw in the fifth inning resulted in two walks and a strikeout. Manager Brandon Hyde decided to let his young pitcher try to work his way out of the jam, but after a third walk to load the bases, Rodriguez came out of the game. Letting Rodriguez attempt to get out of his own mess was the right decision by Hyde. When he left the game, the Orioles were up 3-2. Austin Voth came in and immediately allowed a single, a ground out, and a home run to score all of the runners Rodriguez left on.
One thing that Rodriguez did really well was get into two-strike counts. On the flip side of that, he struggled at times with finishing the job and getting those hitters out. Every single one of the hits that Rodriguez gave up was in a two-strike count. On top of that, every walk he issued was in a 3-2 count. Of the 23 batters that Rodriguez faced, 18 of them saw two-strike counts. Rodriguez was just a couple of pitches away from having a very different stat line.
Grayson Rodriguez's Future
Short Term
Orioles manager Brandon Hyde has come out and stated that Rodriguez is for sure going to make one more start for the Orioles. Kyle Bradish is set to make a rehab appearance later this week as he works back from his injury. With Bradish looking set to return soon, the question becomes: will Rodriguez stay with the team or go back down to Norfolk?
The correct answer is that Rodriguez should stay with the team. Whether or not that is what Hyde and company will decide is up for debate. The Orioles' front office has already shown they are not scared to send him down.
With no offense intended to Dean Kremer and Cole Irvin, Rodriguez looks like a much better option than either at the moment. On top of looking better right now, Rodriguez has upside and potential that blows any pitcher in the current rotation out of the water.
Hopefully, the Orioles see this and decide to keep him in the big leagues. Rodriguez has learned everything he could in Triple-A; he has passed every test. If the Orioles do not believe he has earned a spot in Baltimore yet, he will have one more chance to prove it on Sunday against the White Sox.
Long Term
Along with Adley Rutschman and Gunnar Henderson, Grayson Rodriguez is the future for the Baltimore Orioles. With a front office that currently seems uninterested in spending in free agency, this team is going to have to count on their prospects. Rodriguez is as highly touted as any prospect in baseball right now.
At this point in time, Rodriguez is the only pitcher in the organization with the potential to be a true ace. If you want to win in October, you need an ace. Regardless of whether or not Rodriguez is in Baltimore or Norfolk two weeks from now, he is the future.
Here is to many more starts in an Orioles uniform, to many more strikeouts, to many more night games at Camden Yards. Welcome to Baltimore, Grayson. We couldn't be happier that you are here.