Analysis
Grayson Rodriguez is Putting it Together For the Orioles
Grayson Rodriguez is putting it together at the perfect time to help the Baltimore Orioles make their playoff run.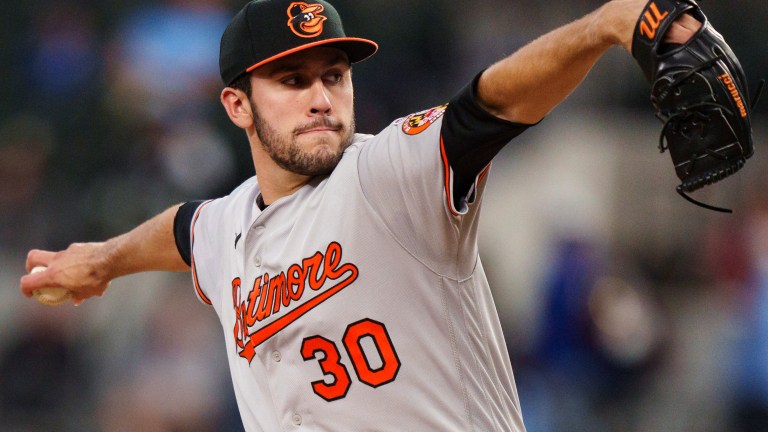 If you are familiar with my writing, you know how much I have harped about the Orioles starting pitching. It has been a concern the entire season. However, as we approach the playoffs the Orioles appear to be getting stronger in that department.
A big reason for that is the development of Grayson Rodriguez. At one point he was the top pitching prospect in all of baseball. Viewed by many as a future ace in the major leagues. When he first came up, it looked like he might be just that through a handful of starts. Then the hiccups came. After rough outings against the Royals, Angels, and Rangers, Rodriguez was sent down to Triple-A.
Rodriguez has since returned and looked like the pitcher that was promised. With Rodriguez pitching like this, the Orioles could have a serious shot at a run in the post season.
What has Changed?
One of the main changes with Grayson has been an improvement in batted ball data. Particularly with regards to the quality of contact that he was giving up. Upon first coming up, Grayson was getting shelled. Even when he was getting outs they were incredibly loud. Now he is limiting such contact.
In his first stint in the majors, Rodriguez was sitting with a hard hit rate above fifty percent. That would be the worst in the majors among qualified starters so far this season. Couple that with a barrel rate that would be second-worst right behind Michael Kopech and you can see he had a recipe for disaster.
Those numbers shine some light on the ERA that was north of seven before going back to Norfolk. However, since coming back to Baltimore, Rodriguez has made marked improvements. His hard hit rate is down to 34.2% and the barrel rate is down to 4.4% since making his return. That barrel rate would be number two among qualified starters and the hard hit rate would be fifth.
Beyond the Batted Ball
The batted ball data against Rodriguez has improved drastically, but why? It takes more than just some Triple-A reps to gain the kind of success that he is experiencing.
At first glance, his spin rates are up. Since coming back up he is posting higher spin rates on most of his arsenal. Which is great. It has helped most importantly with the shape of his fastball which can lead to weaker contact.
Another note is that he has almost completely eliminated the use of his cutter. He has thrown it less than two percent of the time since coming back up. In the first half of the season, the cutter was thrown 12.3% of the time and it was being hit hard over 50% of the time.
By eliminating the cutter, he is now throwing his slider and change-up 42.5% of the time, compared to 35.7% before being sent down. His slider and change-up have been his best pitches by far this season. They are the only pitches with a positive run value this season.
A really simple fix, throw your worst pitch less and your two best pitches more. This adjustment, as well as having more confidence in his four-seam fastball, have led to great improvements.
Future of Pitching in Baltimore
It appears that the Orioles have found their ace in Rodriguez, or have they? There is no doubt that Rodriguez has been incredible since returning to the big leagues, but there appears to be another star growing in Baltimore as well.
The ace title in Baltimore may belong to Kyle Bradish and Rodriguez has his work cut out for him if he wishes to take it away.
This is a problem that I did not foresee the Orioles having this season but I welcome it. What does this mean for the playoffs?
Rodriguez's Affect on the Playoff Rotation
With the emergence of both Bradish and Rodriguez, the Orioles will have a much easier time putting together a playoff rotation than they would have had two months ago. If the season ended today, the Orioles would be the winners of the AL East and the number one seed in the American League.
Kyle Bradish likely gets the ball in game one of a playoff series with Rodriguez to follow in game two. This is the best case scenario for the Orioles so far. With Tyler Wells likely going to the bullpen due to fatigue issues, Baltimore is assured two studs in the rotation with Bradish and Rodriguez.
Things get sticky after those two. Brandon Hyde is then faced with the choices of Kyle Gibson, Dean Kremer, Jack Flahrety, and Cole Irvin for games three and four. Assuming a four-man rotation, they would pitch Bradish in a game five.
If I was Hyde, I am starting Gibson in game three and Irvin in game four. Gibson is a veteran and there is some comfort in knowing what you are going to get out of him. With Irvin, he has pitched very well in his three starts since the All-Star break. He has 16 innings and a 2.81 ERA in those starts.
There is an argument to be made for Dean Kremer, but you never know what you are going to get out of him. It could be seven shut out innings or five earned in four innings.
I am sure some are also wondering about John Means. It appears that Means will make a couple more rehab starts in Norfolk before coming to Baltimore. I am not sure if Means being on the playoff roster is in the team's best interest this season.
The Foundation for 2024
The development of Rodriguez among others has put the Orioles in an excellent position moving forward. What looked like a major weakness for the Orioles is turning into a unit that could hold its own moving forward.
While we still may not see John Means this year, he is going to be back and fully healthy next season. Bradish looks like an ace and has a 3.03 ERA. Rodriguez looks like the stud pitching prospect that everyone thought he could be. That seems like a nice core.
They will have the depth options of Cole Irvin, who is putting it together, Dean Kremer who has his moments, and Tyler Wells, who should be ready to be a full-time starter next season. As well as Chayce McDermott who has a 3.28 ERA in Triple-A.
While that is not a rotation that is going to terrify anyone, it is certainly better than the rotation on Opening Day this year.
The emergence of Grayson Rodriguez has taken a lot of the strain off of the need for pitching. For both the short-term and long-term future, the Orioles are in a much better place thanks to Rodriguez. Baltimore might just have an ace (or two) for the foreseeable future.