Analysis
Welcome To The Marine Layer Podcast
Just Baseball's newest podcast will be their first dedicated to covering a single team. Introducing the Marine Layer, a fun show that covers your Seattle Mariners.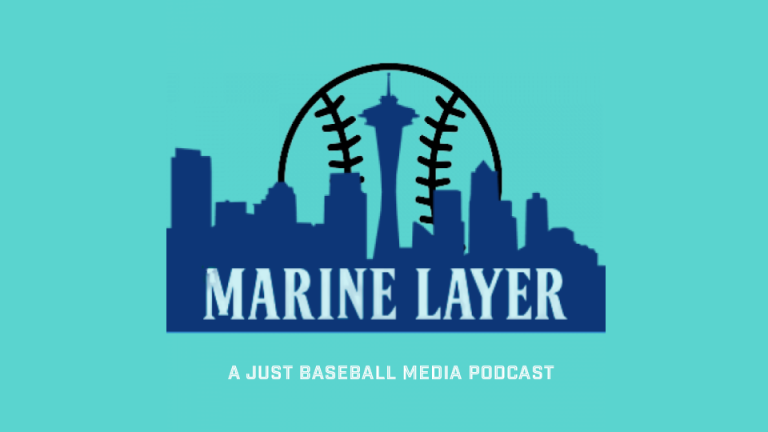 "And we welcome you into the Marine Layer Podcast".
That's how we bring in each episode, so I figured it only made sense to do the same here.
TJ and I had thrown around the idea of starting a Mariners podcast for a while. But a little less than seven months ago, once we both felt like we had the time along with the blueprint for the direction that we wanted to go with it, we put it into action.
Fast forward to now, and we couldn't be more excited to join Just Baseball and their podcast network. We were broadcasters in the Cape Cod League while we were in college at the same time as Aram and Jack, which is how we got to know them across two summers in 2018-2019.
We have been following Just Baseball from afar ever since it started, and it was so easy to be drawn into all of the content from watching/reading/listening to everything that they were doing (you all can probably second that last notion if you are sitting here reading this). Truthfully, we had always talked about this being a place that we would love for this podcast to land at, even before they reached out to us about it (heck, even before I started writing for the site back in February).
It's a place that is not only rapidly growing by the day, but it features a bunch of people right around our age that genuinely love baseball and are passionate about telling the stories of how awesome this game is. That's exactly who the two of us are.
Plus, this company features a bunch of Syracuse people. Can it really hurt to add some Arizona State presence into the mix and occasionally remind them that while they were walking through six inches of snow to get to class in February, we were basking in the 78-degree sunlight at Spring Training games and the Waste Management Open representing the Harvard of the Southwest? We certainly don't think so.
Okay, all jokes aside, let us tell you a little bit about what you can expect to get from us.
What We Are About
Above all else, we want to give a voice to as many different people as we can. Baseball is consumed in so many ways with each person viewing it through a slightly different lens. And we want to understand what makes each person tick. What makes the game they love and the players they watch so fascinating to them.
It is why we work to have a guest on every week. From Mariners radio broadcaster Gary Hill letting us geek out with him about baseball analytics to TV pregame/postgame host Brad Adam giving us the detailed 4-1-1 on which players are the best golfers, everyone brings something different to the table that allows us and our listeners to soak up more and more information about the team they love.
We stretch out to having national guests too. The Pitching Ninja (Rob Friedman) built his perfect pitcher consisting of strictly Mariners pitches on our podcast. Marc Luino (aka baseball Youtuber/content creator "GiraffeNeckMarc") shared his story of sitting down and interviewing 18-year-old Julio Rodriguez. MLB Pipeline writer Jim Callis did a full Mariners minor league preview with us before the start of the season, just to name a few. Every single one of our guests has been awesome so far, and incredibly gracious with their time.
But you can't tell the story of a team without the perspective of players. We promise, we are working as hard as we can to have some of these guys on the actual podcast. Additionally, we know what a great group of guys this team consists of. Yet it often feels like they don't get nearly enough opportunities to fully express their personality. So, we thought: "how can we help with that?"
Once we were fortunate enough to start getting credentialed for games, we landed on the idea of creating a laundry list of fun questions to ask these players, catered towards topics that they will be passionate about discussing, along with straying away from the usual media questions that they get asked on a day-to-day basis.
Yes we are biased, but we think it has helped bridge the gap between players and fans. Plus, judging by a lot of their reactions to the questions, the players seem to enjoy it!
But that's not all. The baseball community isn't a community without the fans. And fans need a voice too. They matter. Therefore, we try our best to give them one, as we come up with questions to get their two cents on as well (while still on the entertaining side of things).
Oh, we should mention that we taste test and review ballpark food too.
As for us, you will learn pretty quickly that TJ and I are heavy "new school" baseball guys. There can't be many podcasts that talk about WRC+ as much as we do (we think it is far and away the best offensive stat that exists, after all). We try our best to help progress modern baseball thinking along and get people away from using batting average as a crutch when measuring offense.
We express these philosophies through our "Mariners storylines" each week (we would pick out three per week while doing shows once per week, but with us now moving to two shows a week while in-season, we will transition to two storylines per episode).
We prefer not to recap games. You all saw what happened throughout the week, so we always felt as if us re-wording the highlights of each contest is a little repetitive. We decided when we started that picking out storylines is a more engaging way to keep everyone fully up-to-date on where the team is at.
The Mariners are also more than just the 26 players on the big-league roster. There is so much talent within the organization that has not yet reached the show that not all fans are as tuned in on.
Which is why we do a Mariners minor league segment on every show and each pick a player that has stood out over the week. Sure, we highlight the blue-chip prospects (Harry Ford, Jonatan Clase, Emerson Hancock, Cole Young) but we also like to give credit where credit is due when anyone catches eyes. Players such as Devin Sweet, Isiah Gilliam and Reid Vanscoter, who are not household names, meet that description.
So yes, you can call us baseball nerds. But we'd like to think that we are nerds with some humor.
We never wanted our podcast to be strictly nuts and bolts. We have every intention to have some laughs, keep things light-hearted, let our listeners learn who we are and feel like they are really getting to know us every time they hit the "Play" button, all while dissecting Mariners baseball.
In fact, we have a couple of segments dedicated towards humor at the end of each show. We hand out an infamous "Russell Wilson Umpire of the Week" each week, dedicated towards umpires who often fail to see over the middle or don't let plays develop, two traits that Russell has possessed for the majority of his career (another thing you'll quickly learn about us: we have been avid proponents for robot umps and the challenge system long before this podcast launched).
We also close out every show with a segment titled "Speak Your Mind", which is dedicated to getting away from baseball and diving in on whatever each of us have been thinking about over the past week. It has ranged from Elon attempting to destroy Twitter to NBA drama to anything else that the two of us have going on in our lives.
We have truly had an absolute blast with this podcast and love sitting down to chop it up about the Mariners (hopefully you'll hear that echoed through each episode for yourself). We still have a boatload of new content ideas as we continue on, and now we have the opportunity to do those things and keep growing at a really cool place with some awesome people at Just Baseball.
If you want to check us out on social media, you can do so below.
TikTok: @marinelayerpod
Instagram: @marinelayerpod
Twitter: @marinelayerpod
YouTube: Marine Layer Podcast
Really looking forward to connecting with all of you guys, and as we also say towards the start of every podcast: "let's get it rolling".