Analysis
WBC Breakout Stars Set To Grow in 2023
The World Baseball Classic was an irrefutable success, and participants like Lars Nootbaar and Yoán Moncada are bigger stars than ever.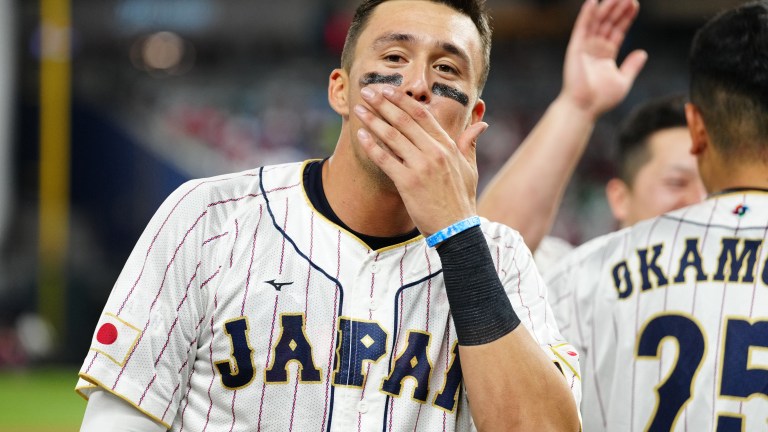 The World Baseball Classic was an event that shook the demographics of baseball on an international stage. The event exceeded all expectations and resulted in a display of global passion and energy that has never been seen in the baseball world.
The noise levels and fan activity at all of the stadiums were off the charts, and it seemed only to get better as the tournament continued.
From a baseball perspective, the stars were out, and MLB fans got to witness some incredible players within and outside of the league that they may not have known about. The talent that took the field was off the charts, and some of these players are going to have their careers impacted by the tournament. We've already seen numerous players from international teams earn contracts to come play for MLB organizations because of their impressive performances.
Beyond these unknown talents, players within organizations are already starting to garner more attention and earn further opportunities following the event. So, let's talk about some players that showed out during the World Baseball Classic and will take even more strides in this upcoming season.
I'll even include a pair of bonus players that deserve mention, given how phenomenal they are. They could be in MLB down the road.
Patrick Sandoval of Team Mexico
Possibly the biggest pitching star of the WBC, Sandoval was electric all tournament and played a huge role in Mexico's surprise run to a third-place finish, their best ever. He made the All-WBC team after starting two games for Mexico and allowing just one run across his 7.1 innings pitched during the tournament. He kept an elite Team Japan lineup in check before Mexico blew the late lead in the semifinal game.
Sandoval is coming off a huge breakout season with the Angels in which he pitched to a 2.91 ERA with 151 strikeouts across 27 games. The Angels have struggled to surround Shohei Ohtani with adequate pitching support for years, but Sandoval looks like he can be a focal point of this rotation alongside Ohtani for years to come.
The attention surrounding him has certainly spiked upwards because of this tournament, but it seems even more attention could be in his future if he's able to fully lay claim on the number two starter role in Los Angeles.
Yoán Moncada of Team Cuba
The once-top prospect in all of baseball has not had the career path that many envisioned. Yoán Moncada has dealt with injuries, COVID, and lack of performance over the past few seasons following a huge breakout year in 2019. Moncada started the WBC slow in Cuba's first two games but caught fire from then on.
Moncada destroyed opposing pitchers in the second half of the group stage and into the elimination rounds as he finished tied for the tournament lead in hits (10) and posted a 1.258 OPS across six games played. He looked energetic and locked in; he hasn't looked that way at many times for the White Sox over the past few seasons.
Pure talent has never been an issue for Moncada, but he hasn't been able to put everything together to this point in his career. While with Team Cuba, the world saw a different version of Moncada that the White Sox will hope can remain locked in this season. He finished with just a .212 average last season, but he has the ability to put together a season like 2019, in which he hit 25 home runs and finished as one of the best overall hitters in the game.
Lars Nootbaar of Team Japan
The sensation of Japan right now is none other than Lars Nootbaar. The majority of the Japanese team is already famous in Japan, but Nootbaar has become an icon over the last month. The Cardinals outfielder decided to play for Japan and instantly became a fan favorite; he's gained over 900k followers on Instagram since the beginning of the WBC. Nootbaar wasn't one of the best players for Japan, but he walked as many times as he struck out and had some big hits as well.
Nootbaar has only 399 at-bats in his MLB career with the Cardinals thus far, but he gained valuable experience during this tournament and figures to have a more prominent role this season. He hit 14 home runs last year in limited playing while ranking in the 98th percentile for walk rate. He's got an elite approach and barrels balls at a high rate that should lead to him becoming an even better player.
With his new fame and experience, Nootbaar is in line for a big season as another talented member of the loaded Cardinals' lineup.
José Quijada of Team Venezuela
The overall numbers skew things in the wrong direction in this case. José Quijada got hit hard against the United States in his final appearance but was electric in his first two games with Venezuela. He delivered one of the most exciting early moments in the tournament when he escaped a jam against the Dominican Republic with his jersey wide open. His two scoreless appearances helped lead Venezuela to a fifth-place finish that could've been even more if not for Trea Turner's iconic home run.
The veteran reliever is coming off his best season by far in MLB and is going to be an important piece for the Angels this year. He pitched to a 3.98 ERA last season and will look to continue improving after an exciting WBC experience. Like his Angels teammate Sandoval, Quijada is another arm that will hope to provide stability to a pitching staff that needs it.
His command has been one of his biggest issues during his career, and he'll hope to limit his walks in an effort to become more reliable.
Javier Assad of Team Mexico
Here's a guy that many still may not know even after the tournament, but they should. Javier Assad was excellent in his two relief appearances for Team Mexico, as their pitching staff led the way for them all tournament long. He entered in relief against the USA and threw three impressive scoreless frames against a loaded lineup – and this is a guy who has only appeared in nine total MLB games. He continued to impress as he came in for Julio Urías against Puerto Rico, who allowed four runs early in the game. Assad shut down Puerto Rico, outperforming Urías, which allowed Mexico to come back and win the game.
These two performances against star-studded lineups should not be overlooked, and Assad may be ready to make a big impact for the Cubs sooner than later. He was confident and steady against plenty of high-level talent, following a 2022 season in which he posted a 3.11 ERA in nine MLB games. Furthermore, he pitched to a 2.66 ERA between Double-A and Triple-A last year, which cements his case to be a serious piece for the Cubs soon.
He's been primarily a starting pitcher through the minor leagues, but his experience in relief in the WBC will likely help him pitch out of the bullpen for the Cubs. Given how well he succeeded against mostly MLB talent, he could end up being one of the best arms in the Cubs' bullpen.
Bonus: Roki Sasaki and Munetaka Murakami of Team Japan
These two names were already being talked about in the baseball community prior to the tournament, but they had not officially put themselves on the radar of fans all over the world. Roki Sasaki and Munetaka Murakami are already possibly the best pitcher and hitter, respectively, in Japan, and their future only got brighter in this tournament.
Sasaki was absolutely incredible to watch in his two starts as he pumped over 100 MPH on the majority of his fastballs. He features an insane split-change that moves in numerous ways and directions, allowing him to miss bats at an elite rate. His only truly missed pitch of the entire tournament was taken deep for a three-run home run, but he was otherwise possibly the best arm in the event. He's just 21 years old and has a few years before he can come over to MLB, but he will be one of the most coveted international pitchers ever.
Murakami, on the other hand, struggled for much of the tournament. He's coming off back-to-back MVPs in Nippon Professional Baseball and entered the event with a lot of pressure on his shoulders, especially for a 23-year-old. He struck out 13 times in the tournament, with many of his strikeouts coming earlier on. However, he broke out of his slump with possibly the biggest hit of the event as he walked it off with a two-run double in Japan's unbelievable comeback against Mexico. He proceeded to hit an absolute bomb that proved to be crucial against the USA in the championship game.
These two are on track to be the biggest international signings of this generation, and their ability to deliver on the international stage has only helped their popularity and outlook even further. While neither is expected to be posted until after 2025 at the soonest (and likely later for Sasaki), it's worth keeping up with them, as they'll surely continue to dominate in Japan prior to eventually making their way to MLB.