Analysis
Way-Too-Early Cy Young Watch for the National League
With aces like Corbin Burnes, Sandy Alcantara, and Max Scherzer off to rough starts, the NL Cy Young race is wide open so far in 2023.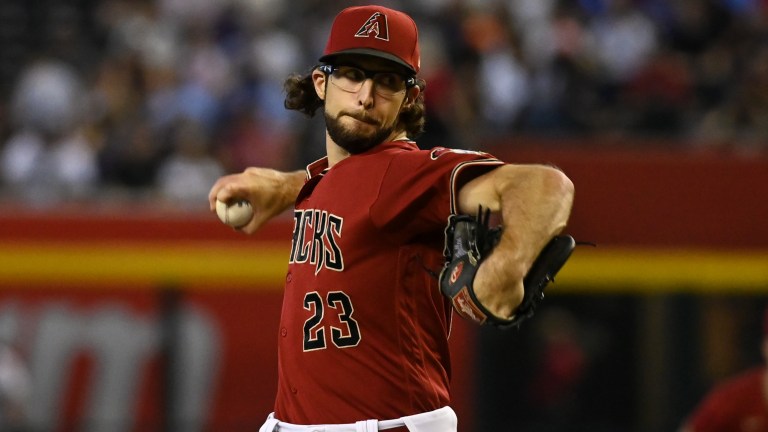 Take a look at the American League pitching leaderboards, and you'll see some familiar names. Luis Castillo leads the league with a 0.73 ERA through his first four starts. Gerrit Cole holds the lead in WAR according to both FanGraphs and Baseball Reference. Jacob deGrom ranks first with a 1.28 FIP and 2.09 xFIP, while breakout ace Pablo López leads the pack with 33 Ks. Shohei Ohtani, Shane McClanahan, and Framber Valdez are also off to strong starts of their own.
In other words, the way-too-early contenders for the AL Cy Young Award include the usual suspects alongside some talented pitchers primed to take a step forward in 2023. There aren't any huge surprises. In the National League, however, it's an entirely different story.
Over on the Senior Circuit, most of the usual suspects are off to a rough start. Justin Verlander is on the injured list, and Max Scherzer's performance has Mets fans wondering if he ought to be as well. Reigning Cy Young winner Sandy Alcantara was brilliant in his shutout against the Twins, but the Phillies embarrassed him with 9 runs his next time out. Corbin Burnes, typically a strikeout machine, has recorded only 17 punchouts in 22.2 IP – that's less than 7.00 K/9. Max Fried missed two weeks recovering from a hamstring strain. Zack Wheeler has an unsightly 4.79 ERA; his teammate Aaron Nola has a ghastly 5.91 mark of his own.
Verlander. Scherzer. Alcantara. Burnes. Fried. Wheeler. Nola. These were the guys we expected to pace the National League in ERA, strikeouts, and WAR. Those were the pre-season favorites for the NL Cy Young. Suffice it to say, things haven't gone according to plan.
So, which starting pitchers are turning heads instead? Marcus Stroman has been excellent in all four of his starts, and he leads the way with a 0.75 ERA. Stroman is tied with Graham Ashcraft for the lead in bWAR, while he's neck and neck with Spencer Strider, Zac Gallen, and Jesus Luzardo atop the fWAR leaderboards. Other NL pitchers putting up Cy Young numbers include Anthony DeSclafani, Julio Urías, and Justin Steele.
Those are all talented pitchers, and hopes were reasonably high for all of them entering the season (perhaps with the exception of DeSclafani). However, I wouldn't have called any of them a Cy Young favorite.
Urías has earned Cy Young votes in each of the last two seasons, but he appeals more to traditional voters than the sabermetric crowd. He racks up wins thanks to the Dodgers' offense and keeps his ERA low thanks to the Dodgers' defense. His advanced stats, however, are never quite as impressive. I've always considered him more of a number two starter than a true ace. As per usual, he leads the NL in wins this season and ranks sixth in ERA, but his underlying numbers are only great (as opposed to elite).
Gallen has also earned Cy Young votes before, but he has yet to establish himself as an ace over a full season. His name popped up as a potential Cy Young candidate this winter, but more as a dark horse than a safe choice. Strider is in the same boat. He certainly looked like a Cy Young-caliber pitcher last year, but he's too inexperienced to be labeled a favorite.
DeSclafani and Stroman are veterans, and neither has ever been called an ace. I'm more inclined to believe in Stroman at this point, but I'm interested to see how both perform going forward. Ashcraft, Luzardo, and Steele are all young arms who took a step forward last season. Ashcraft and Luzardo, in particular, have ace potential, but you'd have gotten some strange looks if you suggested either could be an NL Cy Young contender a few weeks ago.
To make myself perfectly clear, I'm not calling any of these guys legitimate Cy Young candidates – at least not yet. There's a reason the modifier "way-too-early" is right at the top of this page. In truth, I'm far more interested in the other guys – the pre-season favorites who have actively damaged their chances thus far. A few weeks into the season, it's not too surprising to see a strange assortment of names atop the leaderboards. However, it is surprising to see leaderboards without any of the usual suspects on top.
On the one hand, guys like Burnes and Scherzer still have plenty of time to break out of their slumps. However, the Cy Young winner usually gets off to a hot start straightaway. Alcantara and Verlander were great last April; Burnes and Robbie Ray were great the April before that. A starter only gets 30ish outings to make an impression, so a few bad games can severely decrease anyone's Cy Young chances.
All this to say, I'm very curious who will emerge as the NL Cy Young frontrunner. If I had to guess, I'd say Strider is the favorite right now. He was a dark horse pick in March, and he'd have the support of both the traditional and sabermetric crowds. Gallen is a fine pick too, while Fried could storm back into the conversation if his hamstring allows.