Analysis
Byron Buxton and Luis Arraez Headline AL Central All-Star Snubs
East coast bias was clearly present during the first round of All-Star voting, as these five deserving NL Central players were snubbed from being Finalists.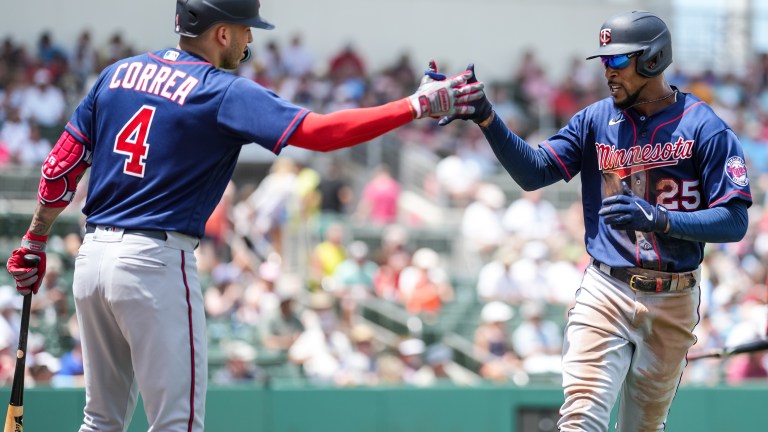 The finalists for the 2022 MLB All-Star game brought us an interesting bunch of players, with a monumental 10 of the seventeen finalists in the American League coming from the AL East.
Yesterday, we took a look at each of the 10 and broke them down. Do all of them deserve it? No, not a chance. There are some incredibly unlikely suspects that made it through the first round of voting. Yes, the entire country of Canada, I'm looking at you.
The American League Central, being one of the weaker divisions in the sport, only has two representatives in this stage of voting. Jose Ramirez is included in this duo, being one of the best hitters in all of MLB during the first half. And Tim Anderson of the Chicago White Sox is the other, as he has provided exhilarating performances despite Chicago's struggles.
With that being said, there are a few names who have been left off of this list. And I don't agree with it. While yes, the AL Central has been poor this year, let's not shy away from the fact that we're seeing some incredible performances from players in this division.
Today I have five names for you that should've at least made the second round of voting as a finalist, if not just start the game altogether.
Byron Buxton, Centerfielder, Minnesota Twins
I mean come on, this one cannot be serious.
Byron Buxton is experiencing a fully healthy season after his MVP-caliber start in 2021 and has been one of the best outfielders in the sport this year. I faintly remember Buxton topping the ASG votes early last year after his injury, so why aren't we showing him love now?
This guy deserves to be here. Regardless, let's break down his case for the Midsummer Classic.
Buxton's 145 wRC+ is the third-most by any centerfielder in baseball, behind Mike Trout and Aaron Judge. Compared to outfielders as a whole, it's the fifth-highest mark. His 22 home runs are the fifth-most in the game. His ISO of .348 is the second-best in MLB.
He's changed his approach at the plate, selling out for power. This explains his clear drop offs in batting average and on-base percentage, .226 and .301 respectively. But it's factored into more run production. He's been elite this season. This offensive outburst has been paired with elite defense in center, as his 6 OAA is the second-most by any centerfielder in the game.
So not only has Buxton been an incredible bat, he's playing elite defense. But he isn't an All-Star finalist? This makes no sense.
Byron Buxton fully deserves the nod to be in this stage of All-Star voting. If anything, he should be considered as a starter! If Bo Bichette and his .299 OBP are acceptable as a finalist, Buxton's .301 deserves some love too.
Luis Arraez, First Baseman, Minnesota Twins
We move onto our second Twin of the day, Luis Arraez. While Arraez doesn't possess the power in which others do in the position, he's been one of the best bats in baseball during 2022.
The 25-year-old obtains the ability to get on-base at a league-high rate and is an incredible contact bat for Minnesota. He's been a force at the top of the order for this team. In all honesty, I was shocked that he didn't make the finals in the voting. Alas, this is a very common case in 2022.
As I mentioned before, Arraez's ability to get on-base this season has been unmatched. His .422 OBP is the highest mark in MLB, tied with fellow first baseman Paul Goldschmidt for the league-lead. Likewise, his batting average of .348 is also the best mark in the sport.
He rarely strikes out, with his 8.3% K rate the lowest among all players in his position. And Arraez's 156 wRC+ is the third-highest mark among first basemen, behind Goldschmidt and finalist Ty France. First baseman are typically known as sluggers, who don't provide a ton of defensive pedigree. Arraez is the complete opposite of this. He isn't a huge power bat, with only four home runs and a .105 ISO. However, he provides incredible defensive utility, playing at multiple positions around the diamond.
I fully believe Arraez deserves a shout here. Despite the fact that we are moving into an age of increased advanced analytics, Arraez has provided real value to this Twins team. And yes, he has been a better player than Vladimir Guerrero Jr. in 2022.
Carlos Correa, Shortstop, Minnesota Twins
While I don't believe Correa should be one of the two finalists in this category, he fully deserves a shout here. The 27-year-old was brought to Minnesota on the largest AAV for an infielder ever and had a lot to prove. After a slow start, he's returned to being one of the best in the game. Xander Bogaerts and Tim Anderson should be the finalists, but Correa would be the hypothetical third guy among shortstops in the AL.
Correa's 138 wRC+ ranks as the fourth-most among shortstops, behind guys like Bogaerts, Trea Turner and Dansby Swanson. He ranks second in OBP at .363 and fourth in SLG at .461 in his position. The lack of game time might be a factor as to why we don't find him higher on this list, as he's only appeared in 60 games in 2022. But that didn't stop Fernando Tatis Jr. and his whopping 0 games played, being fifth in the NL shortstop voting. Oh well. Correa also hasn't been as elite on the defensive side of the ball as we're accustomed to, accumulating -1 DRS at short this season.
The Twins' shortstop's bat alone should force him into the top-three of this voting. While there are only two finalists allowed, we have to recognize and put more attention as to what Correa's done in 2022. It's been impressive!
Jose Abreu, First Baseman, Chicago White Sox
The Chicago White Sox have experienced a nightmare of a start to their 2022. Derailed by injuries, bonehead plays, and constant underperformances have left them under .500. Despite this, Jose Abreu has quietly put together a great campaign. And dare I say, he's been better than Vladimir Guerrero Jr. this season. A bold take, but let's take a dive into why this is true.
Abreu has a higher wRC+, batting average, on-base percentage, RBI's, wOBA, xwOBA, BABIP, and fWAR than Guerrero. He's also striking out at a lower rate, is walking more, and is providing better defense than the young gun.
The only areas where Vladdy has Abreu beat is in the home run category, slugging percentage, and isolated power. Kind of crazy when you really match the two up against each other. The former MVP is truly having a slept-on season. While Abreu hasn't performed to an award-winning standard like he did in 2022, he's trumped one of the All-Star finalists statistically.
Jose Abreu shouldn't be a finalist, let's get this out of the way. Compared to France and Arraez he doesn't stack up. But Vladdy? He has him beat. Put some respect on Abreu's name!
Andres Gimenez, Second Baseman, Cleveland Guardians
Andres Gimenez should be a finalist. There's no question about it. The only thing that truly stands in the 23-year-old's way is the lack of game time, having only played in 68 games this season. During that time however, he's been among some of the best at his position. And some would argue he deserves to start for the American League in the All-Star Game.
Gimenez is ranked as the third-best hitting second baseman according to wRC+ at 139. His batting average of .300 and BABIP of .347 are the best mark among players at his position in the American League. He also obtains the second-highest slugging percentage of AL second basemen at .489, trailing behind Jose Altuve.
He's been elite at the plate, but he's also been incredible defensively. Gimenez's 7 defensive runs saved is tied for the second-highest mark among AL second baseman with Trevor Story and Gleyber Torres. While Torres and Story have been great on the other side, Gimenez has provided more with the bat.
It's puzzling to me how Santiago Espinal and his 105 wRC+ are more deserving than Gimenez. I get it, he plays in Cleveland which doesn't receive as much national coverage. But come on, this guy's been crazy good in 2022.