Analysis
Unlikely All-Star: Brandon Drury Is Making Reds Best Case
Every team needs an All-Star. For the Reds, the leading candidate right now is utility-man Brandon Drury.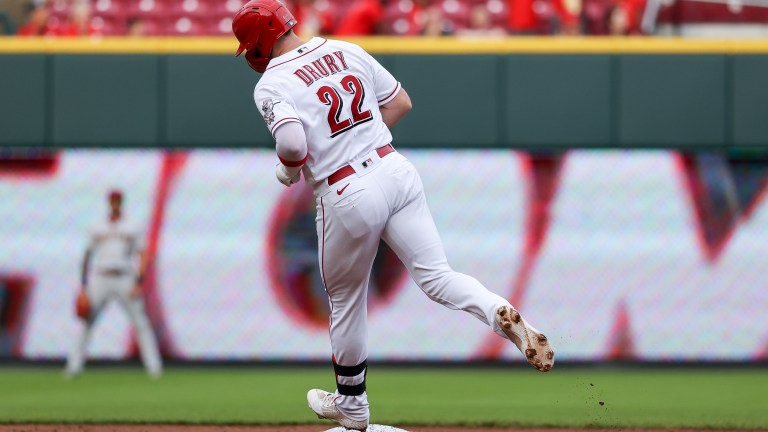 Every year, there are always a few All-Stars who make it as the best representative for a bad team, who probably would not play in the game otherwise. These All-Stars are often one-hit wonders, who may never appear in another Midsummer Classic again.
Back in April, our resident bad team aficionado Clay Snowden wrote an article exploring some of the one-hit wonders of the past when it came to the MLB All-Star Game. This season, there is sure to be more one-hit wonders joining that list from some of the worst teams in baseball and over the next few weeks we are going to spotlight those players.
We begin with the Cincinnati Reds, who are currently 20 games under .500, with a less than zero percent chance of making the playoffs at this point.
If the expanded playoffs were in place last season, the Reds would have actually made it. While their 83-79 record was not too impressive, they still managed to have the sixth-best record in the National League and were one of seven teams with a positive run differential.
Instead of trying to build off their modest success in 2021, the Reds went into a soft teardown this offseason, trading former All-Stars Jesse Winker, Eugenio Suarez and Sonny Gray, while letting Nick Castellanos walk in free agency.
This roster overhaul left plenty of playing time open for the taking and Brandon Drury has been one of the greatest beneficiaries. All of which has led to one of the more improbable All-Star bids of the 2022 season.
Brandon Drury's All-Star Case
Traditional Stats: .268/.332/.516, 14 HR, 25 XBH, 35 RBI, 42 R, 52 K, 235 PA
Advanced Stats: 22.1% K%, 7.7% BB%, 130 wRC+, .355 wOBA, 1.7 fWAR
When Brandon Drury signed with the Cincinnati Reds, there was not a person on planet Earth (Drury included) that expected he would be in the conversation to make the first All-Star appearance of his career in late-June. Yet here we are.
The Reds signed Drury to a minor league contract with an invitation to spring training this offseason and it sure looks like they have uncovered a diamond in the rough. The 29-year-old currently leads the team in wRC+, slugging percentage, home runs, runs scored and has been their most valuable player with a 1.7 fWAR.
In an offense that has been one of the worst in baseball, Drury has been a much-needed bright spot. This breakout should not come entirely unexpected either, as there were some signs of this from former top prospect last year as well.
Drury spent the 2021 season on the taxi squad for the New York Mets, shuttling up and down from Syracuse on multiple occasions. Altogether he proved that there was still plenty left in the tank for any team that was willing to give him some at-bats.
In 51 games played with the Mets, Drury hit .274/.307/.476, with four home runs and a 114 wRC+ in 88 plate appearances. It was a small sample size, but a promising one for a hitter who got inconsistent playing time, with over a third of those at-bats coming off the bench as a pinch hitter against left-handed pitching.
In 2021, the right-handed hitter showcased an ability to rake against left-handed pitching, posting a .881 OPS against southpaws. That has carried over into this season, as Drury is hitting .298/.322/.667, with a 165 wRC+ against lefties.
Don't expect Drury to suddenly become a perennial All-Star, but the stars are aligning for him to make the team this season. The only other real All-Star candidate on the Reds would be catcher Tyler Stephenson, who just went down with a broken thumb.
Unless Tyler Mahle or Luis Castillo go on some incredible run over this final stretch before the All-Star break, it really looks like Drury's spot to lose at this point. Which is an incredible achievement for a player who's MLB future was very much in question after the 2020 season.
Is Drury's Success Sustainable?
If we go back to 2013, Brandon Drury was one of the headlining prospects involved the trade that sent then two-time All-Star Justin Upton from the Arizona Diamondbacks to the Atlanta Braves.
Drury debuted for the Diamondbacks in 2015 and become a regular the following season. Across two seasons in 2016 and 2017, Drury hit .275/.323/.453, with 29 home runs, 116 RBIs and a 97 wRC+. In nothing else, he looked like a quality utility infielder who would stick around in the big leagues for a long time.
Prior to the 2018 season, Drury was traded again, this time to the New York Yankees. His first tenure in New York was the turning point in his career, as Drury began to deal with migraines and blurred vision that disrupted his entire season. He was eventually traded to the Blue Jays, but would only play 26 games between the two clubs without much success.
His struggles following him in 2019 and 2020, as he failed to make much of an impact in Toronto. Across parts of three seasons with the Blue Jays, Drury posted a 61 OPS+.
This brings us to the aforementioned comeback season he enjoyed with the Mets in 2021, before his full breakout this season. Now we are seeing Drury more comfortable in the box than he has ever been, which has finally allowed his power to translate. Drury is on pace to shatter his personal home run record, as he is only two shy of tying it right now.
One of the biggest things that jumps out when looking over Drury's numbers is an uptick in his walk rate. His 7.7% walk rate has allowed him to get on base at a .332 clip, which is over 30 points higher than his career average.
Looking over his Baseball Savant, the data is telling us that Drury is better than he has ever been at producing loud contact. He is hitting the ball hard 48.1% of the time, with a Barrel% of 11.7. Both of those marks rank among the top 20 percent of hitters in baseball.
Always a free-swinger, Drury has hit chase rate in check and is also isn't missing when he swings the bat. His Whiff% ranks among the top hitters in baseball (79th percentile) as well. Drury is also currently in the 66th percentile for Outs Above Average, showing he is not a liability with the glove either.
This will likely be the only All-Star appearance of Drury's career, but there is absolutely no shame in that. Drury's next contract in free agency should be an MLB one and that is a great testament to the perseverance he showed when his career got off track.
Drury's Future in Cincinnati
Brandon Drury certainly likes to hit in Cincinnati, but that does not mean he will spend the whole season there. Assuming he can continue to produce over the final six weeks until the deadline, Drury could fetch the rebuilding Reds a nice prospect for his final few months of service.
Capable of playing second base, third base, either corner spot in the outfield and even shortstop in a pinch, Drury is the ideal super utility man a contending team will look to pick up for their bench. The Braves just lost Ozzie Albies to a fractured foot, placing their second baseman on the 60-day IL.
Drury could be the perfect stopgap solution for Atlanta, who would be capable of manning the position for the remainder of the season if Albies can't make it back to the field.
There are countless other teams who could use a player with Drury's positional flexibility and skill-set against left-handed pitching. Don't expect the Reds to net someone's top-10 prospect for Drury, but depending on the system, a fringe top-20 prospect with some upside is certainly on the table.
Considering he was originally signed to minor league contract, anything the Reds get in return for Drury is found money. Look for them to make a deal now and who knows, maybe he comes back to Cincy for a second tour of duty in 2023.