Analysis
Should the New York Mets Give Pete Alonso a Contract Extension?
The time is now for the Mets to lock up one of the game's premier sluggers, as the contract price tag only grows the closer Pete Alonso gets to free agency.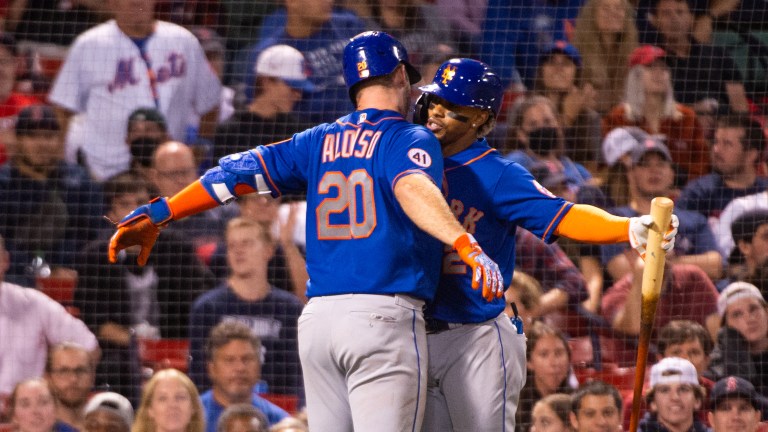 This offseason, Steve Cohen has invested a significant amount of money in an attempt to augment his roster in the short-term to win now. Cohen's biggest prize, Max Scherzer, will earn a whopping $43.3 million in 2022 and $130 million over the next three seasons.
Combine Scherzer's contract with the deals given out to Starling Marte, Mark Canha and Eduardo Escobar and Cohen has spent over a quarter of a billion dollars this offseason. While all of this money was given out in hopes of turning the Mets roster around overnight, Cohen can't lose sight of building a sustainable long-term winner in Queens.
The best way to build a roster that can contend for years to come is to identify the young players that can be cornerstones moving forward and get them signed to long-term extensions to remain with the Mets.
As Cohen learned last year with the $341 million contract he gave to Francisco Lindor, players only get more expensive the closer they get to free agency. This is why Cohen should be on the phone with Pete Alonso's representatives as soon as the lockout ends to try to iron out a deal for their budding superstar slugger.
Why Players Take "Discounted" Extensions
Before we dive into the numbers on Alonso's career and what he could command from the Mets in an extension, let's first discuss the leverage teams have in signing players sooner rather than later.
The last nine-figure extension we saw was given out by the small market Tampa Bay Rays to retain their franchise shortstop, Wander Franco. Franco has yet to even play 100 games at the big league level, but the Rays are so sure of his talents that they locked him into an 11-year, $185 million deal, with a 12th year, $38 million option.
When this deal was struck, many fans and pundits wondered if Franco left some money on the table by signing a deal now. We had the exact same conversation a few years ago when Ronald Acuna Jr. signed an eight-year, $100 million extension with the Atlanta Braves.
But what everyone needs to understand when we discuss these contracts is that nothing is guaranteed in baseball. With superstars like Franco, Acuna or even Alonso, we can be pretty confident of future success, but no one knows for sure how a career will shake out.
Before 2021, Cody Bellinger won an MVP in his last full 162-game season in 2019. Then this year, the 25-year-old crashed back down to earth, hitting just .165/.240/.302. Of hitters who got at least 350 plate appearances, only Jackie Bradley Jr. posted a worse wRC+ than Bellinger's 48 wRC+ in 2021.
In retrospect, Bellinger probably wishes he locked up that contract after his MVP season, when his value was at an all-time high. The same could be said for Trevor Story, who just hit free agency after a season far inferior to his previous production in the three years prior, where his 13.6 fWAR was the second-best mark among all MLB shortstops.
When a player is still three years away from free agency and a nine-figure contract is put on the table, the opportunity to secure generational wealth is too great to pass up. This is why a player like Franco takes a team-friendly "discounted" contract, so he can ensure his career earnings today in case his talents diminish tomorrow.
Precedent for Pete Alonso's Extension
Pete Alonso has already accomplished a lot in his young career, as the 2019 Rookie of the Year has established himself as one of the game's premier sluggers. Through his first 300 career games, Alonso's 88 home runs were just two shy of Ryan Howard's MLB record through that many games.
Since his debut, no one has hit more home runs than Alonso's 106 and his 136 wRC+ is the 13th-best mark in MLB. Simply put, Alonso is a run-producing machine.
If we look into recent history, there are two first basemen who received contract extensions early in their careers who we can look at to get a general idea of how much money Alonso could command. The first player to discuss is Freddie Freeman, who just finished playing out the eight-year, $135 million extension he signed with the Braves after the 2013 campaign.
The runner-up to teammate Craig Kimbrel in the 2011 Rookie of the Year voting, Freeman had established himself as one of the best first basemen in baseball when he signed his extension.
Across his first three years, Freeman hit .287/.361/.468, with 67 home runs, 279 RBIs and a 128 wRC+ in 451 career games played. Like Alonso, Freeman was three years away from free agency when he signed his extension. One key difference is that Freeman was entering his age-24 season, whereas Alonso is 27 years old, having debuted at 24.
Freeman's eight-year extension allowed him to hit free agency prior to his age-32 season, as he is now looking to cash in on his marvelous career up to this point with the Braves. If Alonso were to sign a similar extension now, he would not hit free agency until after his age-34 season.
Because of his age, Alonso may prefer a five-year deal instead of an eight-year commitment, this way he too could hit free agency prior to his age-32 season.
If the Mets want Pete for longer than that, Alonso could push to sign his one big contract right now and essentially make him a Met for his entire career, similar to the deal the Red gave Joey Votto a decade ago.
In 2011, Votto won the MVP in his third season. His first of four consecutive seasons in which he would lead the league in on-base percentage. Votto also led the league in slugging that year (.600) with 37 home runs, 36 doubles and two triples for a total of 75 XBH.
Heading into his age-27 season, Votto signed a three-year $38 million extension, which basically bought out his arbitration years. Then in 2012, Votto was an All-Star again, leading the league with a .416 on-base percentage. After finishing sixth in MVP voting, the Reds rewarded him with a 10-year, $225 million extension.
This new deal included the two years that were left on his previous contract, bringing the total to $251.5 million over 12 years. This put the AAV of his contract at roughly $21 million, an affordable number for a Reds team to lock in their franchise cornerstone.
Alonso does not have an MVP on his resume, as his career success has not quite matched where Votto was when he signed his deal. The Mets first baseman has however been better than Freeman was prior to signing his $135 million extension.
If Alonso and the Mets can find a middle ground between these two contracts, there is a good chance both sides agree to an extension that will keep the fan favorite in New York for the remainder of his career.
What Could Alonso's Contract Look Like?
Let's just say the Mets dropped a 10-year $190 million contract on Pete Alonso's doorstep tomorrow. Fans would cry and scream about all the money Alonso would be leaving on the table if he were to sign, but there is a good chance that would open a dialogue that could lead to a deal getting done.
On my podcast today, I discussed a framework around this extension that I think could work for both sides.
The 10-year, $190 million contract would simply be a base for Alonso. But what would really entice him to sign is an incentive structure tied to what the Polar Bear does best. Mash dingers.
Byron Buxton's recent contract extension proved that players could be interested in incentive-laden deals, allowing the team to protect themselves from some of the risk, while still compensating the player if he gives max production.
For Buxton, the incentive structure was tied to MVP voting because if he is healthy, there is no reason why he can't finish in the top-10 of MVP voting each year.
For Alonso, an incentive structure tied to home runs could be the perfect way to ensure he maximizes his earning potential, while the Mets can protect themselves from the risk of having two decade-long contracts on the same roster with Lindor's deal already on the books.
The $19 million AAV would put Alonso's contract in between the $16.9 million AAV of Freddie Freeman's deal and the $21 million AAV of Votto's. If Alonso received incentives starting at 35 home runs, with bonuses coming with every five home runs he hit after that, the 27-year-old could ensure that he is still getting paid top dollar when at his best.
Other incentives tied to All-Star appearances and end-of-season awards could further entice Alonso to sign a long-term contract now, forgoing his right to free agency. From the Mets perspective, they would be best served negotiating a contract with Alonso, because if they let this play out, he could become far more expensive three years from now in free agency.
Now if Alonso really wants to hit the open market at some point in his career, a five-year, $100 million would buy out his arbitration and first two years of free agency, while still being an affordable deal for Cohen's Mets. It all depends on what Alonso and the team want moving forward.
Regardless, if Cohen wants to build a sustainable winner in Queens, signing their best homegrown position player since David Wright would be a great step in the right direction.