Analysis
Ranking Every Pre-Arbitration Extension From the Past Two Years
Some of these pre-arb contracts are looking pretty team-friendly right now, while others haven't gotten off to the strongest start.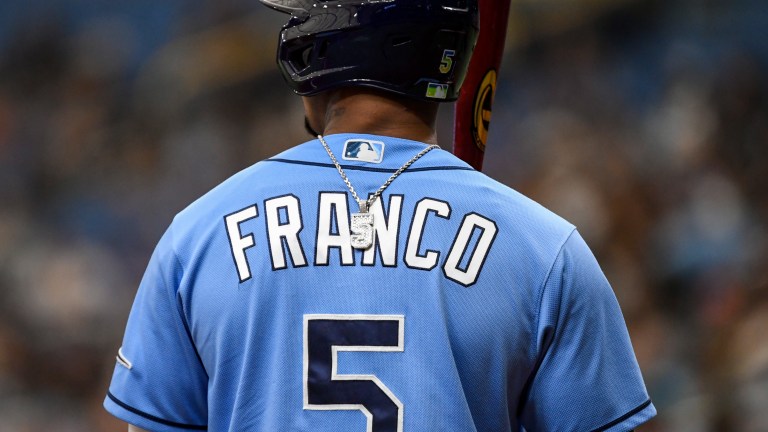 Major League Baseball has the most complex and detailed contract system for young players making their way into the league. The pre-arbitration and arbitration system is nothing like what takes place in other leagues, and the way that teams function from a contractual standpoint has changed greatly in recent years, with an uptick in teams locking up players with high promise before they even reach the arbitration stage.
Since the beginning of 2022, 15 players have begun pre-arbitration contracts that guaranteed them more money early in their careers but limited their ability to test the market anytime soon. While these deals may seem cheap, they provide players with significant money compared to what they could make in arbitration. Meanwhile, teams are willing to spend more on the front end to secure their stars before their value rises.
Teams like the Atlanta Braves have become the standard for these types of deals, as they've been aggressive in locking up young players that they deem part of their future before they've even been in the league for more than a year.
Some of these deals made in the past two years are looking excellent right now, but others are seeming much more worrisome due to the variability of performance we've seen from some players. While it can be tempting to get ahead of things early, some singular strong seasons have led to extensions for players that haven't lived up to expectations since signing their deals.
With the recent successes of some players and the regression of others, it seems like a good time to rank the value of each deal right now since they've been signed. Positional value matters, as does how much money the player signed for in their deal. So, expect to see most relievers fairly low even if they've been effective, and players that signed the largest deals may be lower than you'd expect given how much money they're set to make.
These rankings are also based on value since signing the deal. So, for players whose deal started last season, it's based mostly on the past season and a half, and for those that began in 2023, it's based primarily on this season with some consideration given to last year. Let's dive into these rankings and look at all 15 of these players.
15. Myles Straw – 5 years, $25 million (Started in 2022)
Yes, Myles Straw is a terrific defensive center fielder. No, he is not deserving of a five-year extension. Straw had a strong second half after being sent to Cleveland during the 2021 season, which prompted the team to extend him as their future center fielder. In his career season in 2021, he finished with a .697 OPS and showed off his speed with 30 stolen bases. These numbers were good but ultimately probably weren't worthy of an extension.
Straw regressed to a .564 OPS last season and hasn't been much better at .622 this year. He's one of the worst hitters in the league, as seen by his 64 wRC+ last year, and for a team that spends very little money, $5 million a year could have been allocated much better.
14. Aaron Ashby – 5 years, $20.5 million (2023)
This feels harsh given that Ashby has been hurt and hasn't thrown yet, but it's hard to place him anywhere else right now. He showed promise last season with his xERA of 3.75 and FIP of 4.06, which indicates he should be better than his 4.44 ERA suggests. Furthermore, his role is somewhat unclear as he was in more of a swingman role last season and may or may not get an immediate starting role upon his return.
Ashby has the ability to seriously rise up this list given his affordable contract, but he hasn't been able to show that since signing an extension in the offseason.
13. Andrés Giménez – 8 years, $106.5 million (2023)
Coming off a season in which he finished with over 6 fWAR, Giménez was a prime candidate for an extension. He looked the part of an elite young infielder last year and was compensated as such. I'll leave the rest of this breakdown to Ryan Finkelstein, who detailed the extension and current situation last week.
But things have not been good this season, and with one of the most expensive deals on this list, the possibility of Giménez being a one-season wonder is incredibly troublesome. He has been awful this season, and at his per-year salary, he needs to be a substantively above-average player for this contract not to be a huge bust.
12. Ke'Bryan Hayes – 8 years, $70 million (2022)
The Pirates are headed in an excellent direction right now, and given the minimal money they have committed to the future, this one isn't going to hurt them. But given the amount of money he's making and his lack of production, Hayes checks in toward the bottom of the rankings.
This contract began before 2022, and Hayes finished the year last season with just an 88 wRC+ and an OPS of .659 in his first mostly full year. His defense is elite, but he has not shown the ability to be a bat worthy of $70 million at this current point. He's currently trending up with a 97 wRC+ so far in 2023 and has been particularly solid as of late, with a scorching start to June that has him hitting over .500 this month. With his hard-hit rate and launch angle rising this year, Hayes could ascend up this list soon but can't be considered any higher just yet.
11. Garrett Whitlock – 4 years, $18.75 million (2023)
Simply based on performance since signing the contract, Whitlock should probably be lower on this list. But I'm giving him the benefit of the doubt given the affordability of his contract and that he's only thrown six games this season. Whitlock's role has been undefined, but it seems like Boston is finally committed to him being a starter now. He proved himself worthy of an extension last season with a 3.45 ERA in 31 games (9 starts), along with a FIP of 3.29 and an xERA of 3.17 that indicate he could be even better.
If he continues to get back to that level of pitching and remains a starter, this deal could look like a steal in the next few years. A young starter with his upside at that yearly value is a good business move for any team.
10. Trevor Stephan – 4 years, $10 million (2023)
This is where the positional value really comes into play on this list. Trevor Stephan has been great, and this value is completely worth it for a player of his caliber. But in reality, he's a mid-late relief option in the bullpen for Cleveland. He pitched to a 2.69 ERA across 63.2 innings in his second season last year and has continued to be around the same with a 2.63 ERA so far this year.
Cleveland is happy with this ideal, and Stephan is making more money than the average third-year middle relief pitcher. This is a win-win deal, and he should remain one of the top three arms in the Guardians' bullpen for the next four years.
9. Keibert Ruiz – 8 years, $50 million (2023)
This one was tough for me to rank because I'm buying more stock in Ruiz every time I watch him play. He was one of the pieces acquired by the Nationals in the massive Trea Turner and Max Scherzer trade with the Dodgers two years ago. While he has yet to prove himself as an elite catcher, he's starting to put things together, and this deal could prove to be excellent value in a few years.
Ruiz rarely strikes out and has great plate discipline. He's got work to do still, but the Nationals clearly expect him to be their catcher for a long time, and this deal is worth it for a catcher that should provide at least average offensive output. Furthermore, the value for Washington is even better than it would be for others given they're in a rebuild and don't need to worry about saving money anytime soon.
8. Andrés Muñoz – 4 years, $7.5 million (2022)
One of the best relievers in baseball last season checks in at eighth on the list. This may feel low, but ultimately the top six players on this just have so much more potential value to their team than a reliever ever truly does. But to be clear, this deal is a slam dunk for the Mariners. Muñoz has some of the nastiest stuff in the league and finished the 2022 season with a 2.49 ERA and 2.04 FIP as Seattle's set-up man. Simply put, he's one of the best eighth-inning arms in baseball and could easily be a closer for the Mariners if they needed him to do so.
He struck out hitters at an absurd 38.7% rate last year and has looked great in his five games this year despite battling injury. This contract makes perfect sense for Seattle and works well for Muñoz, who would have been making minimal money during arbitration.
7. Emmanuel Clase – 5 years, $20 million (2022)
The last reliever on the list is the most expensive one but deserves the highest ranking as one of the premier closers in all of baseball. Clase's deal pays him $4 million a year, which is ultimately a steal for a lockdown closer that will be anchoring the Guardians bullpen for a while. Clase followed up an unbelievable 2021 that earned him this deal with an even better 2022 season. He finished last year with a 1.36 ERA and 1.98 FIP and was universally considered the second-best closer in the league.
Clase's produces ground balls better than almost anyone, and there's no reason to question the value of this deal. He has struggled by his own standards this year, yet has recorded 20 saves already with an ERA of 2.90. This deal will age well, and I'm pretty certain of that.
6. Michael Harris II – 8 years, $72 million (2023)
The reigning NL Rookie of the Year caused me to break the guidelines I set for myself in this article. Harris broke out in a huge way last season with one of the most impressive rookie seasons we've witnessed in a while, as he beat out teammate Spencer Strider (who we'll get to later!) for the top rookie honor last year. Harris was one of the best defensive outfielders in baseball last year while producing a 136 wRC+ and accumulating 4.8 WAR in just 114 games. He was unbelievable.
He was awarded a $72 million deal this past winter and was expected to remain a key part of the Braves lineup for the rest of the decade. Things have not gone well this season for Harris, and by that measurement, he should be much lower on this list. But I refuse to believe he's not gonna figure it out despite a second-year slump. He's batting just .193 right now with a wRC+ of 57, but he's trending in the right direction. Since May 26, Harris has had a 111 wRC+ with an OPS of .772 compared to his OPS of just .576 for the season. Ultimately, this deal isn't going to handicap the Braves financially, and I believe Harris will turn things around. After all, he is still just 22 years old.
5. Hunter Greene – 6 years, $53 million (2023)
It may seem ridiculous to rank Greene above players that have shown much more than him overall up to this point, but Greene's upside is so high. While known for his elite velocity, Greene is developing into a high-quality MLB starter in many ways. After a rookie season with tons of strikeouts but lots of inconsistency, Greene has improved in every way this season. His ERA is down to 3.92, and his FIP of 3.47 and xERA of 3.51 indicate he's even better. His 12.77 K/9 this year is among the best in baseball for a starting pitcher.
The value in this deal lies even deeper for the Reds because their loaded core of young hitters is thriving, but they don't have a ton of long-term pitching solidified. Greene will be a core piece of the rotation for years, and this contract is of great value for Cincinnati.
4. Julio Rodríguez – 12 years, $209 million (2023)
Before this season, Julio may have been ranked in the top spot given the season he put together last year, and he could easily make his way back up this list soon. He put together one of the most electric rookie seasons ever in 2022 and earned himself a complex but massive contract. The many terms of his deal make it hard to judge its exact value, but it's definitely the largest deal on this list.
Julio has slipped a tad due to some regression this year, as his numbers have dropped across the board this season. He's got just a 109 wRC+ coming off a season in which he was among the best hitters in baseball. It hasn't been great, but I have no real concerns about Rodríguez long-term, and I think this contract will prove to be an excellent decision, as Seattle locked up the face of their franchise for a significant amount of time.
3. Spencer Strider – 6 years, $75 million (2023)
Ranking the top four on this list was nearly impossible because they're all superstars in their own right and the reason why pre-arbitration deals can be so beneficial. It's less common to see these types of deals with pitchers due to injury risk and teams' general hesitancy to extend pitchers on long deals. But this deal is an absolutely perfect one for the Braves, as they now have one of the best pitchers in all of baseball locked into their rotation for six years.
Strider has ascended into a bonafide ace over the past two seasons, and even though it's just his second season, there is no reason to believe he won't keep it up. He's probably the best strikeout artist in the game, as demonstrated by his strikeout rate of over 40% (HE'S A STARTER), which is truly insane. The annual value the Braves are getting Strider at is phenomenal given what top-notch starters are making on the open market these days.
2. Corbin Carroll – 8 years, $111 million (2023)
I was really tempted to rank Carroll in the top spot given how impressive he's been in his first full season this year. The Diamondbacks were bold enough to sign him to a huge deal after he played just 32 games with them last year, and they're not second-guessing it one bit right now. Carroll has been the leader of a much-improved team that is currently leading the NL West. His combination of speed, hit tool, and power has made him one of the best players in the league and the heavy NL Rookie of the Year favorite right now.
Carroll currently has a wRC+ of 158 with an OPS of .966, along with already stealing 18 bases and hitting 13 home runs. He has been everything he was advertised to be and more for Arizona, and this deal is incredible value for a cornerstone player of Carroll's caliber. He'll be the face of the Diamondbacks for eight years and probably more.
1. Wander Franco – 11 years, $182 million (2022)
The list concludes with the player currently leading all of MLB with 3.8 bWAR as of June 12. Wander Franco didn't have a stellar season last year in the first year of this extension, although injuries played a role. But he has proven to be worthy of every single penny he was paid this season. His play on both sides of the ball has been a massive factor in the Rays being baseball's best team through the first few months of the season.
Wander does everything right, and his value as a shortstop is just slightly higher than the other elite talents on this list. Furthermore, he's locked in for 11 years in this contract and will be a huge part of Tampa's continued success in the next decade. Franco is truly Wanderful, and this contract is the definition of having confidence in a young player and extending them before their value rises even more because Wander would easily be getting over $200 million today.