Analysis
Triston Casas Is Proving He's Part of the Red Sox's Future Core
There's still work to be done, but Red Sox first baseman Triston Casas is showing flashes of the type of player he can become.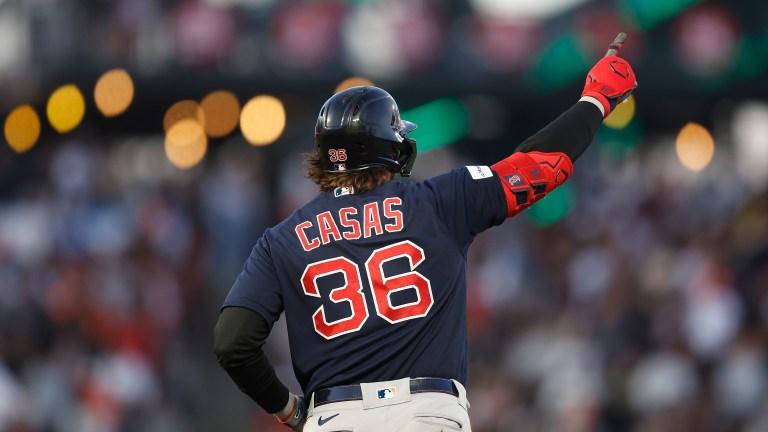 It's been a long time since the Boston Red Sox have had a franchise first baseman.
A series of players have held the position for a season or two before they or the team decided it was time to move on. The Red Sox tried with Bobby Dalbec, but that didn't pan out as they had hoped. Now, it's Triston Casas's turn.
Casas, who the Red Sox drafted in 2018, made a few appearances for the Sox last season. He was solid in the field but struggled at the plate. Currently, in his genuine rookie season, he's emerging as a breakout star for the team.
Similar to last season, Casas got off to a slow start at the plate in 2023. But since the All-Star break, he's been one of the hottest hitters in the league, with a .337 batting average, 1.146 OPS, 10 home runs and 20 RBIs. What led to such a big jump in his numbers?
In a recent interview with FanGraphs, Casas talked in depth about his approach to hitting. He views it as a science as opposed to an art.
"There are numbers involved that can help you, and if you know how to use them accurately, they can pretty much give you a formula for how to have the most success at the plate," Casas said.
He goes on to elaborate on how these numbers and formulas have helped him form his approaches against different types of pitches. Having a good understanding of how to attack pitches can obviously lead to more success at the plate. But something else Casas has done is make some tweaks to his swing.
Recently, he's been seen taking batting practice with a bucket between his arms. Doing this has allowed his swing to be driven by his upper body rather than his hands. This led to a significant decrease in the number of groundballs he has hit.
In June, his groundball percentage was 41.3 percent. After debuting this tweaked swing in July, his groundball percentage dropped to 27.7 percent. This has allowed him to utilize more of his power, which has been showcased in his recent home runs.
In addition to advanced numbers and solid mechanics, Casas has turned to teammate Rafael Devers. Casas and Devers have a lot of similarities. Devers also came up with the Sox at a young age and despite showing a lot of promise, faced some struggles at the start of his career.
An article in the Boson Herald touched on how Casas approached Devers for guidance this season.
"I know he's somebody that doesn't like to talk too much but he opened up with me, and I went through that when I came up the first time. I needed to make my adjustment and that was the moment he was going through trying to make those adjustments," Devers told the Herald. "So that was my advice for him, to try and help him as much as I can so he could overcome that."
Devers has made big strides the past few seasons and has now cemented himself as a fixture of this team for years to come. Casas looks to emulate that in his career. The two spend a lot of time together outside the ballpark discussing different situations that arise in a game. Despite a difference in language, Casas said he's "learned a lot" from Devers.
Aggressiveness at the plate is another area where Casas has seen improvements recently. He's swinging more overall, but he's also attacking pitches earlier in the count. Since becoming more aggressive at the plate, he's been able to do a lot more damage and is just overall more in control of his at-bats.
"I go back and look at my at-bats and I feel like I've made tremendous strides just the way I'm controlling the zone and then finally when I do get pitches to hit hitting them forward and hitting them hard," Casas said told the Herald. "I think I'm getting to that point in the season where stuff is starting to slow down."
Casas's increased production and confidence over the past few weeks have been incredible to watch. The potential for him to become a strong force in the Red Sox lineup is there. If he keeps his production up, there's a good probability he finds his home as the Red Sox first baseman. He knows there's still work to be done, but this season he's shown glimpses of the type of player he can become.