Analysis
Kiké Hernández Could Thrive Starting at Shortstop in 2023
With Xander Bogaerts' departure in free agency, Kiké Hernández has big shoes to fill starting at shortstop for the Boston Red Sox this season.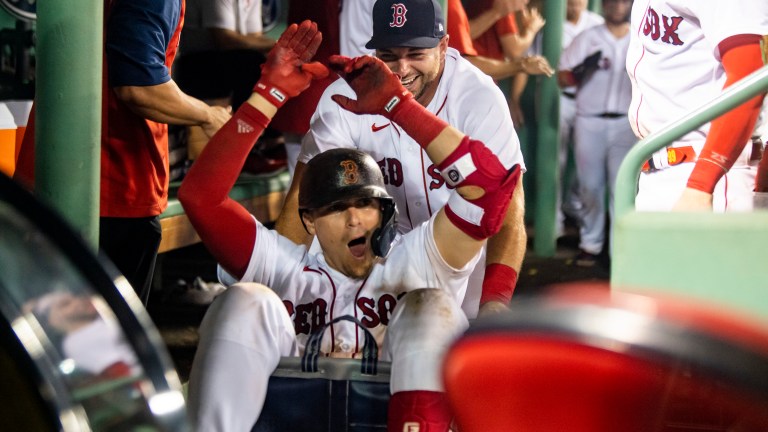 Written By: Ailee Palmer
Xander Bogaerts was a longtime fan favorite in Boston. He's a homegrown talent that
performs at the plate and on the field. Fans were understandably upset when the Red
Sox wouldn't shell out the money to lock him up long-term.
Boston's infield has been a revolving door the past few seasons, and besides Rafael
Devers, Bogaerts has been the only constant.
Heading into 2023, there are big question marks at almost every infield position. It's
been years since the Red Sox have had a true everyday first or second baseman.
Triston Casas and Christian Arroyo are expected to fill these positions, but Casas has
yet to prove himself at the major league level and Arroyo has struggled to stay healthy.
With Trevor Story out for an undetermined amount of time, Kike Hernandez has been
tapped as the starting shortstop. Hernandez has spent most of his time with the Red
Sox in the outfield, but shortstop is his "favorite position to play."
"I feel great about it," Hernandez said at the Red Sox Winter Weekend, "I've been
waiting my whole life to be able to play short at the major league level on a daily basis."
Hernandez, who grew up playing shortstop, has 100 major league appearances at the
position. It's a small sample size, but his career fielding percentage at the position is
.978, slightly above league average.
"I do believe he can do it," Alex Cora said at Winter Weekend, "His arm plays. His first
step is amazing. His instincts are great."
The Red Sox offense struggled last season, and Cora believes Hernandez can provide
some power at the plate. Hernandez missed a significant chunk of last season, but in
2021, his only full season with the Red Sox, he had a .250 batting average and blasted 20
home runs.
It's also worth noting that Hernandez's career splits for infield vs. outfield show better
numbers at the plate as an infielder. In 477 games as an outfielder, Hernandez slashed
.222/.303/.384. In 363 games as an infielder, his numbers jump to .269/.336/.471.
Coming off an injured season, fans may be concerned about the 31-year-old's ability to
stay healthy at shortstop. But Hernandez feels it's actually "easier on the body" to play
in the infield. He mentioned that his time as an everyday centerfielder gave him "a lot
more respect for outfielders" and the physical toll they take every game.
"To me, it feels like riding a bike," Hernandez said, "I'm an infielder that's capable of
playing outfield. That's the way I put it."
One of the hardest parts about losing Bogaerts is not replacing his bat or his glove but
replacing his leadership. Bogaerts was the unofficial captain of the Red Sox, respected and
beloved in the clubhouse. Hernandez has what it takes to step into that position.
As a nine-year veteran and World Series champion, Hernandez knows what is needed for a successful season. He plays with a youthful energy and clear love of the game, something he can use to excite the players of a Red Sox team that looked like they were sleeping through most of last season.
In only two seasons with the team, Hernandez has made a great connection with the fans, winning over a fanbase that is notoriously hard to please. The Bogaerts loss will always sting, for the fans and the team, but Hernandez is ready to step up.

"I believe shortstop has the potential to be my best position, I'm really looking forward to it," Hernandez said.