Rankings
MLB Rookie Rankings: Is Corbin Carroll Still Ahead of the Pack?
From Corbin Carroll to Tanner Bibee to Masataka Yoshida, the 2023 season has been excellent for rookies in both leagues.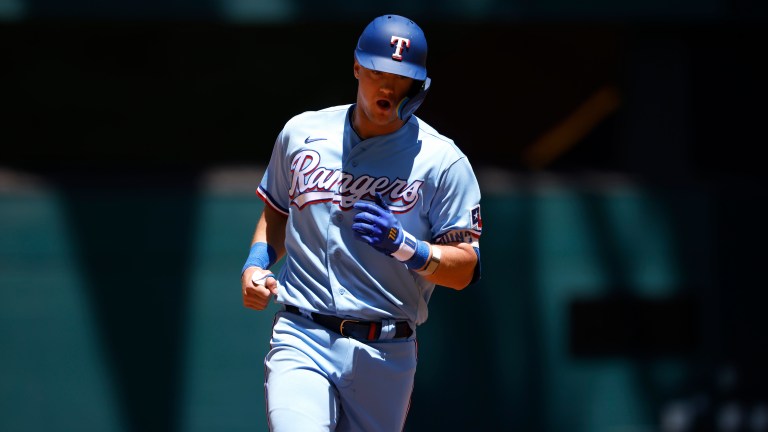 In the second installment of this season's MLB Rookie Rankings, we check in to see how things have shaken up as the season has progressed. Corbin Carroll was leading the pack by far in the first release of this list, but with the emergence and promotions of others since then, is he still atop the leaderboard?
Stats as of August 9th.
1. Corbin Carroll – OF – Diamondbacks
2023 stats: .276/.357/.519, 21 HR, 27 XBH, 36 SB, 134 wRC+, 4.2 fWAR
It really should not be a surprise that Carroll is still at the top of this list.
While the gap has closed, Carroll has continued to be very productive for a Diamondbacks team that, despite their current struggles, has surprised a lot of people this season.
Even with an injury scare to his surgically repaired shoulder, Carroll has been a consistent staple in the D-backs lineup. Not to mention the fact that he has been a major threat on the basepaths as well. His all-around game continues to be impactful, and he looks to still have a strong hold on the top spot in the National League Rookie of the Year race.
2. Josh Jung – 3B – Rangers
2023 stats: .274/.323/.489, 22 HR, 25 XBH, 1 SB, 122 wRC+, 2.7 fWAR
After being named the first Rangers rookie ever, and the second rookie third baseman in MLB history, to earn a starting spot in the All-Star Game, Josh Jung was making a strong case for the American League Rookie of the Year Award. Unfortunately, a fractured thumb has him out for the next six weeks.
Just like Carroll in the Diamondbacks lineup, Jung had been a staple for a surging Rangers team that looks to be one of the top teams in the league and is sure to be a late-season competitor for a World Series championship.
The injury is sure to bump him down this list as we progress, but I cannot hold that against him yet, considering what he has been able to accomplish thus far.
3. Matt McLain – 2B/SS – Reds
2023 stats: .298/.366/.515, 12 HR, 25 XBH, 9 SB, 132 wRC+, 2.8 fWAR
While his name might not carry the same weight as others, including his teammate Elly De La Cruz, Matt McLain has been the epitome of consistency for the Big Red Machine. He has played a key role in what they have been able to accomplish.
Aside from what he is doing at the dish, his positional versatility provides the Reds with so much flexibility in their lineup. Even with all the shifts around the diamond, McLain has been able to continue to produce at the plate for this exciting Reds team.
4. Gunnar Henderson – SS/3B – Orioles
2023 stats: .243/.330/.475, 19 HR, 21 XBH, 6 SB, 121 wRC+, 2.7 fWAR
After a slow start to the season, Henderson was able to settle in and give the Orioles lineup a jolt to help catapult them into the conversation as the best team in baseball up to this point.
When Cedric Mullins went down with his injury in July, Henderson stepped into the leadoff role for the Orioles, and he was able to rediscover the skillset that had him atop so many prospect rankings during his quick ascension through the minor leagues.
He is proving to be just another staple of this young Baltimore core that will be an issue for opposing teams for years to come.
5. Masataka Yoshida – OF/DH – Red Sox
2023 stats: .304/.363/.477, 12 HR, 28 XBH, 8 SB, 127 wRC+, 1.4 fWAR
At the time, much was made about the signing of Yoshida. Before he even suited up for his press conference, many people were saying that the Red Sox overpaid for the international outfielder looking to transition to Major League Baseball.
He was known for having a great feel to hit and the ability to drive the ball to all fields with above-average power. After going through his initial acclimation period, Yoshida has been able to settle in nicely for the Red Sox.
His defense leaves a bit to be desired, but there is no questioning what he has been able to provide the Boston lineup up to this point in the season. With Jung going down with his injury, Yoshida could potentially step into the top spot in the Rookie of the Year race.
6. Tanner Bibee – RHP – Guardians
2023 stats: 101.2 IP, 2.92 ERA, 3.74 FIP, 1.22 WHIP, 23.8 K%, 8.3 BB%, 2.0 fWAR
Stop me if you've heard this before, but the Guardians have been able to develop another potential top-of-the-rotation pitcher in Tanner Bibee.
After notably making reference to the tangible mechanical changes he made while on the Just Baseball Show, Bibee has settled into the Guardians rotation with ease. He has provided them with much-needed consistency since he made his debut and is steadily rising up Rookie of the Year lists as we inch closer to the end of the season.
7. Kodai Senga – RHP – Mets
2023 stats: 116.2 IP, 3.24 ERA, 3.63 FIP, 1.30 WHIP, 28.4 K%, 11.4 BB%, 2.3 fWAR
Not much has gone right for the New York Mets this year. While they jettisoned off the two heads of their rotation at the deadline, Senga is proving the be the lone bright spot as they look to build toward the 2024 season.
Senga possesses one of the most lethal pitches in all of the major leagues with his "ghost" forkball that is generating a near 60% whiff rate this season.
After beginning the season with a walks and home runs issue, Senga has settled in to be one of the more consistent pitchers in all of baseball and has planted himself into the Rookie of the Year discussion as we head towards the postseason.
8. Triston Casas – 1B – Red Sox
2023 stats: .252/.353/.475, 17 HR, 18 XBH, 0 SB, 123 wRC+, 0.9 fWAR
There is no way to sugarcoat it: Triston Casas was bad for most of this season. That was until his torrid stretch over the last 30 days.
Since July 9th, Casas ranks second in all of baseball with a 219 wRC+, behind only Freddie Freeman. While the Red Sox currently find themselves on the outside looking in when referring to the playoff race, Casas' recent surge has kept them in the mix of a loaded American League East and the AL Wild Card race.
9. Edouard Julien – 2B – Twins
2023 stats: .297/.387/.510, 10 HR, 12 XBH, 3 SB, 150 wRC+, 2.0 fWAR
Much like the majority of rookies in baseball, Julien has had a roller coaster of a year. After being called up, demoted, and then recalled, Julien has settled quite nicely into the Twins lineup. So much so, in fact, that it forced the Twins to move Jorge Polanco to third base when he returned from his injury.
The Twins find themselves atop the weak AL Central, and Julien has been a decent part of that.
However, while it might not take too much to win the division, the Twins are going to need Julien to cut the strikeouts down a tad. Once he is able to do that, he will continue to showcase his ability to get on base at a high mark.
10. Andrew Abbott- LHP – Reds
2023 stats: 70.2 IP, 2.93 ERA, 3.98 FIP, 1.15 WHIP, 25.9 K%, 9.4 BB%, 1.5 fWAR
In not-so-surprising fashion, the Reds are providing this list with yet another top rookie performer in Andrew Abbott – and he's not the last to be mentioned.
When Hunter Greene and Nick Lodolo both went down with an injury, and with the Reds not really having much else to turn to, they called upon their lefty who was dominating the minor leagues.
Despite what some thought to be a rushed move, Abbott has done nothing but prove the doubters wrong. He continues to give the Reds the jolt they need every fifth day as they battle in the National League playoff race.
Honorable Mentions
Elly De La Cruz (SS) and Spencer Steer (1B/3B) – Reds: As I mentioned in the Abbott write-up, the Reds continue to churn out some of the top rookie producers in the league. Elly and Steer have both done a lot to help the Reds surge into the playoff race and deserve to be mentioned amongst the rest of the players on this list.
Eury Pérez – RHP – Marlins: If it wasn't for his demotion back to the minor leagues to limit his innings, Eury might be solidified in the top 10 based on what he has been able to do for the Marlins rotation at a young 20 years old. Now that he has been recalled, there is no doubt that he can break into the top of the list if he is able to build off of what he did prior to being sent down.
Yennier Cano – RHP – Orioles: Yennier has been incredible for the Orioles bullpen thus far and is a big reason why they have been so successful this year. After being used as much as he was at the beginning of the year, he struggled with arm fatigue that seemed to slow him down a bit. However, that does not dismiss what he has been able to accomplish this season.
James Outman – OF – Dodgers: Much like Cano, the beginning of the season for Outman was out of this world. He was surging for the Dodgers, and it seemed as if he just burst onto the scene as yet another successful Dodgers rookie development. He did go through a rough stretch that kept him out of the everyday lineup, but he has definitely turned it around as of late and deserves to still be mentioned on this list.