Analysis
Trevor Story's Return Was Not What He Hoped for the Red Sox
Coming off an injury that cost most of his season, Trevor Story is ready to turn the page after struggling in his return to the Red Sox.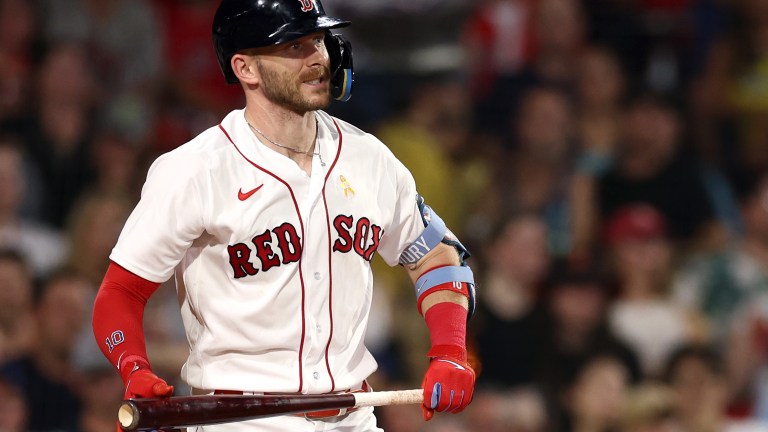 It's been a rough weeks for the Boston Red Sox. After firing Chaim Bloom last Thursday, the team was officially eliminated from playoff contention this Wednesday. This season was full of ups and downs for the Red Sox, who, for one reason or another, just couldn't produce on a consistent basis.
In a recent interview with Alex Speier of The Boston Globe, Trevor Story revealed he feels partially to blame to Sox woes. While the Red Sox issues extend far beyond not having Story for the majority of the season, it can not be understated what a healthy Story could have meant to this team.
Story first came to the Red Sox last season, signing a $140 million, six-year deal in free agency. Story offered solid defense with some pop at the plate and speed on the bases. His signing delivered a sigh of relief to Boston fans, who were becoming increasingly aware that Xander Bogaerts could be leaving the team at the end of the season.
However, Story's first season in Boston didn't go exactly as planned. A string of injuries left him able to play only 94 games for the Sox in 2022. While he had some hot streaks, he was never on the field long enough to get a real sense of what he could do in a Red Sox uniform.
Story again fell victim to injury in the offseason, undergoing elbow surgery that kept him off the field until August of this season. At the time, the Sox were a few games back in the Wild Card and there were high hopes Story's return would be enough to help them sneak into the playoffs.
But as Story struggled at plate, the Red Sox fell further and further back in the standings.
In the small sample size of 35 games played, Story has hit just .177/.219/.292, with two home runs and a .511 OPS. The hope for Story is that his struggles are simply due to shaking off the rust.
After spending eight months away form the game, it's understandable he needs more time to put everything together at the plate. Last season was not great for Story based on his career averages, but he still managed to hit 16 home runs and drive in 66 runs despite missing nearly 70 games.
While Story will be looking to bounce back offensively next season, at least he has seemed to get right back to old self on defense. Now, finally getting to play his natural position for the Sox, he's posted six outs above average (6 OAA) and 5 DRS in just 35 games.
His defensive production is encouraging, especially considering how abysmal the Red Sox defense has been this season. The team views Story as a leader, and hopefully being back around the team full time will help his younger infield counterparts.
He plans to hold a camp this summer for a number of infielders in the Red Sox system. The week-long workout will help to bring the team together, as well as work on the fundamentals of defense. It's something Troy Tulowitzki did for Story as he was coming up with the Rockies, and it clearly made a good impact on him.
Despite his struggles, Story seems optimistic about his coming years with the Sox. A return to normalcy should help him find his footing at the plate, and can only improve his already strong defense. His focus now is on getting through the end of his season and getting ready to go for 2024.
"I'm looking forward to kind of flipping the page on these last few years and putting the injuries behind with a normal offseason and normal spring training," Story told Speier. "We're going to make these next four or five years a different story."