Analysis
Top Five Relievers Left in Free Agency
If there is one thing that every team in baseball needs, it is quality arms in their bullpen. Here are the top remaining free agent relievers for 2022.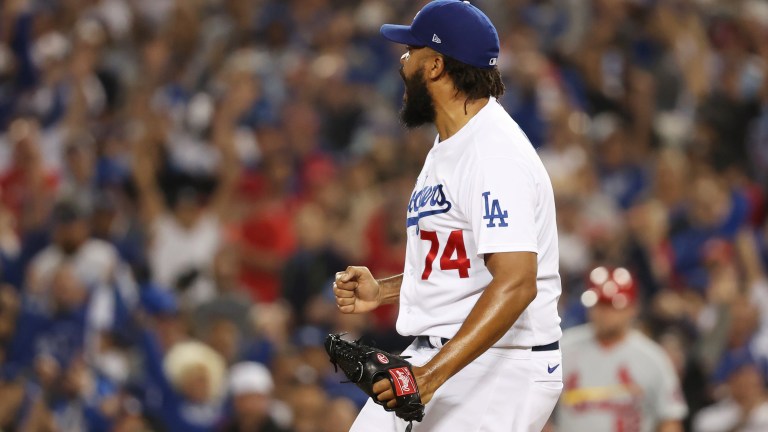 When the lockout ends and free agency re-opens, we could see a mad dash of teams trying to lock up relief pitchers, as everyone needs arms for their bullpens.
Prior to the lockout, we saw a handful of relievers sign new deals, with Rasiel Iglesias, Aaron Loup and Mark Melancon headlining the bunch. While some great arms did come off the board, there are still plenty available right now in free agency that could change the fortunes for your favorite team.
Here are the top five relief pitchers that remain in free agency.
5. Joe Kelly
2021 Traditional Stats: 48 G, 44 IP, 2.86 ERA, 50 K, 0.98 WHIP, 0.7 fWAR
2021 Advanced Stats: 27.5 K%, 8.2 BB%, 3.27 xERA, 3.16 xFIP, 12.5% HR/FB
As you will find out the more we go down this list, the reliever market really drops off after the top four guys. For the fifth spot I was between Richard Rodriguez, Brad Hand and Joe Kelly, and an argument could be made for any of them, if not another free agent left on the board.
At the end of the day, Kelly gets the nod because he has the best stuff of the three, with Hand and Rodriguez both seemingly going through a bit of a decline in 2021. Kelly still touches 100 and averaged nearly 98 MPH last season. He pairs that velocity with a curveball that ranked in the 93rd percentile when it comes to spin rate.
Kelly's curve has about a 10 MPH differential from his fastball and generated whiffs over 30% of the time in 2021. Kelly can get himself in trouble walking too many batters, but he kept that in check this season with a palatable 8.2% walk rate. Pair that with a strikeout rate of 27.5% and you still have one of the more dominant relievers in the game.
4. Collin McHugh
2021 Traditional Stats: 37 G, 64 IP, 1.55 ERA, 74 K, 0.94 WHIP, 1.8 fWAR
2021 Advanced Stats: 30 K%, 4.9 BB%, 2.26 xERA, 3.06 xFIP, 5.4% HR/FB
Since signing joining the Houston Astros in 2014, Collin McHugh has quietly been one of the most effective pitchers in all of baseball. McHugh spent four seasons in the Astros starting rotation, before converting to become a reliever in 2018.
In his first season as a relief pitcher, McHugh pitched to a sparkling 1.99 ERA across 72 1/3 innings pitched. His second season coming out of the pen was not nearly as successful, as he pitched to 4.70 ERA and then he would not pitch at all the following year in the COVID-shortened 2020 season.
Still, everyone should have taken notice when the Tampa Bay Rays signed McHugh last February, as they always seem to know where the diamonds are hiding in the rough. McHugh was certainly that in 2021, pitching to a career-best 1.55 ERA, with 74 strikeouts in 64 innings pitched.
Since 2014, McHugh's 3.47 ERA ranks 25th in baseball among pitchers who have thrown at least 500 innings. If there is one thing that has been consistent throughout his career, it has been McHugh's ability to keep the ball in the yard (0.94 HR/9) while throwing strikes and not walking too many batters (2.5 BB/9).
In 2021, the Rays were very creative with how they used McHugh, making him a multi-inning reliever that started some games as an opener, while also finishing some games as well. All told, McHugh made seven starts and finished 11 games across 37 appearances. He pitched at least two innings in 21 of those appearances.
What was really amazing about McHugh's 2021 campaign though was how dominant he was.
One look at McHugh's Baseball Savant page, and it is clear how unhittable he was in Tampa. He ranked in the 95th percentile or better in HardHit%, xwOBA, xERA, xSLG, Barrell% and BB%.
McHugh is one of baseball's spin rate darlings, as all of his breaking pitches have over 2,500 RPM's and his fastball had a RPM over 2,200, ranking him in the 90th percentile in fastball spin. This makes him one of the harder pitchers to square up, as each of his offerings had a Whiff% over 30%.
Relying primarily on a slider that averaged at 79.5 MPH and a cutter at 87.6 MPH, McHugh is not reliant on velocity and should still be an effective pitcher for years to come. The most the 34-year-old has ever made in a season is $5.8 million, which he will likely be able to top in 2022.
3. Andrew Chafin
2021 Traditional Stats: 71 G, 68.2 IP, 1.83 ERA, 64 K, 0.93 WHIP, 1.4 fWAR
2021 Advanced Stats: 24.1 K%, 7.1 BB%, 3.01 xERA, 2.98 xFIP, 5.8% HR/FB
A first round pick by the Arizona Diamondbacks back in 2011, Andrew Chafin made his debut as a starting pitcher in 2014, but converted to be a reliever in 2015. Overall Chafin spent parts of seven seasons with the Diamondbacks and pitched to a 3.68 ERA with 1.32 WHIP and 9.5 K/9.
The left-hander's tenure with the D-Backs came to an end in the middle of the 2020 season, after he got off to rough start pitching to a 8.10 ERA in 11 games and was traded to the Cubs at the deadline. Chafin pitched well down the stretch and was re-signed by the Cubs on a $2.25 million deal for the 2021 season.
The 31-year-old enjoyed a career year in 2021, pitching to a 1.83 ERA across nearly 70 innings pitched. Chafin was great for the Cubs prior to the deadline, pitching to a 2.06 ERA across 43 appearances with 37 strikeouts in 39 1/3 innings.
Chafin was once again traded at the deadline, this time going to the American League for the first time in his career with the Oakland Athletics. In 28 appearances with Oakland, Chafin pitched to a 1.53 ERA.
While he was great against everyone in 2021, Chafin was particularly tough on lefties as they hit just .170/.250/.223 against him. For his career lefties are hitting .220/.297/.296 against Chafin.
Like many elite reliever nowadays, Chafin's best pitch is his slider.
Last year, Chafin's slider generated a whiff% against of 54.6%. The pitch drops off the table with 42.1 inches of vertical movement and he can locate it both in the zone for a strike and out of the zone to put batter's away.
Chafin is by far the best left-hander reliever remaining on the market after Aaron Loup signed a two-year, $17 million deal with the Los Angeles Angles earlier this offseason. While he might not get quite what Loup got, his next contract should not be too far off.
2. Ryan Tepera
2021 Traditional Stats: 65 G, 61.1 IP, 2.79 ERA, 74 K, 0.88 WHIP, 1.6 fWAR
2021 Advanced Stats: 30.8 K%, 7.9 BB%, 2.53 xERA, 3.64 xFIP, 6.6% HR/FB
Ryan Tepera was drafted by the Toronto Blue Jays in 2009 and did not make his debut until 2015 at 27 years old. Through his first four seasons pitching out of the Blue Jays bullpen, he was always reliable, pitching between a 2.95 and a 3.62 ERA.
Then in 2019, Tepera endured the worst season of his career, pitching to a 4.98 ERA across 23 appearances. He was DFA'd after that down year and would later sign with the Chicago Cubs prior to the 2020 season.
In 2020, Tepera had 31 strikeouts in 20 2/3 innings pitched, posting a gaudy 34.8% strikeout percentage. While he could not quite sustain that level of dominance over a larger sample size in 2021, he was still very effective.
Tepera began the year with the Cubs and pitched to a 2.91 ERA across 43 1/3 innings pitched. He was later traded at the deadline to the Chicago White Sox, where he only improved, pitching to a 2.50 ERA over 18 innings pitched. Tepera's 2.57 xERA ranked in the top four percent in MLB.
He has a five-pitch mix, but primarily works off his slider and four-seam fastball. Again the slider is the weapon to keep your eye on with this reliever.
The Whiff% against Tepera's slider in 2021 was 50.6%, as batters hit just .132 with a .264 slugging percentage on the pitch. The right-hander throws his slider 45% of the time.
Tepera is 34 years old, but he feels younger cause he broke in so late and is just hitting free agency. While he is not likely to sign with a team to be their closer, Tepera is an experienced late-inning reliever that can add a real punch to any bullpen.
1. Kenley Jansen
2021 Traditional Stats: 69 G, 69 IP, 2.22 ERA, 38 SV, 86 K, 1.04 WHIP, 1.8 fWAR
2021 Advanced Stats: 30.9 K%, 12.9 BB%, 2.83 xERA, 4.04 xFIP, 6% HR/FB
Kenley Jansen has been the best closer in baseball over the past decade. He has a career 2.37 ERA and is 13th on the all-time list for saves at 350. Jansen is just 18 saves away from tying Jonathan Papelbon and getting into the top 10.
Last season was just another year at the office for Jansen, as he converted 38 of his 43 save opportunities and pitched to a 2.22 ERA. Looking over Baseball Savant's 2021 MLB Percentile Rankings, Jansen remains one of the most dominant pitchers in the game.
Jansen ranks in the 99th percentile in HardHit% and average exit velocity, while ranking in the 93rd percentile or better in all the expected hitting metrics. He is also in the 89th percentile in K%, 92nd percentile in Barrel% and 90th percentile in Whiff%. The only thing he didn't grade out elite in is BB%, falling into just the 8th percentile.
In fact, the 2021 season was a really bad year for Jansen when it came to limiting free passes, as his 4.70 BB/9 was the worst mark of his career since his rookie season. Still, he struck out over 30% of the batters he faced and was able to pitch out of most self-inflicted jams.
Jansen's cutter is still one of the most dominant pitches in the game and he relies on it 58% of the time, while mixing in a sinker and slider. All of his offerings generated whiffs at over a 30% clip in 2021, which helps explain how he is still one of the best strikeout artists going.
The last contract Jansen signed was a five-year, $80 million deal (16 AAV) and he would not be crazy to be asking for something similar this time around. Rasiel Iglesias signed a four-year, $58 million contact earlier this offseason, setting the starting point for a closer with the track record of Jansen.
The Dodgers reportedly don't want to pay a premium to retain him so there is good chance Jansen ends up in a different uniform next season for the first time in his career.