Analysis
Who Are the Top Relief Pitchers on the Free Agent Market?
With free agency underway, there are numerous free agent relievers who could score big this offseason led by southpaw Josh Hader.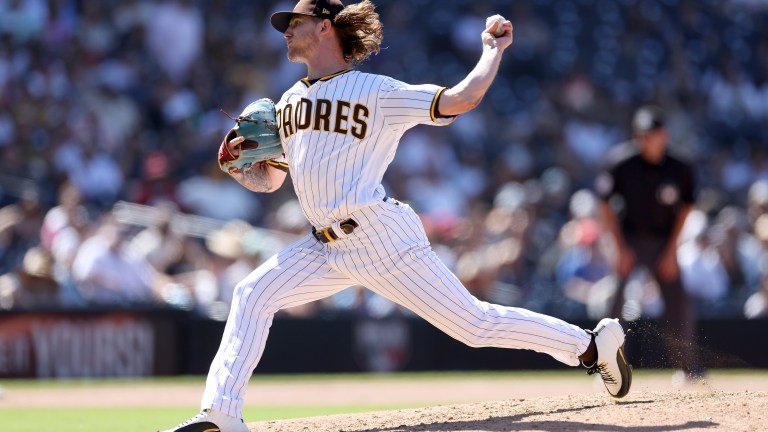 With the offseason fully underway and the non-tender deadline in the rearview mirror, it has been a pretty slow winter so far on the free-agent front since the Texas Rangers won the World Series back in early November.
The class is led by two-way superstar Shohei Ohtani, who could find himself entering the record books as one of the highest-paid players in MLB history with a contract exceeding $500 million, which many expect the Japanese product to collect.
Behind Ohtani is a thinner group, led by outfielder Cody Bellinger, third baseman Matt Chapman, and various pitchers in Yoshinobu Yamamoto, Blake Snell, Aaron Nola, and a host of others.
Each offseason, a wide group of free-agent relievers enter the mix, looking to secure bigger contracts or potentially a change of scenery after a rough season (depending on the player). Let's take a look at some of the top names available out of the bullpen this winter.
Josh Hader is in His Own Tier
One of the most exciting relievers in all of baseball is a free agent this winter in San Diego Padres southpaw Josh Hader.
The Maryland product has been one of the top closers since making his debut back in 2017, leading all relievers in fWAR (11.3) and K/9 (15.0) while pitching to a 2.50 ERA through 388 2/3 innings with 165 saves. Last season with the Padres, Hader earned his fifth All-Star nod while compiling a 1.28 ERA through 61 appearances, tying a career-high he set back in 2019 with Milwaukee.
Hader is in his own tier amongst the rest of the relievers out there and could potentially eclipse the five-year, $102 million contract Edwin Díaz secured with the Mets last winter. Any team looking for an impact arm and can afford the contract (and the draft pick compensation, as he rejected the Padres qualifying offer) will reap the benefits of Hader.
Closers
Craig Kimbrel – RHP
Kimbrel, one of the most experienced closers among active players, is a free agent this winter after signing a one-year deal with the Phillies last offseason. At 35 years old, Kimbrel still has quite a bit left in the tank and appeared in 71 games, the highest mark for him since 2011, and put up a respectable 3.26 ERA with 23 saves in the process. Any team looking for a veteran arm will likely be calling the right-hander.
Will Smith – LHP
Last season, Smith found himself heading to Texas and didn't post the strongest numbers with his 4.40 ERA and 8.6 K/9 in his lone season with the Rangers. That being said, he still racked up 22 saves while appearing in 51 1/3 innings across the season and went home with a World Series ring. With 113 career saves under his belt, any team looking for postseason experience (three World Series rings in three years) and a back-end arm will be interested.
Aroldis Chapman – LHP
Acquired by the Rangers early into the trade deadline, the fireball-throwing left-hander was a bit wild at times at the end of the year with Texas, posting a 5.0 BB/9 while striking out batters at a 15.5 K/9 due to his ability to hit triple digits with his fastball while keeping hitters on edge with his slider.
Similar to Kimbrel, the 35-year-old is likely to still be a closer option to consider for the right squad after having a bounce-back campaign in 2023 where he finished with a collective 3.09 ERA through 61 outings and six saves (321 on his career).
Set-Up Pitchers
Jordan Hicks – RHP
Injuries early in his career moved Hicks to the bullpen, where the hard-throwing right-hander excelled in 2023. He started the season with the Cardinals before being moved at the deadline to Toronto, finishing the year with a 2.63 ERA through 21 appearances with the Blue Jays.
Hicks can close games and also work in the setup role as needed, making himself a versatile back-end bullpen arm that can hit triple digits at the cost of losing track of his command at times.
Hector Neris – RHP
After an up-and-down career with the Phillies, Neris really turned things around with the Astros over the past two seasons, posting a 2.69 ERA through 133 2/3 innings with his new club.
This past season saw the right-hander hit new heights, as he saw his ERA dipped to 1.71 with a 3.83 FIP with a 1.054 WHIP while working mostly in the seventh and eighth innings. A free agent, Neris will likely cash in this offseason.
Keynan Middleton – RHP
Middleton struggled to find consistency in the big leagues dating back to his debut in 2017 but the 2023 season saw the right-hander turn over a new leaf, excelling with both the White Sox and the Yankees. After the trade out east, Middleton allowed just seven hits and three earned runs through 14 1/3 innings but missed most of September with a shoulder injury.
That injury may hurt his stock this winter but teams that think he can repeat what he did in the short sample size with the Yankees will reap the benefits should he find that form.
David Robertson – RHP
At 38 years old, right-hander David Robertson is one of the most experienced arms on the free agent market this offseason. He split the 2023 season between the Mets and the Marlins and really struggled down south, posting a 5.06 ERA through 22 outings while converting just four saves through seven opportunities. Still, Robertson's track record speaks for itself (career 2.90 ERA with an 11.8 K/9) and will slot in well at the back end of most bullpens across the league.
Reynaldo López – RHP
López had a pecuiliar 2023 campaign. He started the year with the White Sox, was traded to the Angels at the deadline, and was later DFA'd for salary purposes before finishing the year with the Guardians. His start with the White Sox was marred at times but the right-hander did well with the Angels and Guardians, allowing just four earned runs through 24 innings (zero of which came when he was with Cleveland). Boasting a high 90s fastball, López is in a good spot heading into the offseason and will fit in well for any club needing backend bullpen help.
Wandy Peralta – LHP
Peralta is a free agent after spending the past two and a half seasons with the Yankees, posting a 2.82 ERA through 153 innings while owning a 149 ERA+ and a 1.183 WHIP. The southpaw can fit in the middle relief role but spent a lot of last season in the seventh and eighth innings, pitching in tough spots and generating a 57.1% groundball rate. His command may have some teams be a bit wary (5.0 BB/9 last season) but the track record speaks for itself with Peralta as of late.
Other Notable Names: RHP Joe Kelly, RHP Adam Ottavino, RHP Matt Barnes, RHP Collin McHugh
Middle Relievers/Innings Eaters
Nick Martinez – RHP
Martinez has been both a starter and a reliever throughout his career, making nine starts for the Padres while appearing mostly in a relief role throughout the season.
In his second season with the Padres, the right-hander has posted sub 3.50 ERA's through both seasons and surpassed the 100+ innings mark in each, making himself a potential middle relief/long man that most teams could benefit from having. However in a relatively thin free agency class, Martinez may get signed as a starter.
Robert Stephenson – RHP
After struggling with Pittsburgh to start the season, Stephenson found himself heading to Tampa midway through the year and completely turned things around.
Through 42 appearances, Stephenson pitched to a 2.35 ERA and finished with a 14.1 K/9, one of the highest marks in his career. He also posted a 2.45 FIP and a 0.678 WHIP after the trade, establishing himself as one of the top Rays relievers down the stretch.
Jakob Junis – RHP
In 2023, Junis hit a few career-highs in appearances (40) and ERA+ (109), finding a groove in the San Francisco Giants bullpen. Junis is the prototypical innings-eater type of pitcher, with the ability to make spot starts or give your team 2+ innings as needed throughout the season. He worked more as a starter in 2022 but he will likely get a better opportunity to remain in the big leagues if he continues to work as the long-man out of the bullpen.
Emilio Pagán – RHP
Outside of Jhoan Duran, Pagán was one of the top pitchers in the Minnesota Twins bullpen throughout the season. He posted some of the best numbers of his career dating back to 2020 (2.99 ERA, 144 ERA+, and a 3.27 FIP) while using his fastball, cutter, and splitter to keep hitters off balance. A free agent at 32 years old, Pagán is likely due for a raise over the $3.5 million he earned last season.
Other Notable Names: RHP Phil Maton, RHP Carlos Edwards Jr, RHP Michael Fulmer, LHP Brent Suter, RHP Chris Stratton, RHP Luis Garcia, RHP Buck Farmer
Change of Scenery Types
Andrew Chafin – LHP
After a strong 2022 campaign with the Detroit Tigers, left-hander Chafin took his talents to the desert for the 2023 season.
Through 43 appearances, Chafin amassed a 4.19 ERA and struggled to lock down the closer spot, eventually getting traded to Milwaukee at the deadline. His tenure in Wisconsin didn't go smoothly either, as he finished with a 5.82 ERA that was heavily impacted by a rough August month (nine earned runs through 6 1/3) before turning things around late in the season.
Ryne Stanek – RHP
Boasting a 96th-percentile fastball velocity, Ryne Stanek saw a slight dip in production on the mound to the tune of a 4.09 ERA through 50 2/3 innings. He was still just above average out of the Astros bullpen (103 ERA+) and posted solid background numbers in a 1.243 WHIP and a 9.1 K/9 but was hit hard this season (44.3 HardHit%), a trait that comes with his fastball. Any team that signs Stanek will be looking for his 2022 form and hoping this past season will see the hard contact decrease.
Ryan Brasier – RHP
Right-hander Ryan Brasier really struggled out of the gate with the Red Sox (7.29 ERA through 20 relief outings) before being DFA'd and was later released in mid-May. He would later sign a Minor League deal with the Dodgers and really turned things around, allowing just three earned runs through the next 38 1/3 innings while striking out 38 batters. Brasier will be a bit of a wild card, depending on what version you will see from the reliever in 2024.
Other Notable Names: LHP, Brad Hand, LHP Joely Rodriguez, RHP Jorge Lopez, RHP Lou Trivino, RHP Shintaro Fujinami, RHP Adam Cimber