Analysis
Top Breakout Stars Who Have Established Themselves in 2022
These players have shaken off uneven starts to their careers to really establish themselves as quality MLB players this season.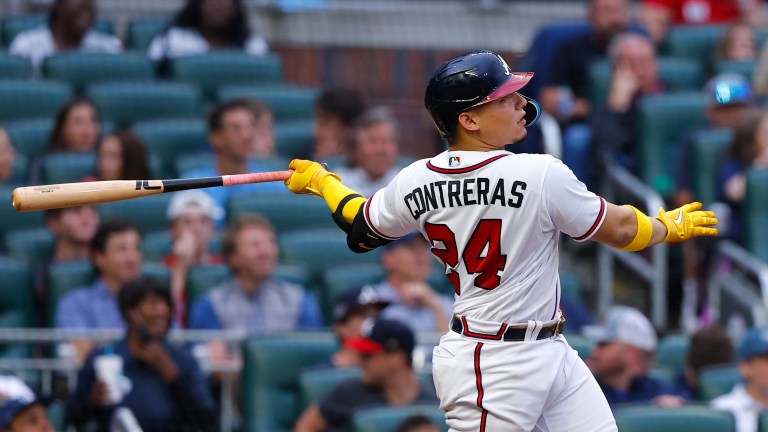 We often fixate on which prospects or rookie are set for a breakout debut. Fascination with the next great thing seems to catch everyone's eyes. Yet often times the best stories are the breakouts happening from established players. Players who have made changes to turn their career around once again, bringing promise to their club.
Today I wanted to take a deeper look into six of my favorite players who have seemed to figure it out this season.
William Contreras – C – Atlanta Braves
2022 Stats: .258/.336/.525, 16 HR, 32 RBI, 136 wRC+
Coming off a World Series win in 2021, the Braves were not exactly content with their catching situation. They added Many Pina as the primary back up while also trading away top prospect Shea Langeliers. At the time it looked like they were trading the future backstop of the Braves, but little did we know William Contreras had made this decision much easier.
After a cup of coffee in 2020, Contreras saw his first real action in 2021 posting an 86 wRC+ in 52 games with eight home runs. In 2022, Contreras earned an All-Star bid while playing a part-time role thanks to his impressive power. His 15.5% barrel percentage and .267 ISO jump off the page leading to 16 home runs in only 247 plate appearances.
In 2021, Contreras hit .247 off fastballs and in 2022 he's increased that to .330 with 14 home runs. One of the more promising signs is his ability to hit, with power, to all fields.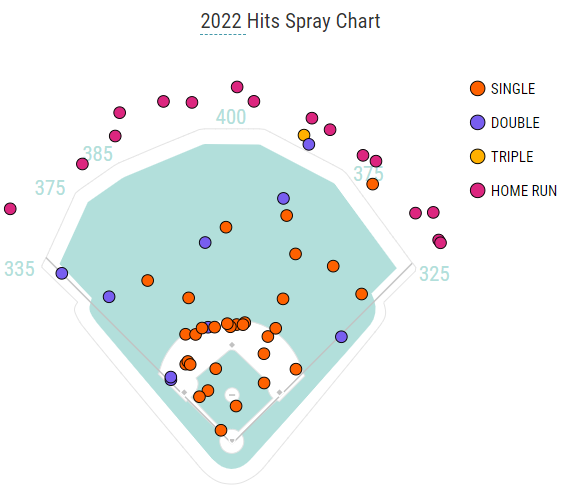 Contreras showed a flash of this in 2021, and really has displayed his ability to spray the ball in 2022. Currently sitting at a 40.6%/38.7%/20.6% pull/center/opposite field splits, Contreras has proved he can produce no matter where you try to pitch him.
Andrew Vaughn -1B/OF – Chicago White Sox
2022 Stats: .300/.349/.475, 13 HR, 58 RBI, 136 wRC+
The third overall pick in 2019, Vaughn was known for his outstanding offensive profile. The White Sox have plugged him into the outfield and DH in order to get his bat into the lineup and the results are starting to show.
In 2021, his rookie season, Vaughn slashed .235/.309/.396 with 15 home runs. In 2022, Vaughn is slashing .300/.349/.475 with 13 home runs, well ahead of his home run pace from last season.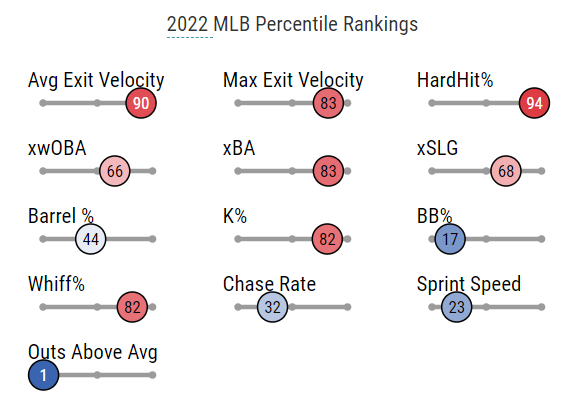 In only his second season, the 24 year-old is on track to becoming one of the best pure hitters in baseball. As you can see if the graphic above, Vaughn impacts the baseball and additional power will continue to come. His 87.2% zone contact percentage shows his bat-to-ball skills and cutting down on his 30.1% chase rate could see him truly take off.
Likely settling into a 1B/DH role in the future, the defense is less concerning. If Vaughn can increase his 5.7% walk percentage, the sky is the limit. There's a path for Vaughn to resemble a young Joey Votto if he can simply draw more walks.
Andres Gimenez – 2B/SS – Cleveland Guardians
2022 Stats: .312/.377/.503, 14 HR, 56 RBI, 15 SB, 153 wRC+
Gimenez made his way to Cleveland via the Francisco Lindor trade last season. After some seasoning in Triple-A, Gimenez is experiencing quite the breakout this season. The 23-year-old middle infielder has flashed his power homering 14 times, while also adding speed, swiping 15 bags and ranking in the 94th percentile for sprint speed.
Everyone knew the glove would play. Gimenez has always been impressive at short, and second. He currently ranks in the 91st percentile for outs above average. The offensive breakout has been nothing short of impressive, and with team control until 2027, Gimenez has cemented himself in the future plans for the Guardians.
The question now becomes is this a flash in the pan or can Gimenez continue to improve?
Cutting down on his 36.5% chase rate would be the next focus. By doing so his 5.5% walk rate will likely increase making him even more difficult to pitch to. Right now, there's not a glaring weakness. As you can see from the chart below, Gimenez is putting up respectable numbers on anything you throw him.

Alec Bohm – 3B – Philadelphia Phillies
2022 Stats: .287/.321/.399, 8 HR, 48 RBI, 98 wRC+
Bohm entered the league during the shorted 2020 COVID season and immediately made a name for himself. His 138 wRC+ in 44 games set expectations sky high coming into 2021. Nothing seemed to go right last season, and the beginning of this season, which lead to an ugly scene during a game where Bohm used some choice words to describe playing in front of the Philly fanatics.
Bohms looks to be back on track. His strikeout rate is down to a respectable 19.5% and his overall numbers have be trending in the right direction. His barrel rate of 6.4% is still lower than his breakout year in 2020, but his launch angle has doubled leading to a 10% drop in ground balls. All positive signs.
The next step for Bohm will be driving the ball out of the park. Are we looking at a 15 home run third baseman or someone who can tap into 25+ home runs?
Bohm currently ranks in the 70th percentile or higher in average exit velocity, expected slugging, and max exit velocity. Hitting the ball hard is step one for power numbers. Now it's about finding the launch angle. The strides we have seen in 2022 lead me to believe 2023 can be another big building block to an impressive career.
Dylan Cease – SP- Chicago White Sox
2022 Stats: 12-5, 1.96 ERA, 2.75 FIP, 128.2 IP, 174 K's
Chicago is in the midst of a disappointing season overall, but Cease has been the bright spot. Battling for a Cy Young, Cease has put up a 12.17 K/9 while dropping his fly ball to home run rate from 11.3% in 2021 to 8.3% in 2022.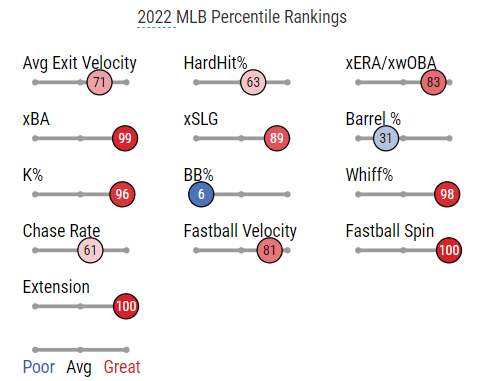 The main difference for Cease has been his slider usage. An increase of 10% from last season, the slider has been Cease's out pitch resulting in 103 of his 174 strikeouts. To give you an idea of how important the pitch has been, Baseball Savant gives it a -31 run value ranking it well into the elite category.
Cease has established himself as a bona fide Ace.
Martin Perez – SP – Texas Rangers
2022 Stats: 9-3, 2.79 ERA, 3.26 FIP, 142 IP, 125 SO
Originally a top prospect in the Rangers organization, Perez bounced around a bit putting up pedestrian numbers and grading out as a number five starter at best. He returned to Texas after spending two years in Boston and is in the midst of a career year.
Perez has never been much of a strikeout pitcher posting a 6.25 K/9 for his career. His success is based more on limiting hard contact and trusting his infield defense. In 2022, Perez has produced a 51.7% ground ball rate, while also cutting his home run to fly ball rate in half from 2021.
Although Perez earned an All-Star bid in 2022, at 31 years old with plenty of track record, I doubt this season is a rebirth of the once promising prospect. A soft tossing lefty without elite movement is unlikely to duplicate his All-Star season. However, that should not take away from the impressive season he has had.