Analysis
Austin Riley's Well-Timed Breakout
In just a few short weeks, breakout star Austin Riley has helped transform the 2021 Braves from cataclysmic disaster to a potential division winner.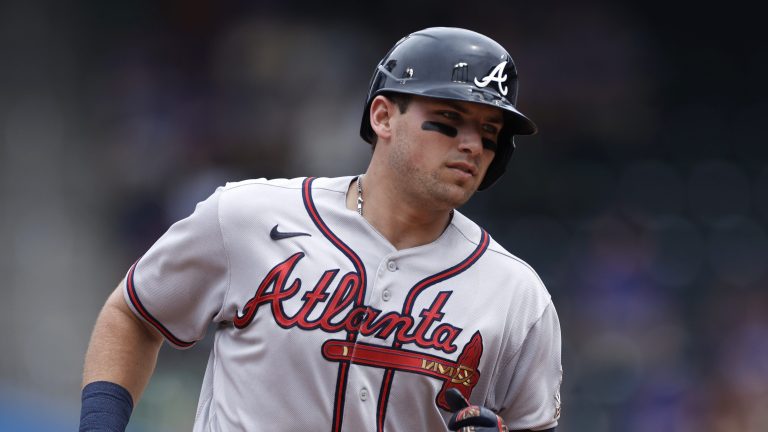 When Ronald Acuna suffered a season-ending knee injury on July 10th, the Braves' season appeared to be over. They were 44-44 and five games back of the first-place New York Mets in the loss column. Atlanta was already one of the league's biggest disappointments, and then the face of their franchise, one of the best players in baseball, tore his ACL. So naturally, it was hard to envision things improving for last year's National League runner-up.
However, the Braves are 23-12 since then, and now own a five game lead in the NL East. The biggest reason for that sudden improvement has been their star-studded infield, led by third-year breakout third baseman Austin Riley.
Post-Break Hot Streak
From July 16th onward, Riley ranks top 10 in MLB in WAR (1.8), wRC+ (178), OPS (1.075) and HR (13). Along the same timespan, he tops all MLB third baseman in all of those categories, as well as in batting average and on-base percentage, among third basemen during that span. His OPS has also improved nearly 100 points from .826 to .912 over his last 34 games. Simply put, the man is on fire.
Atlanta needed someone to step up and help fill the massive void left by Acuna, and Riley has done just that. In a relatively wide open NL MVP race, it's not completely out of the equation that Riley can work his way into that discussion with a few more hot weeks.
Improved Approach
While Riley has been at his best over the last month, this has been a season-long transformation for the 24-year-old. He has gone on hot streaks before, but this is the first time he has sustained offensive success over the course of several months. Riley has been one of the best hitters in the game this year, as evidenced by his top 20 ranking in wRC+ (139), OPS (.911), HR (27) and OBP (.375). While the ability to slug has always been there for Riley—a 70-grade raw power prospect—it's his improved patience at the plate that has enabled this breakout.
| | | | | |
| --- | --- | --- | --- | --- |
| Austin Riley MLB Career | Strikeout Rate | Walk Rate | O-Zone Swing Rate | On-Base Percentage |
| 2019 | 36.4% | 5.4% | 41.3% | .279 |
| 2020 | 23.8% | 7.8% | 37.1% | .301 |
| 2021 | 24.3% | 9.5% | 33.6% | .375 |
In just two years, Riley has improved from having one of the worst walk rates in baseball to a free-pass rate that ranks in the top half of all qualified hitters this season. In that same amount of time, he's cut his strikeout rate down by a third, and now sits at a much more manageable 24.3 percent. Additionally, he's swinging at far fewer pitches outside of the strike zone. It's a simple equation, when an elite power hitter also has solid plate discipline, they're typically among the best hitters in the sport. That's exactly what we've seen from Riley this season.
The cherry on top for Riley has been his vast improvement against off-speed pitches. In the previous two seasons, Riley was just a .156 hitter with a 46% whiff rate. This year, the 24-year-old is hitting a .338 with five homers and a 29% whiff rate when off-speed is thrown his way.
Braves Outlook
The Braves have taken advantage of a soft stretch in their schedule to go 15-3 in August so far. However, tougher tests are on the way in the form of eight straight games against the Yankees, Giants and Dodgers to close out the month.
The Braves benefit from playing in the worst division in baseball, but the second-place Phillies finish the season with the league's easiest remaining schedule. Atlanta and Philadelphia also meet one more time from September 28-30. For Atlanta to continue their recent winning ways and hold off the Phillies, Austin Riley's hot bat will be crucial.