Rankings
Top 15 MLB Corner Outfielders for 2023
Headlined by three MVPs, our list of the best corner outfielders is a who's who of top-tier talent in Major League Baseball.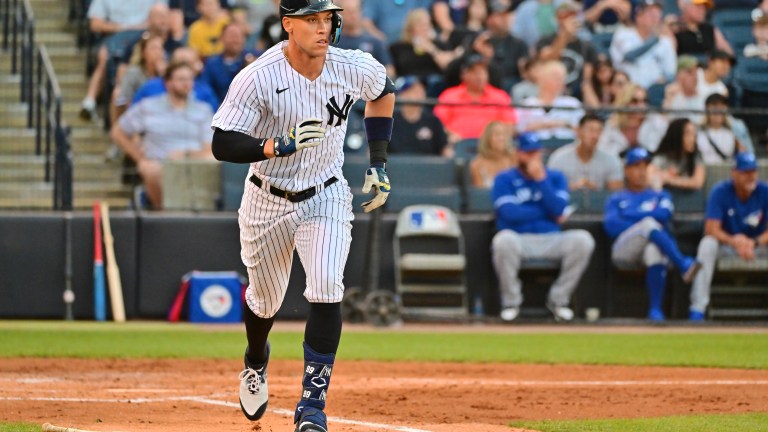 The corner outfield spots are going to be packed with talent in 2023. Nearly every player on this list has been an All-Star, and all the rest have a chance to make their first Midsummer Classic this season.
This is Just Baseball's staff consensus ranking of the top 15 corner outfielders in baseball. Let's get right into it.
Honorable Mentions
Randy Arozarena: The Rays' left-fielder doesn't excel in any one area, but he's a solid offensive contributor in all respects. Arozarena puts the ball in play, gets on base, runs well, and hits with some pop. As for his defense, the results are mixed. DRS doesn't like him, but he's perfectly average according to OAA. Meanwhile, the new fielding metric at Baseball Prospectus (DRP) is surprisingly high on his range and his arm.
Kris Bryant: The 2022 campaign was a lost season for Bryant, who spent most of the year on the injured list and played just 42 games. When he was on the field, however, Bryant was still performing quite well. His power was unimpressive, but he was making more contact than ever and striking out at a minuscule 14.9% rate. If he keeps putting the ball in play, a healthy Bryant could do some serious damage at Coors Field this season.
Seiya Suzuki: Suzuki made a strong first impression with the Cubs last year, and he has the chance to be even better as he continues to adjust to MLB pitching. Unfortunately, his sophomore MLB season isn't off to a great start, as he suffered an oblique strain in spring training. It's unclear just how serious the injury is, but it was bad enough to force him out of the upcoming World Baseball Classic.
15. Taylor Ward – 3.8 fWAR
2022 Offensive Stats: 564 PA, .281/.360/.473, 23 HR, 5 SB, 65 RBI, 10.6% BB%, 21.3% K%, 137 wRC+
2022 Defensive Metrics: -3 DRS, 2 OAA in RF
It's hard to stand out when you share the outfield with the greatest player of your generation, but Taylor Ward did just that in 2022.
Ward built upon the power he showed off last season and improved his plate discipline. His walk rate ranked 11th among outfielders, while his OBP and SLG both ranked ninth. His emergence as a true on-base threat gives the Angels a legitimate leadoff hitter to bat in front of Mike Trout and Shohei Ohtani; alternatively, his development as a power threat gives the Angels a talented cleanup hitter to protect their MVPs in the lineup.
The next step for Ward is to maintain his plate discipline as pitchers adjust to his patient approach. If he can do so, he has the skills to remain a top-30 hitter in the American League.
14. Laars Nootbaar – 2.7 fWAR
2022 Offensive Stats: 347 PA, .228/.340/.448, 14 HR, 4 SB, 40 RBI, 14.7% BB%, 20.5% K%, 125 wRC+
2022 Defensive Metrics: 3 DRS, -1 OAA in RF
Lars Nootbaar had a phenomenal breakout season in 2022, playing all around the outfield while showing off a good eye at the plate and a genuine feel for power. If he can take advantage of his speed to steal more bases, Nootbaar has the potential to be a five-tool threat.
The 25-year-old has a cannon of an arm, which he used to record eight outfield assists last season. He's capable of handling center in a pinch – a valuable skill indeed – but Nootbaar is better suited for right field, where his strong arm can help him to be an above-average defender. The Cardinals might also play him in left this year, leaving room for Dylan Carlson (another cannon-armed outfielder) in right.
Nootbaar will enter the 2023 season with plenty to prove. His breakout performance came as a surprise to many, and he'll have to demonstrate he can maintain that level of offensive production over a full season. He'll also have to show that his reverse platoon splits were no fluke. The Cardinals will give him every chance to try, penciling the former eighth-round pick into their Opening Day lineup.
13. Teoscar Hernández – 2.4 fWAR
2022 Offensive Stats: 535 PA, .267/.316/.491, 25 HR, 6 SB, 77 RBI, 6.4% BB%, 28.4% K%, 129 wRC+
2022 Defensive Metrics: -3 DRS, -5 OAA in RF
Teoscar Hernández is returning to the AL West for his final year before free agency. The 30-year-old slugger played his rookie season with the Astros in 2016 before breaking out with the Blue Jays a few years later.
From 2018-2022, Hernández smacked 121 home runs in 583 games, an average of 34 per 162. He won back-to-back Silver Sluggers in 2020 and 2021, earning down-ballot MVP support both seasons. There's a good case to be made he's one of the top 25 hitters in the sport.
Unfortunately for Hernández, he'll be playing his home games at T-Mobile Park in 2023, one of the least hitter-friendly stadiums in the league. That being said, Baseball Savant tells us that more of his 2022 fly balls would have been home runs at T-Mobile Park than almost any other AL stadium. Maybe he'll be just fine.
12. Ian Happ – 3.5 fWAR
2022 Offensive Stats: 641 PA, .271/.342/.440, 17 HR, 9 SB, 72 RBI, 9.0% BB%, 23.2% K%, 120 wRC+
2022 Defensive Metrics: 13 DRS, 1 OAA in LF
Ian Happ was the subject of many trade rumors last summer, but the Cubs decided to keep him around. He'll team up with Seiya Suzuki and Cody Bellinger in the outfield at Wrigley this season, giving Chicago one of the best defensive outfields in the National League.
Happ first made waves in the shortened 2020 season, but a mediocre 2021 campaign had many wondering if his breakout was merely a mirage. The 28-year-old put those concerns to rest last year, posting strong offensive numbers across the board and showing off excellent range in left field.
11. Starling Marte – 3.0 fWAR
2022 Offensive Stats: 505 PA, .292/.347/.468, 16 HR, 18 SB, 63 RBI, 5.1% BB%, 19.2% K%, 136 wRC+
2022 Defensive Metrics: 4 DRS, -2 OAA in RF
Starling Marte had an All-Star season in 2022, proving that his offensive surge from the year before was legit. That's a good thing, too, because he isn't the fielder or baserunner he was in his youth.
The Mets' outfielder stole 18 bags in 27 attempts last season, a major disappointment compared to his 47 steals in 52 attempts the year before. Meanwhile, his defensive value took a tumble according to most advanced metrics. Marte played through pain in his groin and his quad last season, but even if he returns to full health, his best days as a speedster are probably behind him.
Thankfully, then, his bat is the real deal. Marte has turned into a great hitter, putting his contact skills to good use. The Mets can count on him for 10+ home runs, 25+ doubles, and a high batting average on balls in play.
10. Steven Kwan – 4.4 fWAR
2022 Offensive Stats: 638 PA, .298/.373/.400, 6 HR, 19 SB, 52 RBI, 9.7% BB%, 9.4% K%, 124 wRC+
2022 Defensive Metrics: 21 DRS, 10 OAA in LF
Steven Kwan is a delightful player to watch. He's not the kind of guy you'd call toolsy, nor does his 5'9″ stature strike fear into opponents' eyes, yet he excels in certain aspects of the game.
Kwan makes a phenomenal amount of contact, and he runs well enough to turn that contact into a ton of base hits. Moreover, while he doesn't hit the ball hard, his slugging percentage is respectable because his smart baserunning helps him stretch singles into doubles and doubles into triples.
On top of that, Kwan is arguably the best defensive corner outfielder in the game. He gets great jumps, takes good routes, and makes tough catches look easy. His arm strength is middling, but he makes good throws nonetheless.
9. Daulton Varsho – 4.6 fWAR
2022 Offensive Stats: 592 PA, .235/.302/.443, 27 HR, 16 SB, 74 RBI, 7.8% BB%, 24.5% K%, 106 wRC+
2022 Defensive Metrics: 5 DRS, 8 OAA in CF; 14 DRS, 10 OAA in RF
Daulton Varsho is one of the most interesting players in baseball. Over the first three years of his career, he's been both a catcher and a center fielder – and performed well in both roles.
In 2023, Varsho won't be as interesting, but he might also be better than ever. He'll be playing the outfield full-time for the Blue Jays, who already have two All-Star level catchers in Alejandro Kirk and Danny Jansen. By focusing on one position, Varsho will have more time to develop his bat, and it certainly helps that he won't be crouching behind the plate anymore. Meanwhile, his glove should be phenomenal as he works with Kevin Kiermaier and George Springer to form the most outstanding defensive outfield in the sport.
Varsho has taken a step forward in each season of his big league career, and I expect the pattern to continue in his age-26 season.
8. George Springer – 4.2 fWAR
2022 Offensive Stats: 583 PA, .267/.342/.472, 25 HR, 14 SB, 76 RBI, 9.3% BB%, 17.2% K%, 132 wRC+
2022 Defensive Metrics: -4 DRS, 1 OAA in CF
As spring training begins, George Springer will look to move past a terrible concussion that ended his and the Blue Jays' 2022 season. Thankfully, he seems to be in excellent health.
When Springer is at full strength, he's one of the best outfielders in baseball. A true five-tool player, Springer can give his team 25+ bombs, 15+ steals, and 50+ walks, all while patrolling the outfield with vigilance and agility.
As Springer enters his age-33 season, the Jays are prepared for him to take a step back defensively – hence the additions of Varsho and Kiermaier. However, I still expect him to be a powerful top-of-the-lineup hitter for one of the best offenses in baseball.
7. Kyle Tucker – 4.7 fWAR
2022 Offensive Stats: 609 PA, .257/.330/.478, 30 HR, 25 SB, 107RBI, 9.7% BB%, 15.6% K%, 129 wRC+
2022 Defensive Metrics: 14 DRS, 3 OAA in RF
I feel really good about Kyle Tucker taking the seventh spot on this ranking. He doesn't have the ceiling of the six guys above him, all of whom are bona fide superstars, but I'm confident Tucker will be a four-win player year in and year out. To put it another way, I don't foresee an MVP Award in Tucker's future, but I think he'll be a perennial All-Star.
Tucker does everything well, even if none of his tools are particularly flashy. He hits for power without striking out. He steals bases despite his average sprint speed. His glove is valuable in an outfielder corner, although you'd never want to put him in center field.
If all goes right, Tucker has the skills to join the 30-30-.300 club (30 homers, 30 steals, and a .300 batting average). The only active members of that club are Christian Yelich, Mookie Betts, and Mike Trout. Hmm… maybe an MVP isn't so far-fetched after all.
6. Fernando Tatis Jr. – DNP
Fernando Tatis Jr. finds himself in a wildly different position than he was in at this time last year. Heading into the 2022 season, he was our top-ranked shortstop in baseball. He hasn't played a single game since, and now he's number six on our corner outfield list.
It's going to take Tatis some time to adjust to his new position – and to re-adjust to major league pitching – but this is one of the best athletes in the game we're talking about. Once the final 20 games of his suspension are up, Tatis is going to be back with a bang. This guy hit 42 home runs with a 157 wRC+ and 7.3 fWAR in his age-22 season – the sky is the limit for Tatis.
5. Ronald Acuña Jr. 2.2 fWAR
2022 Offensive Stats: 533 PA, .266/.351/.413, 15 HR, 29 SB, 50 RBI, 9.9% BB%, 23.6% K%, 114 wRC+
2022 Defensive Metrics: 0 DRS, -5 OAA in RF
Has Ronald Acuña Jr. become underrated? It's starting to feel that way. After suffering a devastating, season-ending knee injury halfway through the 2021 campaign, Acuña wasn't quite himself in 2022. He dealt with various nagging injuries, playing just 119 games and slashing .266/.351/.413. It's now been two years since Acuña was an MVP contender, and I worry some fans are forgetting just how special a talent he is.
Acuña is looking healthy this spring – healthy enough to play for Venezuela in the WBC – and I have a feeling big things are in store. It might be too soon to say MVP, but, well… MVP?
4. Juan Soto – 3.8 fWAR
2022 Offensive Stats: 664 PA, .242/.401/.452, 27 HR, 6 SB, 62 RBI, 20.3% BB%, 14.5% K%, 145 wRC+
2022 Defensive Metrics: -2 DRS, -12 OAA in RF
Juan Soto had a down year in 2022 by his own standards, but there's no reason to believe he won't bounce back. His batting average on balls in play (BABIP) was a shockingly low .249, while his career average heading into the season was .330. That drop in BABIP wasn't entirely bad luck – Soto didn't hit the ball quite as hard as usual last season – but the young slugger still tears the cover off the ball, and I'd expect his BABIP to rise by 40 or 50 points in 2023.
Both the ZiPS and Steamer projection systems have Soto pegged as the best player in the National League next season, and it's not hard to see why. The 24-year-old combines elite plate discipline with huge raw power in a way few can. There's a reason the Nationals offered him $440 million last summer – and there's a reason he turned it down.
3. Bryce Harper – 2.4 fWAR
2022 Offensive Stats: 426 PA, .286/.364/.514, 18 HR, 11 SB, 65 RBI, 10.8% BB%, 20.4% K%, 138 wRC+
The only thing that can stop Bryce Harper is Bryce Harper.
As we saw in last year's postseason, the Philadelphia Phillies' superstar is an immovable force when he's locked in. Unfortunately, he'll be off the field for the first few months of the 2023 season as he recovers from Tommy John surgery. The Phillies are hoping to get their MVP back in the lineup in June and back in right field by the All-Star break, but the timeline remains foggy.
So why is Harper ranked this highly if he's going to miss so much of the season? Once again, I point to his performance in the 2022 playoffs. When he's healthy, Harper can challenge guys like Aaron Judge, Juan Soto, and Yordan Alvarez for the title of best pure hitter in the game. He'll make his mark whenever he does return, playing a massive role in the NL postseason race.
2. Mookie Betts – 6.6 fWAR
2022 Offensive Stats: 639 PA, .269/.340/.533, 35 HR, 12 SB, 82 RBI, 8.6% BB%, 16.3% K%, 144 wRC+
2022 Defensive Metrics: 15 DRS, 4 OAA
Mookie Betts does everything well, and I'm not exaggerating – have you seen the man bowl?
After getting off to a slow start in 2022, Betts silenced critics who thought he might be starting to decline by putting together his best season since his 2018 MVP campaign. He made his sixth All-Star team, his second All-MLB First Team, and won both a Gold Glove and a Silver Slugger en route to a fifth-place MVP finish.
Dodgers manager Dave Roberts has suggested Betts could play a little infield in 2023 – a proposition made all the more likely after the news of Gavin Lux's season-ending injury – but for now, Betts is still a corner outfielder, and a damn good one at that.
1. Aaron Judge – 11.4 fWAR
2022 Offensive Stats: 696 PA, .311/.425/.686, 62 HR, 16 SB, 131 RBI, 15.9% BB%, 25.1% K%, 207 wRC+
2022 Defensive Metrics: 1 DRS, 1 OAA in CF; 2 DRS, 1 OAA in RF
Considering the double-digit WAR total next to his name, it shouldn't come as any surprise that Aaron Judge is at the top of this list. The reigning AL MVP is the best hitter in the game, and he complements his bat with surprising dexterity and agility for a man of his size.
While Judge played half his games in center field last season, Harrison Bader's presence on the Yankees' roster should keep him in the corners for 2023. His mighty arm makes Judge a strong right fielder, but early reports suggest he'll play in left to make room for Giancarlo Stanton in right.
Regardless of where he's playing, one thing is certain: Judge is going to mash. The 6'7″ superstar is a good bet to repeat as AL MVP in the first year of his $360 million contract.