Rankings
Top 10 MLB Shortstops for 2022
Just Baseball's rankings of the top shortstops in baseball.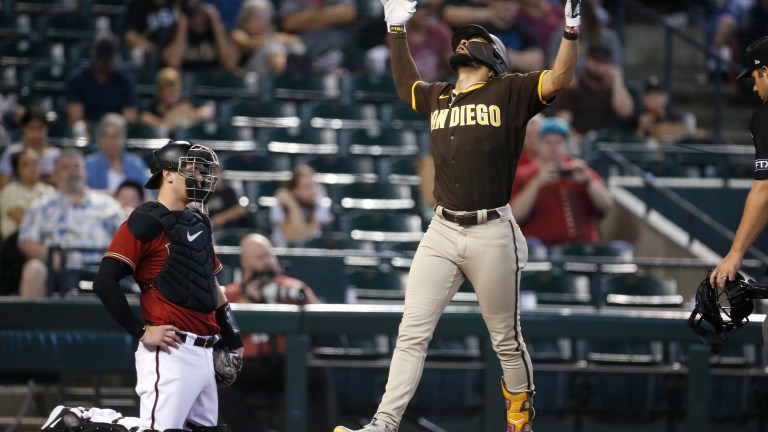 Welcome to our official positional rankings for the 2022 MLB season!
In this series, you'll find our rankings for the best players at each position in Major League Baseball. These rankings are not a measure of performance since 2019; we are projecting the 10 best at each position for 2022.
All types of analysis went into these rankings. We look at every advanced analytic we can to make our lists, but we include intangibles not typically found in the numbers. This is not a perfect list, but no list truly is.
The shortstop position is so incredibly stacked. It's easy to pick out the top 15, but the choices get grim below that. Most of the players on the list are great defenders, but who can hit?
We give an extra bump to elite defense, and we'll dock a player if the defense is well-below average. We put a lot of focus on the bat and how we think they'll perform in 2022.
We have accounted for defensive and offensive production since 2019, with an emphasis on 2021.
We will use some advanced baseball jargon in this article. You'll see stats such as WAR, OAA, fWAR, DRS, etc. The defensive stats will reflect their time solely at shortstop. We suggest quickly reading about those stats at the links attached. Please feel free to reach out on Twitter with any questions.
Honorable Mentions
Javier Baez – Detroit Tigers
First one out. It's really hard. He can be as electrifying as anyone when on, but is more frustrating than anyone when off. A .813 OPS and a league-leading 184 punchouts last year prohibits him from landing on what's probably our most stacked top-10.
Willy Adames – Milwaukee Brewers
Willy Adames was supposed to break out in 2019. He had to wait until 2021, but he did it!
Will he be a .260 hitter with a .812 OPS as his career eludes to? Or is he closer to a .850 OPS that he posted solely with the Brewers? Time will tell, and that answer could tell us whether he's close to the top 10, or on the outside looking in.
JP Crawford – Seattle Mariners
Half of his career WAR came last year. He hasn't played a full season outside of 2021, but his 2021 was very solid. His bat won't scare you, but he can pick it with the best of them. He sports a career 96 wRC+, but he does have a Gold Glove already. He's still just 27 years old, there is some upside here.
Dansby Swanson – Atlanta Braves
I feel he sets the barometer for the average shortstop. He's not an average player, but when compared to his position, he's perfectly average. He posted a 98 wRC+ last year with 27 bombs and silky defense.
Aldaberto Mondesi/Nicky Lopez – Kansas City Royals
Nicky hit .300, stole 22 bags, and led all of baseball in Outs Above Average last year. If Mondesi could stay healthy, he'll lead the league in stolen bases. The tandem that should be displaced by Bobby Witt when they decided to move him off of third base. These guys can be great in spots, but their margin for error is rather slim with the lack of power.
The Top 10
10. Wander Franco – Tampa Bay Rays (Age: 21)
2021 Stats: 70 G, .288/.347/.463, .810 OPS, 127 wRC+, 7 HR, 39 RBI, 2 SB, 7.8% BB, 12% K, 2.5 fWAR, 6 DRS, -1 OAA
This was tough! It was between Javier Baez and Wander Franco for the tenth spot, but Franco's potential as a glove-first player who could win a batting title tipped the scale.
The consensus top prospect in baseball last year came up in a massive way for Tampa Bay. In 70 games, he hit .288 with 18 doubles, a 12% strikeout rate, and was a 2.5 WAR player. That's good to get you a third-place finish in AL Rookie of the Year voting.
The 2021 season was the first time in his professional baseball career that he struck out more than he walked. Wander just turned 21 years old on March 1st. What this guy's going to accomplish, with the bat-to-ball ability, zone discipline, and defensive silkiness, may be unmatched over the next dozen years in Major League Baseball. And it starts now.
9. Brandon Crawford – San Francisco Giants (Age: 35)
2021 Stats: 138 G, .298/.373/.522, .895 OPS, 139 wRC+, 24 HR, 90 RBI, 11 SB, 10.2% BB, 19.1% K, 5.5 fWAR, 6 DRS, 15 OAA
Brandon Crawford checks in at nine after one of the best offensive and defensive seasons at a loaded position in 2021.
Crawford has always had an elite glove. He's won four Gold Gloves, finished seventh at the position in DRS last year, and finished eighth overall in outs above average. We knew about the glove, but did we know he had 24 bombs and a fourth-place MVP in his back pocket?
At 35, Crawford is a new hitter. He showed the offensive potential in 2020, putting up a 111 wRC+. In 2021, we saw a 139 wRC+, which was the third-best at the position. He recorded his highest walk rate and lowest chase rate since 2015, and the lowest strikeout rate since 2016. Crawford has re-engineered his bat, and the glove is elite. He's top 10.
8. Tim Anderson – Chicago White Sox (Age: 28)
2021 Stats: 123 G, .309/.338/.469, .807 OPS, 120 wRC+, 17 HR, 61 RBI, 18 SB, 4% BB, 21.6% K, 4.3 fWAR, 3 DRS, 3 OAA
Shoutout to NBC Sports Chicago for this one. Since the start of the 2019 season, no one has a better batting average in Major League Baseball than Tim Anderson's .320 clip.
It was a slow start to Tim Anderson's career. In 2016, as a 23-year-old rookie, he looked promising. After back-to-back seasons in '17 and '18 with an OPS under .700, questions came up. But with an OPS hovering around .840 over his last three years, no questions remain.
He's got a batting title to his name. He's a legitimately good defensive shortstop. And he's the runaway fan favorite in Chicago. What's not to love about the eighth-best shortstop in baseball?
7. Francisco Lindor – New York Mets (Age: 28)
2021 Stats: 125 G, .230/.322/.412, .734 OPS, 103 wRC+, 20 HR, 63 RBI, 10 SB, 11.1% BB, 18.3% K, 2.7 fWAR, 4 DRS, 20 OAA
Francisco Lindor normally checks in near the top of the list, but a down 2021 drops him to a respectable seventh on our list.
While he did have his struggles offensively, the glove was still platinum level. Yet he didn't even win a Gold Glove, despite finishing second in baseball in outs above average.
The bat was the problem in the early goings, but he had a 124 wRC+ from June 1st on, so we'll throw away those bad two months in a new environment living up to a $341 million contract.
Still, I do think at some point someone should say it. He's not an elite hitter!
He has a 117 wRC+ and a .821 OPS for his career, and although he hit 38 home runs in 2018, he's probably a 25-30 HR guy. That's not a slight to Lindor, he impacts the game on so many levels. He's a top-seven shortstop due to his elite defense, base running, leadership qualities, and an above-average bat.
6. Bo Bichette – Toronto Blue Jays (Age: 24)
2021 Stats: 159 G, .298/.343/.484/. .827 OPS, 122 wRC+, 29 HR, 102 RBI, 25 SB, 5.8% BB, 19.9% K, 4.9 fWAR, 2 DRS, -6 OAA
Last year was Bo Bichette's first full season and during it, he became the sixth-best shortstop in baseball in 2021.
Vladdy naturally stole the show for the traveling circus that was the Dunedin/Buffalo/Toronto Blue Jays, but Bo led the American League in hits while hitting .298 with a .828 OPS, 30 doubles, 29 homers, and 102 RBIs. He was also a menace on the basepaths!
You wouldn't think it off the top, but Bo Bichette was top-10 in baseball in stolen bases, swiping 25 bags in 26 attempts. Bo is a quickly-improving defender that hits the ball harder on average than any other shortstop not named Fernando Tatis Jr. Bo's gonna be a staple in this list for the next decade.
5. Xander Bogaerts – Boston Red Sox (Age: 29)
2021 Stats: 144 G, .295/.370/.493, .863 OPS, 130 wRC+, 23 HR, 90 RBI, 5 SB, 10.3% BB, 18.7% K, 5.2 fWAR, -5 DRS, -9 OAA
Xander Bogaerts checks in at number five, and since he entered the league as a 20-year-old in 2015, he's punished pretty much every baseball that's entered his strike zone.
He doesn't strike out, takes his walks, and since 2019, he's hitting over .300 with a 135 wRC+. That's tied for second at the position. For my money, he's the second or third best bat at the position, but the defense is ultimately what keeps him from being any higher.
He rated as the second-worst defensive shortstop last year, rivaling Gleyber Torres and Didi Gregorius for the top spot. His lack of range is concerning, and he might be a better fit for third base as he ages. But he's still just 29 years old. Another reason I love Bogaerts is his durability. He's only missed more than 20 games once in his entire career.
4. Corey Seager – Texas Rangers (Age: 27)
2021 Stats: 97 G, .306/.394/.521, .915 OPS, 147 wRC+, 16 HR, 57 RBI, 1 SB, 11.7% BB, 16.1% K, 3.7 fWAR, 0 DRS, 5 OAA
Is the 27-year-old worth 325 million dollars? When he's on the field, he's well worth it.
If you average out his career numbers over 162, he'd be hitting .298 with a .871 OPS, 26 homers, driving in 93 runs, peppering 42 doubles, and striking out around 18% of the time.
The problem here is durability. He played 157 games in 2016, and 145 in 2017. Since then, the only time he's played over 100 games was in 2019 when he played 134. He's solid defensively, and when healthy, is one of the better offensive shortstops in the game. He's gone to two All-Star games and has a 21 career WAR before turning 28! He's just not top-3 caliber.
3. Carlos Correa – Minnesota Twins (Age: 27)
2021 Stats: 148 G, .279/.366/.485, .851 OPS, 134 wRC+, 26 HR, 92 RBI, 0 SB, 11.7% BB, 18.1% K, 5.8 fWAR, 20 DRS, 12 OAA
The new Minnesota Twin Carlos Correa checks in at No. 3 after signing a LeBron-like short-term big-money contract this offseason. He signed it for good reason, he was the best defender in the world last year and put up a top-five offensive season at the position.
I could talk about all the defensive stats he led in, but can we just talk about his throwing arm for a second? I think it's the best we've ever seen at the position, routinely touching triple digits and it's incredibly accurate on top of that.
On offense, he recorded the lowest strikeout rate and chase rate of his career, while leading the position in walk rate. He also hit 26 bombs to mark a career-high. The defense pair with the offense resulted in the 8th-best fWAR in all of baseball in 2021.
Correa has better wRC+ in the playoffs in his career than in the regular season, proving he's as clutch as they come. He's just a fantastic all-around player with no real weaknesses.
2. Trea Turner – Los Angeles Dodgers (Age: 28)
2021 Stats: 148 G, .328/.375/.536, .911 OPS, 142 wRC+, 28 HR, 77 RBI, 32 SB, 6.3% BB, 17% K, 6.9 fWAR, 1 DRS, 0 OAA
Two qualified shortstops in Major League Baseball had an OPS over .900 last year; Fernando Tatis Jr., and Trea Turner.
Turner won the overall batting title; in a league with objectively better pitching. His .328 clip was nine points better than Yuli Gurriel, and 15 points better than Juan Soto. He would have won the MLB batting title if that was an award. Last year, he led the National League in batting average, hits, and total bases. And oh, by the way, he also stole 32 bags.
He's an above-average defender that led Major League Baseball in hits in 2020 and 2021 and has top-7 MVP finishes in both of those seasons. His career slash line is .302/.357/.491. You can't show me anything he does poorly on a baseball field.
1. Fernando Tatis Jr – San Diego Padres (Age: 23)
2021 Stats: 130 G, .282/.364/.611, .975 OPS, 156 wRC+, 42 HR, 97 RBI, 25 SB, 11.4% BB, 28% K, 6.1 fWAR, -6 DRS, 2 OAA
Fernando Tatis Jr is already the best shortstop in the world at 23 years old.
He will be out three months with a fractured wrist, which could make us drop him in these rankings, but he's done enough in our mind to still deserve the No. 1 spot.
He's the best bat at the position, and one of the best bats in baseball period. Tatis led the position in home runs, wRC+, and OPS and finished second in WAR. He also stole 25 bases in 130 games. His 162-game average would have been 48 home runs and 31 stolen bases. That's A-Rod level, and he's just getting started.
Let's talk defense because he struggled last year with the throwing errors. He was dealing with a shoulder injury, and some of those errors should be on Eric Hosmer. While the defense hasn't been great so far, he's one of the greatest athletes we've ever seen, and I think it'll improve in no time. He's the best shortstop, a top player in the game, and a future Hall of Famer if he can stay away from motorcycles.