Rankings
Top 10 Team Outfields For 2023
Superstars, platoon bats, and Gold Glove candidates mix and match to create some of the best collective outfields in the game.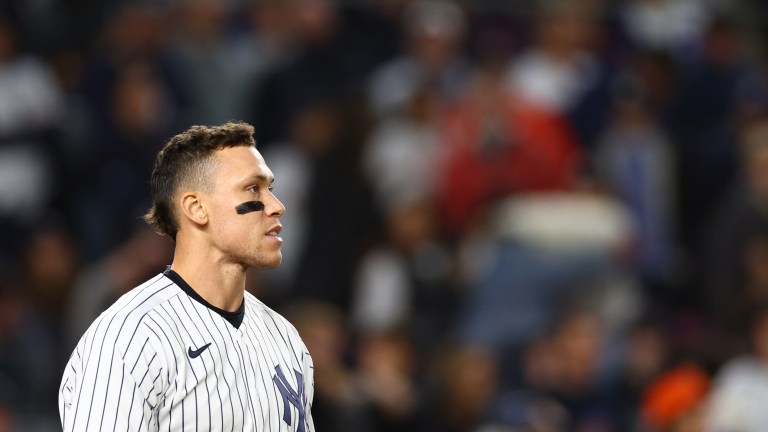 Often in football, teams are judged by the strength of their "units." How is a wide receiver group compared to their opponent's cornerback room?
We'll break down one of the four main units in baseball here in the outfield. It's an interesting unit to rank, and it certainly isn't apples to apples. Where does the team with Aaron Judge and Aaron Hicks in the same outfield rank compared to an outfield with four viable 3.5-4.0 fWAR players? We gave it a shot.
Honorable Mention: Arizona Diamondbacks
Projected Starting Outfielders (LF-CF-RF): Corbin Carroll, Alek Thomas, Jake McCarthy
Arguably the unit with the most possible helium in these rankings, Arizona boasts a young and exciting trio after moving star catcher/Gold Glove-caliber outfielder Daulton Varsho to Toronto. Corbin Carroll, Just Baseball's No. 1 overall prospect, is the odds-on favorite to take home National League Rookie of the Year honors, while second-year products Alek Thomas and Jake McCarthy flank him. In terms of depth, 2020 AL Rookie of the Year Kyle Lewis should serve as the fourth outfielder, while Lourdes Gurriel Jr. can hold down a corner if need be.
Honorable Mention: Chicago White Sox
Projected Starting Outfielders (LF-CF-RF): Andrew Benintendi, Luis Robert Jr., Gavin Sheets
Unfortunately, volatility and lack of availability have been the names of the game for the White Sox over the last two seasons. After inking Andrew Benintendi to the largest deal in franchise history at five years and $75 million, they may have found a steady presence to hedge that trend. While Benintendi has All-Star precedent and Luis Robert has MVP potential, Gavin Sheets is a defensive liability in right field, and depth is a massive question with Eloy Jiménez (likely to DH), Leury Garcia, and Victor Reyes serving as the understudies.
Honorable Mention: Los Angeles Dodgers
Projected Starting Outfielders (LF-CF-RF): David Peralta, Trayce Thompson, Mookie Betts
As hard as it was to keep an outfield captained by Mookie Betts out of the top-10, the lack of supporting cast meant it had to be done. Trayce Thompson has finally shown flashes at 32 years old, but he is certainly nothing to bank on. 35-year-old David Peralta may just be a platoon option, while outfield depth of Chris Taylor, Jason Heyward, and James Outman is as much of a wild card as you'll find. Not to mention, depth may be all-the-more tested with Betts possibly playing some second base with Gavin Lux out for the season.
10. Philadelphia Phillies
Projected Starting Outfielders (LF-CF-RF): Kyle Schwarber, Brandon Marsh, Nick Castellanos
A 46-homer guy, a defense-first center fielder, and a bounce back candidate walk into a bar.
The Phillies boast as different a trio as you'll find in the game. Kyle Schwarber, while leading the National League in home runs a season ago, also hit under .220 with 200 strikeouts and played sub-par defense in left. Brandon Marsh upped his game after being traded from the Angels at the deadline, hitting .288 with a .773 OPS over the final 41 games of the regular season. The so-called "runt of the litter" here is Castellanos, who finished 2022 with an OPS below .700 but is just one season removed from a Silver Slugger and a .939 OPS. In terms of depth, the Phillies may rely on infielders by trade Edmundo Sosa, Josh Harrison, and Dalton Guthrie.
9. Los Angeles Angels
Projected Starting Outfielders (LF-CF-RF): Taylor Ward, Mike Trout, Hunter Renfroe
Mike Trout being in this outfield would've made them top-10, even if he was with two career Triple-A guys. Fortunately, there's something to be optimistic about in Anaheim when it comes to the corners. After acquiring Hunter Renfroe from Milwaukee this offseason for three pitching prospects, the Angels have a 30-homer possibility in right with an incredibly strong throwing arm. In left, Taylor Ward had a breakout season a year ago, hitting .281 with an .833 OPS. Depth-wise, count on Brett Phillips to get some plate appearances, while this may be the final audition for former top-10 pick Jo Adell and No. 1 overall pick Mickey Moniak.
8. New York Yankees
Projected Starting Outfielders (LF-CF-RF): Aaron Hicks, Harrison Bader, Aaron Judge
Alas, the Judge-Hicks conundrum. Lost in translation is Harrison Bader, who consistently is among the best in all of baseball defensively in center field. Bader's presence for a full season allows Judge to move back to right field full-time, where he could sleepwalk his way to a 5.0 fWAR season, likely surpassing that by a couple wins after an 11.4 WAR season a year ago. Hicks is the question. Will he tread water for be unceremoniously DFA'ed, clearing the way for an assortment of Oswaldo Cabrera, Estevan Florial, Rafael Ortega, and Willie Calhoun to fill the void?
7. St. Louis Cardinals
Projected Starting Outfielders (LF-CF-RF): Lars Nootbaar, Tyler O'Neill, Dylan Carlson
Happy March, college hoops fans! This outfield unit feels like a vintage Leonard Hamilton-led Florida State team; there may not be the most elite top-end talent present, but the strength in numbers is overwhelming. Lars Nootbaar seems to be everyone's favorite breakout candidate heading into the 2023 season, while Tyler O'Neill and Dylan Carlson are both trendy bounce-back candidates offensively. Depth puts them over the top, with Oli Marmol having Juan Yepez, Brendan Donovan, Alec Burleson, and possibly top prospect Jordan Walker at his disposal.
6. New York Mets
Projected Starting Outfielders (LF-CF-RF): Mark Canha, Brandon Nimmo, Starling Marte
Much of the focus in Queens is on the top-end talent on the roster, and deservedly so. However, the Mets' outfield unit may be the most unheralded in all of baseball. While many may know that Brandon Nimmo is an impact star thanks to his near-$200 million contract this offseason, his 5.4 fWAR this past season proves that when he is healthy, he is a game-changer. Starling Marte may be losing a step, but he's still a well-above average player, while Mark Canha is one of the most underrated producers in baseball. Over his eight year career to this point, Canha has accumulated a 118 wRC+, including a 128 wRC+ last year in 140 games. Tommy Pham and Darin Ruf will likely be the Opening Day understudies, while top prospect Brett Baty likely isn't far behind.
5. Seattle Mariners
Projected Starting Outfielders (LF-CF-RF): Jarred Kelenic, Julio Rodriguez, Teoscar Hernandez
If Jarred Kelenic continues this torrid spring pace that he's on and parlays it into a strong regular season start, this may be the second best outfield in the game. Julio Rodriguez is a generational talent, while Teoscar Hernandez was a massive pickup for Jerry Dipoto and the Mariners this offseason. The front three are exceptional, but the depth isn't too shabby either. AJ Pollock was a tremendous pickup as a platoon possibility, while Dylan Moore, Sam Haggerty, and Cooper Hummel could all vie for at-bats at some point this summer.
4. Toronto Blue Jays
Projected Starting Outfielders (LF-CF-RF): Daulton Varsho, Kevin Kiermaier, George Springer
Arguably the best defensive outfield in the game, the most notable trade in baseball this offseason made the Blue Jays all the more dangerous. Toronto needed to get more left-handed, and they did exactly that by grabbing Daulton Varsho for Lourdes Gurriel Jr. and top prospect Gabriel Moreno. Signing Kevin Kiermaier to a free agent deal allows George Springer to get out of center and move to a corner, hopefully where his health maintains and he can get back to borderline superstar levels. While Whit Merrifield can likely head into a corner when needed, Cavan Biggio, Nathan Lukes, and Spencer Horwitz are the direct backups.
3. Atlanta Braves
Projected Starting Outfielders (LF-CF-RF): Eddie Rosario, Michael Harris II, Ronald Acuña Jr.
We certainly don't need to wax poetic about Ronald Acuña Jr. or 2022 NL Rookie of the Year Michael Harris much. If fully healthy, Acuña is a top-five talent in the game, while Harris is a .300 threat with Platinum Glove level defense. Eddie Rosario is the odd man out here, who needs to regain form to stay put in the outfield. Unfortunately, depth isn't a strong suit for Atlanta either, with Marcell Ozuna, Sam Hilliard, Jordan Luplow, and an uncomfortable Orlando Arcia serving as the backup plan in left.
2. Houston Astros
Projected Starting Outfielders (LF-CF-RF): Yordan Álvarez, Chas McCormick, Kyle Tucker
Álvarez and Tucker are both top-20 players in baseball. Full stop. It's impossible to put them any lower than this when one has already inked a lucrative pre-arbitration extension and the other is due for a $200+ million deal. Chas McCormick is the third wheel here, but McCormick is much better than many may expect. Through his first two seasons, the 27-year-old McCormick has accumulated 4.2 fWAR with a 111 wRC+. Depth is no issue for the Astros, as Dusty Baker has the ability to turn to Jake Meyers, Mauricio Dubon, and David Hensley if need be.
1. San Diego Padres
Projected Starting Outfielders (LF-CF-RF): Juan Soto, Trent Grisham, Fernando Tatis Jr.
How did we want to play this game: with Matt Carpenter as the Opening Day left fielder, or with Fernando Tatis Jr. as the right fielder when he's reinstated three weeks into the season? We opted for Tatis, and it's no contest. If Soto and Tatis are Soto and Tatis, Trent Grisham could be non-existent and this is still the best outfield in baseball. However, Grisham is a perennial Gold Glove candidate that can't be any worse than he was last year offensively. This was a slam dunk pick up top.