Rankings
Top 10 MLB First Basemen for 2022
Just Baseball's rankings of the top first basemen in baseball heading into the 2022 MLB season.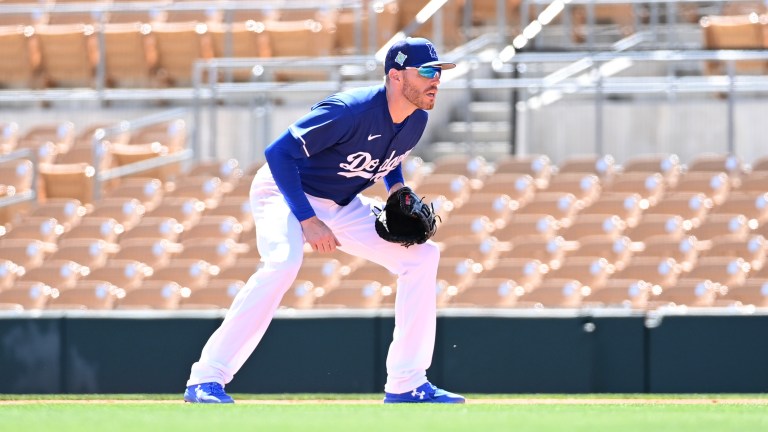 Welcome to our official positional rankings for the 2022 MLB season!
In this series, you'll find our rankings for the best players at each position in Major League Baseball. These rankings are not a measure of performance since 2019; we are projecting the ten best at the position for 2022.
All types of analysis went into these rankings. We look at every advanced analytic we can to make our lists, but we include intangibles not typically found in the numbers. This is not a perfect list, but no list truly is.
The first base position is chock-full of behemoths. At first base, more weight is placed on offensive production, but we rewarded players for well-above-average defense.
We have accounted for defensive and offensive production since 2019, with an emphasis on 2021. The age you'll see next to each name reflects what they will be on Opening Day.
We will use some advanced baseball jargon in this article. You'll see stats such as WAR, OAA, fWAR, DRS, etc. We suggest quickly reading about those stats at the links attached, and as always, please feel free to reach out on Twitter with any questions.

Honorable Mentions:
Trey Mancini/Ryan Mountcastle – Baltimore Orioles
They're a duo because they virtually split first base/DH duties this past year. Mountcastle gave them 33 home runs, while Mancini gave them 33 doubles and 21 homers. They were the top-two run producers for the Orioles last year. Whoever plays first for them is a calming presence, considering the sheer chaos everywhere else. Ryan Mountcastle is someone to follow, as he's just 25 years old.
Ty France – Seattle Mariners
He's so unassuming, but this guy just hits!
In 152 games last year with the Mariners, he hit .291 with 32 doubles and had a .813 OPS. His plate discipline massively improved; he lowered his strikeout rate by seven percent from his previous career-high mark and was an anchor for a young and fun team! As exciting as the Seattle Mariners' young core is, France feels like their "glue."
Anthony Rizzo – New York Yankees
Rizzo has three All-Star nods, four Gold Gloves, a Platinum Glove, and a Silver Slugger. HOWEVER, he was just fine in 2021. With the Cubs and Yankees, he hit .248 with a .783 OPS. He's not the swing-and-miss, sell-out-for-power type that the Yankees are currently in love with, which is good, but he's out of the top-10 because we're not entirely sold that the Anthony Rizzo of old is back. He's still very talented, so we wouldn't be shocked if he finished top 10 in WAR in 2022. He's close to the top-10.
Rhys Hoskins – Philadelphia Phillies
Rhys Hoskins feels like the prototypical first baseman. He'll give you close to 30 home runs and 100 RBIs, but he won't play much defense and won't make an impact on the base paths. However, this guy walked 116 times in 2019. Even with a superbly keen eye, Rhys Hoskins hides in the slightly-above-average department. He owns a career .862 OPS, he consistently hits the ball hard, but his defense is average at best, and he's got some swing-and-miss problems. Hoskins is an easy guy to root for. He's not top-10, but he's absolutely top-15.
C.J. Cron – Colorado Rockies
It looked like the writing was on the wall for C.J. Cron. He entered 2021 on his fifth team in five years, giving solid offensive production but not enough to make him financially appealing.
Then, he got Coors'ed!
He put up a career-best 127 wRC+, a career-high in every aspect of his slash line, and he upped his walk rate nearly five percent over his career-best. There was a philosophical change to complement the change in scenery, which bumped Cron from mediocre to slightly above-average.
The Top 10
10. Jared Walsh – Los Angeles Angels (Age: 28)
2021 Stats: 144 G, .277/.340/.509, 127 wRC+, 29 HR, 98 RBI, 8.2% BB, 26% K, 2.8 fWAR, -5 DRS, -2 OAA
Walsh showed some promise in 32 games in 2020, recording a .970 OPS with nine home runs. Then 2021 came, and Walsh exploded. He makes quality contact. He's in the upper half of the league in hard-hit rate, and even though he hit almost 50% of his balls on the ground, he hits the ball with such authority that it results in extra bases. In 144 games, he had 29 home runs and 34 doubles, becoming a right-handed pitcher's worst nightmare.
Walsh does have his issues but has so much potential in his age-28 season with a revamped Angels lineup. He struggles mightily against lefties and is a below-average defender at the position, but Walsh was the unsung producer in Anaheim, often overshadowed by the greatness of Shohei Ohtani. He's a top-10 first baseman, and the world will realize that in 2022.
9. Brandon Belt – San Francisco Giants (Age: 33)
2021 Stats: 97 G, .274/.378/.597, 158 wRC+, 29 HR, 59 RBI, 12.6% BB, 27% K, 3.3 fWAR, -4 DRS, 2 OAA
He walks, hits balls on the screws, doesn't chase, and still plays above-average defense.
While he hasn't always brought the most power to the first base position, Belt did mimic Brandon Crawford's anomaly-like season and hit 29 home runs as a 33-year-old this past year.
Not counting a COVID-shortened 2020 season, he put up the best OPS of his career by over 100 points last year. His lack of availability shoots him a bit farther down the list. He only played 97 games this past season.
8. Jose Abreu – Chicago White Sox (Age: 35)
2021 Stats: 152 G, .261/.351/.481, 126 wRC+, 30 HR, 117 RBI, 9.3% BB, 21.7% K, 2.9 fWAR, -1 DRS, 0 OAA
In his first season back in 2014, Jose Abreu hit 36 home runs and drove in 107 RBIs. Since that debut season, Abreu has logged at least 30 home runs and 100 runs driven in four of six full seasons. Not only is he so consistent, but he's also incredibly durable. He's missed more than ten games in a season just twice in eight years.

He was the American League MVP in 2020, then finished 10th in fWAR at a loaded position in 2021. He's one of the most consistent players in baseball, giving his team great offense production and solid defense, while being a workhorse and an excellent leader in the White Sox locker room.
7. Yuli Gurriel – Houston Astros (Age: 37)
2021 Stats: 143 G, .319/.383/.462, 134 wRC+, 15 HR, 81 RBI, 9.8% BB, 11.2% K, 3.4 fWAR, 5 DRS, 0 OAA
He turns 38 in June, and he just won a batting title and a Gold Glove in the same year. What is happening?
You can't keep Yuli any lower on this list. In his past four full seasons, he's hit .299, .291, .298, and .319 this past season. The power's gone; he hit 31 homers in 2019 but hit just 15 in virtually the same number of games in 2021. But he's making up for the lack of power with an abundance of singles. The guy hardly strikes out, barely swings and misses, and has a well-above-average plate discipline. While he doesn't hit it hard, he still hits. And that's why he's seventh on this list.
6. Joey Votto – Cincinatti Reds (Age: 38)
2021 Stats: 129 G, .266/.375/.563, 140 wRC+, 36 HR, 99 RBI, 14.4% BB, 23.8% K, 3.6 fWAR, 4 DRS, 0 OAA
Joey Votto is still the sixth-best first baseman in baseball. Last year marked a change in approach at the plate for Votto and what a change it was.
In 2021, he focused on putting the ball in the air, highlighted by the highest launch angle of his career. He started swinging more often, even chasing more pitches outside the zone. This resulted in a dip in batting average and OBP, but virtually every other metric skyrocketed. He hit 36 home runs with a 140 wRC+, his highest mark since 2017. He finished with the ninth-best hard-hit rate in the league, right in front of Juan Soto. The crazy thing is, the expected stats even pointed to some bad luck for Votto in 2021. Joey Votto is one of the great leaders in baseball and still bangs.
5. Pete Alonso – New York Mets (Age: 27)
2021 Stats: 152 G, .262/.344/.519, 133 wRC+, 37 HR, 94 RBI, 9.4% BB, 19.9% K, 3.0 fWAR, 5 DRS, 1 OAA
Pete Alonso hit 53 home runs during his rookie season in 2019 and is the two-time defending Home Run Derby champ. Call 2021 a "down year" if you want, but this mammoth hit 37 bombs and slugged .519.
Swings and misses were a problem during his first two seasons. In 2019, he struck out 26 percent of the time. In 2020, 25.5 percent of the time. Last year, the Polar Bear dropped its strikeout rate to under 20 percent.
The guy hits the ball harder than anyone not named Stanton or Judge. And he's turned himself into a pretty solid defender. He sprayed the ball to all fields last year with a lower launch angle than typical. If he pulls the ball and puts it in the air more often, he likely has another 50 home run season in him in the immediate future. He's just scratching the surface of what he can be.
4. Paul Goldschmidt – St. Louis Cardinals (Age: 34)
2021 Stats: 158 G, .294/.365/.514, 138 wRC+, 31 HR, 99 RBI, 9.9% BB, 20% K, 4.9 fWAR, 9 DRS, 6 OAA
It's impossible to find something our fourth-best first baseman does that's not considered above average. Goldschmidt finished third in WAR among first basemen in 2021. He was in the top-five in hard-hit rate, one of the better defenders in the game, and he went 12-12 in stolen bases a year ago.
He finished sixth in MVP voting and won a Gold Glove in 2021, and we don't expect much of a drop-off in his age-34 season. One could make the argument he's the most well-rounded first basemen in the game.
3. Matt Olson – Atlanta Braves (Age: 28)
2021 Stats: 156 G, .271/.371/.540, 146 wRC+, 39 HR, 111 RBI, 13.1% BB, 16.8% K, 5.0 fWAR, 6 DRS, 0 OAA
Matt Olson is now subjected to the Freddie Freeman comparison, and that could be daunting, but it shouldn't be for the third-best first baseman in baseball.
Contractually, Alex Anthopolous made the right decision. Freddie signed a six-year deal for $162 million. Olson signed an eight-year deal worth $168 million. Olson is also five years Freeman's junior. It's not outrageous to envision Olson being the more productive player of the two for the duration of these two deals.
The two-time Gold Glover got his first All-Star nod this past year. Olson hit 39 home runs and drove in 111 runs with the Oakland Coliseum as his home ballpark. Olson strikes out less than 17 percent of the time, walks more than 13 percent of the time, and consistently hits the ball harder than nearly everyone in baseball. The Atlanta boy's back home, and he will rake like nobody's business. Also, food for thought: is Matt Olson one of the most underrated players in the game?
2. Vladimir Guerrero Jr – Toronto Blue Jays (Age: 23)
2021 Stats: 161 G, .311/.401/.601, 166 wRC+, 48 HR, 111 RBI, 12.3% BB, 15.8% K, 6.7 fWAR, 2 DRS, -4 OAA
The only reason Vladdy isn't checking into the top spot is that he's only done it for one season.
If he replicates his 2021 campaign, it's over for the rest of the league. Miguel Cabrera 2.0 would have officially arrived.
Vladdy lost out on the MVP in 2021 strictly because he doesn't pitch, but 48 home runs and .311/.401/.601 slash line at age-22 was not only incredible; it was historic. He hit the most home runs by a 22-year-old ever. More than Alex Rodriguez, more than Joe DiMaggio, and the list goes on. He doesn't strike out, he takes his walks, and when you throw it in the strike zone, he puts it into orbit.
The only hole you can poke is the defense and the speed, which are of minimal value at first base. If Guerrero gets anywhere close to repeating his 2021 season and marginally improves on defense, he'll be number one incredibly soon.
1. Freddie Freeman – Los Angeles Dodgers (Age: 32)
2021 Stats: 159 G, .300/.393/.503, 135 wRC+, 31 HR, 83 RBI, 12.2% BB, 15.4% K, 4.5 fWAR, 2 DRS, 3 OAA
Freddie Freeman is still the top dog, and he's now financially compensated as such. The 2020 National League MVP has won three-straight Silver Sluggers and fulfilled his prophecy of being the anchor to bring the Braves their first World Series title since 1995.
In 2018, Freeman led the league in hits and doubles. In 2019, Freeman hit 38 home runs and drove in 121. In 2020, he hit .341 with a 1.100 OPS while playing all 60 games. And in 2021, he put up the third 30 home run season of his career.
Freddie Freeman does not miss games. Since the start of 2018, he has missed seven games. He missed four in 2019 and three in 2021. That's it! The Dodgers just paid for still-serviceable defense, an approximate .300/.400/.500 slash line, a proven leader and now-winner, and in our opinion, a future Hall-of-Famer. Oh, and the best first baseman in baseball.