Analysis
Top 10 Best Duos in Major League Baseball Right Now
There are a lot of great superstar parings in Major League Baseball today, but these 10 stand out as the top duos currently playing together.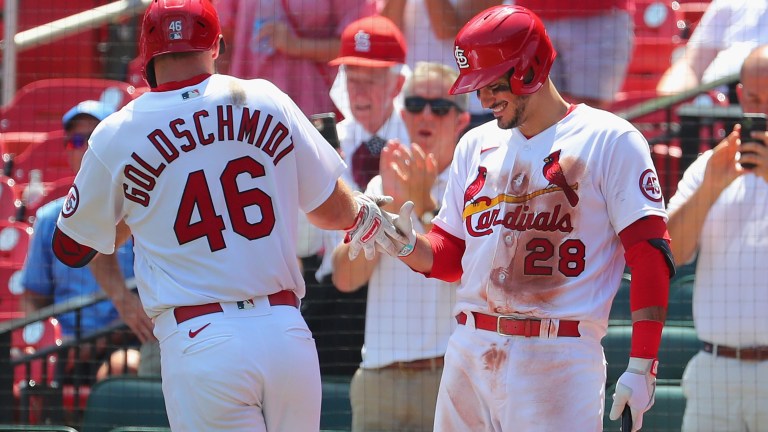 Major League Baseball is in a great place right now when it comes to the talent that exists around the league. These athletes just continue to get bigger, stronger and faster, making what they can accomplish on the field all the more impressive.
When we look around the league, there are a lot of different teams that have a pair of superstars who are looking to carry their team into October. Today we are going to be ranking the top 10 duos in baseball, using fWAR as the ultimate tool to organize this list of superstar pairings.
Without further ado, here is the list of the top 10 superstar duos in MLB right now!
All stats were taken from Fangraphs prior to the start of play on August 11th.
Honorable Mention: Shoehei Ohtani and Mike Trout
On paper there might not be a better duo than what the Los Angeles Angels have with Mike Trout and Shohei Ohtani. It is quite literally the greatest player of this generation and the second coming of Babe Ruth on the same team.
With that said, this duo has yet to make the playoffs and has a murky future with the franchise to say the least. Trout has started to get hit with injuries over the last few years, leaving some doubt as to how much he will be available in the future.
Ohtani, on the other hand, will be a free agent after next season and has yet come to terms with the Angels on a contract extension. If the Angels feel like he could walk in free agency, we could see him dealt for a haul of prospects this offseason.
10. Julio Rodriguez and Ty France – 5.5 fWAR
Julio Rodriguez: .271/.334/.482, 18 HR, 21 SB, 57 RBI, 135 wRC+, 3.1 fWAR
Ty France: .298/.367/.461, 14 HR, 56 RBI, 142 wRC+, 2.4 fWAR
When scanning the league for the top duos in the sport, there were nine that stood out above all the rest when it came to combined fWAR. My inclusion of the Seattle Mariners on this list is simply due to my buying all the Julio Rodriguez stock available.
J-Rod is a budding superstar, who could become the best player in baseball in the not-too-distant future. Rodriguez is two home runs away from putting up a 20-20 season in his first year in the big leagues. The numbers should only get bigger in the future for the 21-year-old.
Ty France is having a nice year and deserved some recognition on this list, especially with his offensive impact. His 142 wRC+ is the best mark on the Mariners.
9. Manny Machado and Juan Soto – 8.0 fWAR
Manny Machado: .294/.365/.515, 20 HR, 65 RBI, 145 wRC+, 5.0 fWAR
Juan Soto: .254/.413/.495, 22 HR, 47 RBI, 154 wRC+, 3.0 fWAR
If this list was not ranked based on fWAR, Manny Machado and Juan Soto would likely find themselves in the top-three, rather than near the bottom of this list. Soto's 3.0 fWAR is on the low-end of what he is capable of and largely due to his struggles in right field this season.
With that said, the Padres have more superstar talent than nearly any team in baseball right now. Once Fernando Tatis Jr. returns to the lineup, the Padres three-headed monster is going to be complete and it will be a scary proposition for the other teams in baseball.
8. Francisco Lindor and Pete Alonso – 8.1 fWAR
Francisco Lindor: .270/.349/.464, 20 HR, 11 SB, 81 RBI, 132 wRC+, 5.0 fWAR
Pete Alonso: .282/.360/.542, 29 HR, 96 RBI, 149 wRC+, 3.1 fWAR
Francisco Lindor and Pete Alonso have each played in all but one game for the Mets this season. Their consistency has been key to a Mets team that has held a lead in the National League East all season. New York is on fire coming out of the break, winning 15 of their last 17 games.
During that span, Lindor is hitting .419/.507/.694, with four home runs, 15 RBIs and the second-best wRC+ in baseball at 236. Alonso meanwhile is hitting .344/.440/.656, with five home runs, 18 RBIs and a 198 wRC+. When it comes to RBIs, this is the best run-producing duo in the sport this season, as they have combined to drive in 177 of the Mets 544 runs.
7. Yordan Alvarez and Jose Altuve – 8.4 fWAR
Yordan Alvarez: .295/.401/.633, 31 HR, 74 RBI, 189 wRC+, 4.8 fWAR
Jose Altuve: .283/.368/.508, 19 HR, 10 SB, 39 RBI, 153 wRC+, 3.6 fWAR
Simply put, Yordan Alvarez has been the best hitter not named Aaron Judge this season. His 189 wRC+ is the second-best mark in baseball and his 31 home runs trail only Judge and Kyle Schwarber. For a DH to have an fWAR of nearly 5.0 with 50 games left to play says everything you need to know about the value Alvarez adds with his bat.
If we look towards the future, Alvarez should be paired with Kyle Tucker, as that is the duo the Astros will be building around. With that said, Jose Altuve still has some good baseball left in him.
The 32-year-old is posting his best wRC+ since 2018 and is second on the Astros in fWAR. Altuve is closing in on 2,000 career hits, as he continues to be one of the most consistent hitters in the game.
6. Jose Ramirez and Andres Gimenez – 8.6 fWAR
Jose Ramirez: .283/.354/.547, 21 HR, 14 SB, 88 RBI, 150 wRC+, 4.9 fWAR
Andres Gimenez: .304/.367/.484, 12 HR, 13 SB, 50 RBI, 144 wRC+, 3.7 fWAR
Jose Ramirez continues to be a perennial top-10 player in baseball, but it's his new sidekick that has our attention. Acquired in the trade that sent Francisco Lindor to the New York Mets, Andres Gimenez has been a breakout star in Cleveland this year. The 23-year-old made the All-Star team and his 144 wRC+ is identical to Mookie Betts for the 13th-best mark in the league.
5. Rafael Devers and Xander Boegarts – 8.8 fWAR
Rafael Devers: .310/.366/.583, 24 HR, 60 RBI, 161 wRC+, 4.6 fWAR
Xander Boegarts: .307/.378/.447, 9 HR, 37 XBH, 133 wRC+, 4.2 fWAR
The Boston Red Sox may not be having a great season in 2022, but the left side of their infield is not the problem. Rafael Devers continues to ascend, as he has become less of a liability defensively this season, while still adding to his game offensively. The 25-year-old is flirting with the best average of his career, while his 161 wRC+ is the fourth-best mark in MLB.
Xander Boegarts is once again performing like one of the best offensive shortstops in the game, but he has also been improved with his glove as well. The one question with this duo is how long will they be together?
Boegarts can be a free agent after this season (opt-out), while Devers is about to enter his final year of arbitration. The Red Sox will have to decide very soon if they are going to pay to keep their dynamic duo in Boston long-term.
4. Austin Riley and Dansby Swanson – 9.5 fWAR
Austin Riley: .297/.358/.590, 30 HR, 74 RBI, 158 wRC+, 4.6 fWAR
Dansby Swanson: .294/.348/.463, 16 HR, 14 SB, 60 RBI, 124 wRC+, 4.9 fWAR
The Atlanta Braves can form a lot of top duos over the next six or seven years. They can go with Austin Riley and Ronald Acuna Jr. but then that leaves out Matt Olson. We also can't forget the rookies Michael Harris II and even Vaughn Grissom, who both have star potential as well.
The Braves continue to hit on their homegrown talent and it has created one of the best controllable cores in baseball. For this season, their best duo has been Austin Riley and Dansby Swanson. Riley is a legit MVP candidate, while Swanson has made himself a lot of money in a contract year.
With Riley already locked up to a 10-year, $212 million deal, Swanson is still waiting to get paid by the Braves. Time will tell if the 28-year-old is going to remain in Atlanta, but for now, he is part of one of the best duos in the game.
3. Aaron Judge and Anthony Rizzo – 9.6 fWAR
Aaron Judge: .304/.396/.681, 45 HR, 11 SB, 99 RBI, 199 wRC+, 7.4 fWAR
Anthony Rizzo: .224/.344/.506, 27 HR, 66 RBI, 140 wRC+, 2.2 fWAR
Now to be completely honest with the reader, I must admit that I sandbagged Aaron Judge and the Yankees on this one. Anthony Rizzo is a fine complement for Judge, as he has hit the second-most home runs on the Yankees with 27. Still, DJ LeMahieu has been more valuable based on fWAR (3.7), which would have catapulted the Yankees into the second spot on this list.
Ultimately in the spirit of a "duo", the Yankees are almost too high on this list still, because it really is just Aaron Judge that is carrying the day. Rizzo, LeMahieu and even Matt Carpenter are all having great seasons, but Judge is on a different planet that is skewing all the numbers in his favor. The MVP is the greatest duo in baseball in an of himself.
2. Freddie Freeman and Mookie Betts – 9.6 fWAR
Freddie Freeman: .322/.398/.521, 15 HR, 71 RBI, 156 wRC+, 4.9 fWAR
Mookie Betts: .275/.343/.534, 25 HR, 59 RBI, 144 wRC+, 4.7 fWAR
The Los Angeles Dodgers are once again the best team in baseball, sporting a roster that is absolutely filled with talent. Where the Dodgers really stand out though is with their three-headed monster of superstars, all of which they acquired from opposing teams.
Mookie Betts and Trea Turner were both acquired via trade, while Freddie Freeman was signed to a contract this offseason. That trio represents the only one in baseball where each member sports an fWAR over 4.0. If this was ranking top trios in baseball, the Dodgers would take the cake.
1. Paul Goldschmidt and Nolan Arenado – 11.3 fWAR
Paul Goldschmidt: .328/.413/.605, 26 HR, 84 RBI, 185 wRC+, 5.3 fWAR
Nolan Arenado: .304/.371/.561, 23 HR, 71 RBI, 160 wRC+, 6.0 fWAR
There is no duo in baseball that has been more impactful this season than the two veteran All-Stars sharing opposing corners of the Cardinals infield. Paul Goldschmidt is currently the runaway favorite to win the NL MVP, as he is leading the league in batting, on-base percentage, slugging percentage and wRC+.
With all that said, Goldschmidt actually trails one player in fWAR. His own teammate, Nolan Arenado.
Thanks to the always elite glove, Arenado has a 6.0 fWAR this season, which is the top mark in the NL. The 31-year-old has removed any notion that he can't hit outside of Coors Field, as he is posting a career-best 160 wRC+, with a strikeout rate under 15% (13.0%).
When it comes time to vote for the NL MVP this season, Arenado and Goldschmidt each have a case to be made. Two top-five MVP finalists on the same team feels about as dominant as any duo in baseball could possibly be.