Feature
Tom Cruise Is Responsible for the Funniest Baseball Movie Scene of All Time
Tom Cruise is not just a movie star, but he's also responsible for, quite possibly, the funniest baseball movie scene of all time.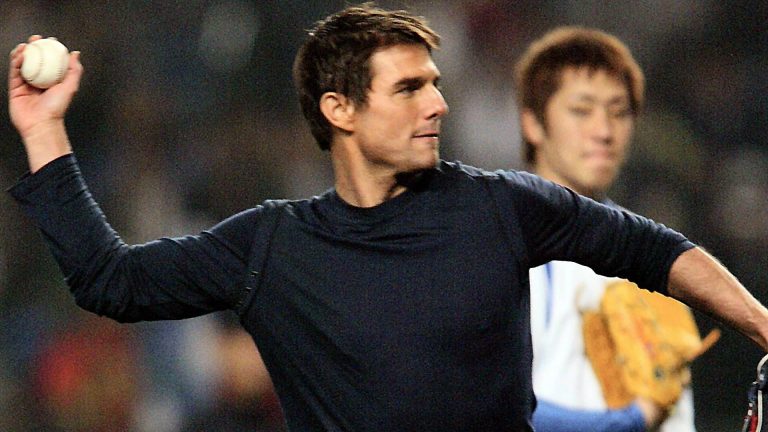 It's time for a different kind of eye test. We're not over-analyzing the 20 minutes we got to see from an 18-year-old first-base prospect. We'll be doing something far more important: analyzing the alleged human being and actor, Tom Cruise. Because not only is Tom Cruise perhaps the single biggest movie star to ever live, but he's also responsible for quite possibly the funniest baseball movie scene of all time.
The specific footage we will be discussing is from the Steven Spielberg-directed War of the Worlds, a film that boldly and brilliantly forecasted what it would be like to watch Boston sports teams dominate for the next two decades. If you're wondering why I remembered this scene from a film that was made back in 2005, it's because I am, quite simply, a loser. Now that that's through, let's get into the tale of the tape.
Reason #1: The Throwing Motion
We have to start with the obvious. Cruise, very clearly, has no idea how to throw a baseball. In fact, I wouldn't put it past him to have had no idea what baseball even is until this scene was filmed. It's just so awkward — like the type of throw you make when you're trying to fake someone out, but you accidentally throw it anyway. Even Philip Rivers is aghast at the display of throwing malpractice taking place here.
I simply cannot stop watching or thinking about this. Scotty Smalls famously struggles early on in The Sandlot, but that movie is all sorts of goofy. It's intentionally ridiculous, with the characters and events serving as silly little caricatures of the weird things we do and feel while growing up. War of the Worlds is a serious drama about aliens wiping out the entire human race. One explanation might be that Cruise only watched the beginning of The Sandlot and decided "Hey, I like this Scotty Kid, I'm gonna try that!" and the rest was history.
Or perhaps… there was another reason.
Reason #2: Boston vs New York
A small but significant aspect of this scene is how Cruise makes a point of wearing a Yankees hat while his son is rocking a Red Sox one. This, unsurprisingly, causes a lot of tension. The entire conversation is oozing with awkwardness. A shaky father-son dynamic isn't a revolutionary idea for a movie, but it's still an important aspect that makes the scene funnier.
It's brilliant, really. The best way to communicate to the audience that two people have issues with each other is always with the visual cue of Red Sox and Yankees hats. Forget backstory and exposition — launch that nonsense into the sun. Just give me the hats; that's all even an idiot like myself needs to understand what's happening.
Reason #3: The Editing
This is key. You may not realize it upon your first watch, but the editing for this scene tells a story of its own. The further the scene goes on, the more you can see them trying to edit out Cruise's throwing. During the filming process someone had to have whispered to Spielberg "Uh, hey boss, I don't think he knows how to throw a baseball?"
His arm isn't edited out entirely, but there seem to be the slightest of changes and cutaways used to try and hide Cruise's throws. The only greater example of this particular "Uh, hey boss, our actor doesn't know how sports work" phenomenon is Mitch Kramer in Dazed and Confused, which is the second funniest baseball movie scene ever, since they practically cut away from him ENTIRELY during his throw.
But this is Tom Cruise here; you need to find a way to show the man doing his thing, for hell hath no fury like a Tom Cruise scorned.
Reason #4: It's Tom F*****g Cruise
Since Just Baseball dot com is all about pinpoint analysis and understanding stats, let's provide some. Here is Tom Cruise's mWAR (Movie Wins Above Replacement) by decade and most notable appearances:
| | |
| --- | --- |
| 1980s total: 40.5 | The Outsiders (3.8), Risky Business (5.5), Top Gun (12.8), The Color of Money (4.9), Cocktail (4.3), Rain Man (5.2), Born on the Fourth of July (4) |
| 1990s Total: 43.4 | A Few Good Men (6.3), Interview with the Vampire (3.4), The Firm (3), Mission: Impossible (10.4), Jerry Maguire (9.5), Eyes Wide Shut (5.9), Magnolia (4.9) |
| 2000s Total: 47.2 | Mission: Impossible 2 (2.6), Vanilla Sky (3), Minority Report (4.8), Austin Powers in Goldmember (3.1), The Last Samurai (3.9), Collateral (6.6), War of the Worlds (3.3), Mission: Impossible 3 (4.2), Tropic Thunder (8.8), Valkyrie (3) |
| 2010s Total: 49.8 | Mission: Impossible – Ghost Protocol (6), Jack Reacher (3.7), Oblivion (3.1), Edge of Tomorrow (8.4), Mission: Impossible – Rogue Nation (7.2), The unedited trailer for The Mummy (10), Mission: Impossible – Fallout (11.4) |
| 2020s Total (so far): 15.8 | Top Gun: Maverick (15.8) |
Tom Cruise career mWAR: 196.7
That's right. Somehow, Cruise keeps posting an mWAR higher than his previous decade's total. The only actors with a career mWAR close to Tom Cruise (movies with less than 2.5 weren't factored in for any actor) are Leonardo DiCaprio (168.4), Meryl Streep (175), and Steve Buscemi (148.8). And the only actor with a higher mWAR than Cruise for a single movie is Nicolas Cage in Face/Off (16.4). I say all of this because it makes it 10x funnier that perhaps the most successful actor we've ever seen is the one to be featured in this scene, not just an "Oh, I remember that guy!" kind of actor.
Reason #5: An Attempt at Being Human
It can be reasonably assumed that Cruise was pretty frazzled by the idea of not knowing how to do something — in this particular case, throwing a baseball. So, he starts just… doing things. I love the way he keeps smacking his glove, as if someone told him three minutes before filming the scene, "Hey, Tom, you're okay. Just calm down, this is something baseball players do while waiting around."
And Tom Cruise, being the dutiful artist that he is, takes this suggestion and runs with it. He's not just a brilliant actor; he's brilliant at pretending to be human. It's similar to when someone tells Adam Schefter to remember that football players aren't just football players but people, too. You can see it in their eyes when what they're currently doing is causing a systematic malfunction. With Schefter, it's when players suffer an injury.
But with Tom Cruise? Being drunk, throwing a baseball, or acting like he's a person that can throw a baseball are his Kryptonite.
Reason #6: Breaking the Window
This is it. This is the magnum opus. After repeatedly throwing the ball back and forth between each other — for what I'd like to pretend was three hours — Cruise has had enough. He beams the baseball, perfectly, through their house window. I thought Cruise pretending to be human by smacking his glove was the best part, but, in fact, it turns out that was just the appetizer.
Don't let the mainstream media fool you: Tom Cruise broke his human shell for a split-second and actually threw the ball that hard. Whatever species it is that can throw objects at 20 million MPH — just as Cruise did here, or Jacob deGrom has done in every game the last three years — is very much not human.
You may write this off as clever editing, especially after I brought editing up earlier for reason #3, but it isn't. Well, it is technically edited. You're gonna have to trust me and my anonymous sources on this one, but the real truth is that it was purposely shot this way to make you THINK they edited it. No, Tom Cruise really threw the ball that inconceivably hard.
Out of rage for not understanding the appeal of baseball (a question I'm sure many have been stumped by), Tom Cruise broke his human facade. Director Steven Spielberg only edited it that way so people would still think he's human. But even the masterful Spielberg can't sway sleuths like myself; real eyes realize real lies.
If there's one thing you can take away from this, it's that humor can be gleaned from even the most seemingly innocuous of places. There's something very beautiful about that. So, for me, this isn't about the funniest baseball movie scene of all time. This is about the most beautiful baseball scene of all time. All hail Tom Cruise, forever may he reign.