News
Yogi Berra Film 'It Ain't Over' Highlights the Legend of One of Baseball's Most Lovable Superstars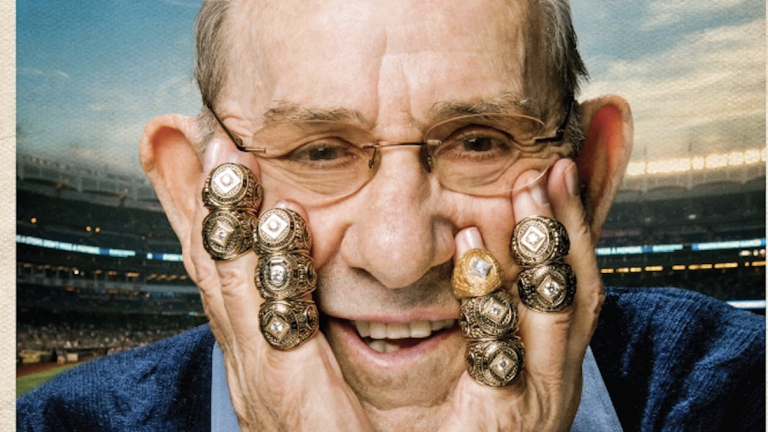 Hall of Fame catcher Yogi Berra is one of the greatest catchers to ever put on the gear. Still, somehow, the Yankee great transcended his 10 World Series rings, 18 All-Star appearances and three MVPs both during and following his playing career. You didn't need to be a baseball fan to know who Lawrence Peter "Yogi" Berra was.
The impact Yogi had, and still has, on legends both on and off the field is so well-documented through interviews with Billy Crystal, Derek Jeter, Joe Torre, Vin Scully and Bob Costas, to name a few.
Yogi was profound-yet-comedic, wise-but-uncomplicated, and his words are eternal. From "It ain't over till it's over," to "Baseball is 90% mental and the other half is physical," and my personal favorite, "When you come to a fork in the road, take it," the legendary catcher became a pop culture icon by simply being himself. That said, the powerful film reminds us that Yogi Berra was so much more than that.
He was a hard-working midwest kid from a blue-collar St. Louis neighborhood known as "The Hill". He was a leader, a D-Day Navy veteran, a husband of 65 years to his wife Carmen, and an inspiration to several other Hall of Fame baseball players who explain the impact Yogi had on their career and their life throughout the film.
In hopes of reminding the audience of how generational a talent on the field Berra was, to go along with his star power after he hung up his cleats, the most powerful character involvement may be the person who took center-stage as the executive producer and narrator: Berra's 45-year-old granddaughter, Lindsay.
The 98-minute movie hit theaters in Los Angeles, as well as more than 100 theaters in the New York tristate area on May 12th, Yogi's 98th birthday.