Analysis
St. Louis Cardinals Trade Deadline Guide
As the St. Louis Cardinals continue to struggle, John Mozeliak and crew seem ready to retool at the trade deadline.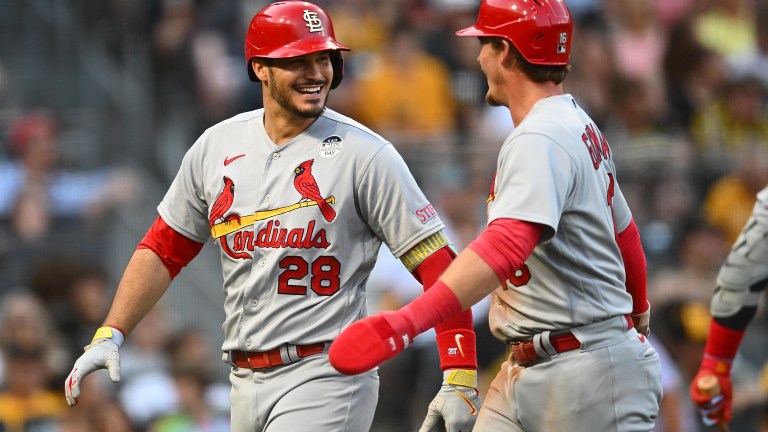 When it comes to the conversation of baseball's most disappointing teams in 2023, the Cardinals are near the top of a very short list.
They have not had a losing season since 2007. They have made the playoffs ten times since then, including each of the last four seasons, headlined by a 93-win year in 2022 thanks to a combination of veteran stars and a promising young nucleus.
But shaky starting pitching and a mostly ineffective bullpen have plummeted this team to twelve games under .500 as we approach the deadline. 
Both the rotation and bullpen have been on the wrong end of some poor luck throughout the year when looking at the team's ERA vs. their expected numbers/ERA predictors like FIP and xFIP. That said, results are results as July is coming to a close. Because of this, John Mozeliak and crew seem ready to retool and potentially even clean house to some extent if it means acquiring young, controllable players for the long-term future, stating that they are now looking towards 2024.
Position Players
The Cardinals' two golden assets reside on each corner of the Busch Stadium infield. Paul Goldschmidt and Nolan Arenado have both been brought up in trade talks as we approach the August 1 deadline. And with the rest of this team's lineup in a younger demographic, these are likely the only two position players of note that could get moved.
Most of the Cardinals' young core is penciled into the long-term offensive picture, including Nolan Gorman, Jordan Walker, Lars Nootbaar and Brendan Donovan. But Goldschmidt and Arenado, despite being the best two bats the team has to offer, are sort of the odd men out in a way. 
Goldschmidt is 35 years old with a year and a half remaining on his contract. Arenado is 32 years old with a ton of club control, holding four and a half years on his contract through 2027. But the Cardinals seem to be emphatic about getting younger. What's more, Arenado is having the worst defensive season of his career by far (-1 OAA, ranking in the 22nd percentile) after previously taking home ten Gold Gloves in as many years.
Call me crazy, but in terms of potential fits for Goldschmidt: Could his former club trade back for him?
Now, before you are quick to point out Christian Walker's explosive production at first base, with his 20 bombs and 124 wRC+, consider that the D-backs rank 21st in the league in DH production with a combined 97 wRC+. Goldschmidt and Walker could split time between first base and DH, thereby giving the D-backs another bat that could put them over the top and make them threatening World Series contenders.
Teams like the Astros and Orioles would also make sense, given the struggles of José Abreu and Ryan Mountcastle along with both clubs in place to make a postseason run. 
And while Baltimore will likely be more focused on trading for top-end starting pitching, the presence of a star veteran bat amongst a lineup with virtually no postseason experience aside from Adam Frazier would certainly be an asset. Not to mention, the Orioles have the best farm system in the game with several expendable assets.
Meanwhile, the Dodgers could be a potential fit for Arenado. They are in need of a boost in the infield, and with Max Muncy's ability to slide over to the right side of the dirt when needed, it would seamlessly open up a spot for the ten-time Gold Glover.
The Yankees could also be a landing spot. As a team, they possess just a 95 wRC+, and their infield has been uninspiring with the bats, to say the least. Between an aging DJ Lemahieu, a young Anthony Volpe still finding his footing, and Gleyber Torres and Anthony Rizzo, who have been serviceable but not true difference-makers, New York could really use a reliable bat.
Arenado would certainly be just that should the Bronx Bombers decide to buy.
The one potential roadblock for an Arenado trade is that he has a full no-trade clause. Therefore, he would have to approve the team and location of a deal before anything is finalized.
Starting Pitching 
If the Redbirds attempt to get a haul back on the pitching side, the pot of gold will be much lighter than that from their offensive forces. If they try to trade any of their starters, it will be Jack Flaherty or Jordan Montgomery. 
Each guy has just two months left on his deal before free agency, which alone sinks the return value the Cardinals will receive.
Flaherty has managed to stay fully healthy for the first time since 2019 but has not returned to his peak form. He has struggled to throw strikes for a lot of the year (as evident from his 1.53 WHIP and 11.3% BB%), and while three of his last four starts have been sharper, he has failed to find consistency throughout a stretch of outings. There may be some interest in Flaherty, but teams are not kicking the door down for his services either.
Therefore, the greatest value the Cardinals will find within their circuit of arms will be for Montgomery. The southpaw has posted a 3.14 ERA across 19 starts on the year, and while his strikeout numbers aren't crazy, he thrives at preventing free passes (78th percentile of MLB in BB%, per Baseball Savant). He also does not let baseballs leave the ballpark, corralling an 0.83 HR/9 rate.
The Dodgers could certainly use some help in the rotation, as they do not have a reliable arm at the moment. Clayton Kershaw has been fantastic when healthy, but he currently sits on the 15-day IL with a left shoulder injury. Aside from him, Tony Gonsolin has been shaky, Julio Urías has had a forgetful 2023 campaign with a 5.02 ERA and 4.76 FIP, Dustin May is on the 60-Day IL and the club still awaits the return of Walker Buehler. Montgomery would fit in perfectly for the short term in LA.
The Diamondbacks are another team that will be scouring for rotation help at the deadline to provide stability behind Cy Young contender Zac Gallen.
And everyone knows that the Orioles could use some added juice to their rotation. They will be looking for arms over the next week and could use a dependable left-handed starter. Montgomery would make a lot of sense there.
Relievers
A trade partner for the Cardinals' relievers will be hard to come by. If Ryan Helsley were healthy, he could potentially bring back the kind of young pieces St. Louis is looking for. But he is on the IL with a forearm strain, and while he is ramping up his throwing program, it could still be weeks until he is back on the mound. 
Helsley has two and a half years of club control remaining, so if the Cardinals really decided to deal him, the return could still be significant. However, they are likely not going to be all that motivated to move him with, as they set their sights on getting back into contention as soon as next year.
Jordan Hicks is the bullpen piece most likely to be moved. He is a free agent at the end of the year and will not be in the Cardinals' future plans unless they re-sign him this winter.
Hicks has had walk issues through most of his big league tenure, but he has otherwise been wildly effective, with some eye-popping peripherals. This year, he ranks in the top ten percent of baseball in xSLG, Barrel%, K% and average exit velocity. Not to mention, his 101-MPH fastball is one of the hardest offerings in the entire sport.
The Rangers are the team that jumps off the page in terms of needing bullpen reinforcements. Even after acquiring Aroldis Chapman, they rank 24th in the league in bullpen ERA. The Diamondbacks, yet again, could also be on the shortlist to seek additional relievers.
Conclusion
One way or another, the Cardinals are going to sell. It is just a matter of, "To what extent?" Will they truly pull the trigger on a Goldschmidt or Arenado deal? Will there be a package out there that intrigues them enough?
It is no secret that they are after young, controllable starting pitching. But to find a contending team that will package that away is a tall task, considering that the arms from those teams the Cardinals are interested in are likely helping said clubs make their postseason push.
The best chance the Cardinals will have at securing that type of return is a deal that involves one, if not both, of their corner infielders.
This team has pieces of a core that it can build around for the long term. But for this season, they are 12 games under .500 with playoff aspirations looking like a distant memory. If it means sacrificing the last two months of this season to receive talent to help them for next year and beyond, it will be worth sealing and delivering some trades at the deadline.