Analysis
The Return of The 'You Can't Have Too Much Pitching' Yankees
After the addition of Carlos Rodon, the Yankees feature one of baseball's best rotation, reminiscent of New York's infamous 2003 staff.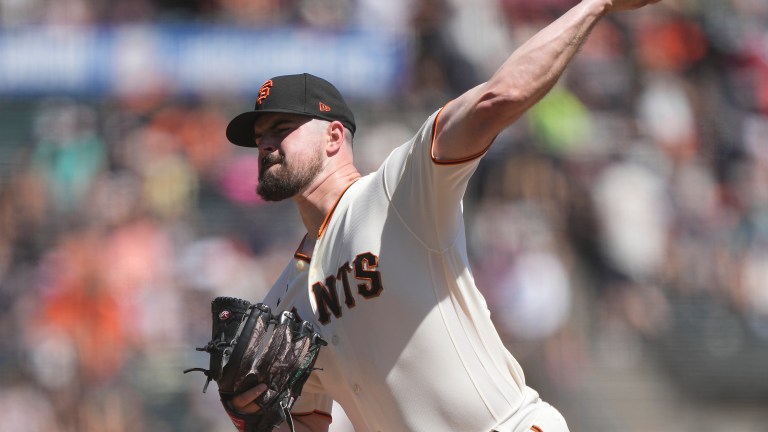 Jeff Passan dropped the bomb on Thursday night of last week, as star left-handed pitcher Carlos Rodon reached an agreement with the New York Yankees on a six-year, $162 million deal.
The arrival of Rodon to the Bronx pairs him up with ace Gerrit Cole, and three other incredible arms in Nestor Cortes, Luis Severino, and Frankie Montas. Yankees starters accumulated a 3.30 ERA as a staff in 2022, good for the third-lowest mark in the entire sport. Adding Rodon, who posted the second-most fWAR for any starting pitcher (6.1), only improves a staff that was already elite.
This move solidifies the Yankees as a top-two staff coming into the 2023 season. While the crosstown rival Mets added Justin Verlander, Kodai Senga and Jose Quintana, Rodon gives the Yankees the ability to overpower all competition.
Since the news dropped, many comparisons to the 2003 Yankees and their infamous Sports Illustrated cover "You Can't Have Too Much Pitching" have been made.
Photoshops have made their way throughout the internet this week placing the current Yankees pitchers on top of the front page of the 2003 edition. That Yankees staff included Mike Mussina, Roger Clemens, Andy Pettitte, Jeff Weaver, and Jose Contreras. Expectations for this 2023 staff can be related to the ones of the 2003 team, as the latter fell flat by the end of the season.
Today, I want to compare both staffs and see which was better coming into their respective seasons. Known for their high-priced pitching assets, the Yankees have accrued a plethora of talented arms throughout their history. Now, let's take a dive into both incredibly hyped rotations.
1. Gerrit Cole VS. Mike Mussina
The first matchup we have here is between the aces of their respective staffs. Gerrit Cole is the most expensive Yankee pitcher ever, while Mike Mussina posted a Hall of Fame career in his eight seasons with the team.
Cole is coming off of somewhat of an outlier season. His 3.50 ERA in 2022 was the highest mark of his career since 2017, while he was in Pittsburgh and allowed a league-leading 33 home runs as a starting pitcher in MLB.
Despite this, the starter posted a league-high in strikeouts and broke the Yankees record for strikeouts in a single season with 257. This is why we look at the full story!
It was an up and down year for the Yankees' ace in 2022. His xFIP of 2.77 is the second-lowest in his big-league career and could lead to more success in 2023. While I don't expect Cole to shapeshift back into his 2019 form, he will surely make improvements this upcoming season.
Meanwhile, the 2003 Yankee ace was none other than Mike Mussina, who was coming off one of his worst seasons as a pro. Mussina posted a 4.05 ERA in 215 innings, striking out just seven hitters per nine innings. Despite Mussina having a poor season compared to Cole's, his 4.5 fWAR in 2002 was an entire point higher than Cole's last season.
Mussina improved in 2003, lowering his ERA to 3.40 and striking out almost 23% of hitters he faced, the second-highest mark in his career. The ace's 6.1 fWAR was the third-highest of his career and led New York in that category.
Both Cole and Mussina were elite aces in their respective seasons, and fully deserved the hype that was placed on their shoulders. Hopefully similar to Mussina, Cole can take off once more in 2023 and improve on a rocky season.
2. Carlos Rodon VS. Roger Clemens
Our next matchup sees the newest Yankee, Carlos Rodon, matched up against one of the most talented, and controversial, pitchers ever in Roger Clemens.
When taking a look at these two, it's key to note that this was Clemens' age 40 season, and his final in New York. Despite this, the legendary hurler tossed for four more seasons following the 2003 campaign. Rodon is now 30 years old, entering the prime of his career as he embarks on this journey with the Yankees.
Carlos Rodon is one of the most elite pitchers in the entire sport. Yankees fans have spent the last week and a half or so salivating at the fact that both him and Cole are located in the same rotation.
While the latter was crowned as the strikeout king in 2022, the new Yankees No. 2 posted similar numbers. Rodon ranked third in baseball in strikeouts at 237 and posted career highs in both FIP (2.25) and fWAR (6.1). The starter's 11.98 K/9 was the highest in MLB, and he threw a career-high 178 innings, brushing off previous injury concerns.
Similar to Mussina, Roger Clemens' 2002 was one of the worst of his entire career. His 4.35 ERA that year was the third-lowest of his 23-year career, but he was still striking out hitters at a decent clip with 9.6 K/9. Clemens was able to post a 4.3 fWAR that season, despite such a poor year, as he threw 180 innings in his 29 starts with the team.
At 39 years old, it was evident that Clemens would no longer be able to replicate his success as a member of the Boston Red Sox. But he could still do a job and 2003 saw improvements, as he lowered his ERA to 3.91 and threw a massive 211 innings for the Yankees that season. Reminder, this was a 40-year-old.
It's incredibly difficult to compare a 40-year-old veteran and a 30-year-old coming into his prime, but for this exercise we have to. Clemens' longevity is unmatched bar none, but the younger and more impressive Rodon wins out.
3. Nestor Cortes Jr. VS. Andy Pettitte
What an incredible matchup we have here. On one side, we have the present-day Nestor Cortes Jr., who fully had his breakout in 2022. On the other side, we have Andy Pettitte, a Yankees legend who was the peak of consistency during his 15 seasons in pinstripes.
Nestor Cortes Jr. is an absolute magician. At first glance, you may look at his short, stockier build and think that he is a mediocre lefty who would be there to eat innings. But from the magnificent leg kicks to his sidearm pitches, Cortes has turned into an absolute MLB star.
He made his first All-Star appearance in 2022 and led the entirety of the New York staff with a 2.44 ERA, good for the seventh-lowest mark in baseball. He had shown flashes of potential in 2021, posting a 2.90 ERA in his 14 starts after being converted into a starter. Cortes finished the year with a career-high 158 innings, becoming an integral part of the Yankees postseason push. He raised his 2021 fWAR by two points, finishing with 3.6.
Andy Pettitte was a gem with the Yankees during his big-league career. Tossing 200 innings in 10 separate seasons, he was a steady regular in New York for a long time. The 2002 campaign was a solid year for Pettitte, despite the fact that he dealt with some injuries.
However, he was still solid as always. In his 22 starts he pitched to the tune of a 3.27 ERA, with a career-low 2.90 FIP. Although he struck out just 6.48 batters per nine innings, his HR/FB ratio of 4.6% was absolutely elite.
Pettitte returned to full health in 2003, but saw a bit of regression. His ERA rose to 4.02 in over 200 innings, although poor defense seemed to be a factor with his 3.35 FIP on the season. The starter actually posted the third-highest fWAR total of his career in 2003, with 5.1 for the full season.
Both starters had solid seasons before their super rotations came together, but yet again, the new-age Yankees rule supreme. Advantage Cortes.
4. Luis Severino VS. Jeff Weaver
Now this is where it begins to get a bit uneven. Luis Severino has gone from being the ace of the Yankees staff, now to a number four starter. Not due to a lack of talent within himself, but the pitching staff has become exponentially better since his debut in 2015.
Jeff Weaver on the other hand, posted a relatively mediocre career with numerous different teams. Long story short, there isn't much of a competition here.
Severino finally had his first full season back from Tommy John surgery in 2022. Despite still struggling with some minor injuries, he pitched well. The starter accumulated a 3.18 ERA in 100 innings with the team while striking out 27.7% of hitters he faced. It's awesome to see that he's finally made the bounce back after a few years in the trainer's office.
Jeff Weaver was a starter who had found decent success in the big leagues, but nothing super impressive. Weaver was probably the worst qualifying starter from this 2003 staff, as he posted an abysmal 5.99 ERA in his 150 innings with the team. The starter spent just a season and a half in New York, as he departed for the Dodgers during the 2003 offseason.
5. Frankie Montas VS. Jose Contreras
For the battle of our No. 5 starters, we see the newly acquired Frankie Montas paired up against Jose Contreras, who spent just one full season in the Bronx.
Montas is quite an interesting case. Dealt away from Oakland at the 2022 trade deadline, he posted a 3.18 ERA in over 100 innings with the A's. Pretty elite.
Just before being dealt, he was dealing with some shoulder issues that had kept him sidelined for some time. Fast forward to his time with the Yankees, he was abysmal. Posting an ERA double his first half total at 6.35, he was a complete disappointment.
However, there is still time for Montas to turn his Yankee career around. Many have speculated that the shoulder issues played a huge part in his late season decline and that he should be able to turn around in 2023. We'll see what happens.
Jose Contreras spent a limited time in the Bronx but was decent in his one and a half years in pinstripes. Contreras worked as a swingman in the Yankees bullpen, starting nine games while appearing nine other times out of the bullpen. He was solid, posting a 3.30 ERA in his 71 innings while striking out 24.6% of hitters he faced. He was a solid arm that was dealt the next year to the White Sox, where he eventually became a world champion.
With such a star-studded rotation, Sports Illustrated should really look into recreating that iconic cover from 2003 for this upcoming season. While the 2003 Yankees didn't live up to expectations like they should've, this year's team truly could with such a special group of arms.
Besides, Hal's spending like his late father George. It's only right!