Analysis
The Pressures of Being a 1st Overall Draft Pick with Mark Appel
Mark Appel had a long journey from being the first overall pick in the 2013 MLB Draft, to eventually making his debut nine years later.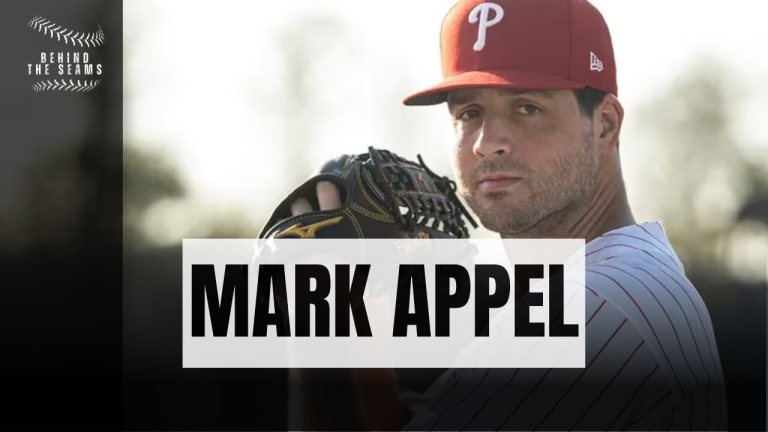 Many players start playing the game at a young age. They recall picking up their first baseball and the amount of joy it brought them. As players start to age and reach higher levels of the game, they start to feel the pressure that comes with the business side of baseball.
Former Houston Astros and Philadelphia Phillies pitcher Mark Appel felt many of those pressures from the game. Taken first overall by the Astros in the 2013 MLB Draft, Appel had the weight to succeed from the moment he stepped onto a professional baseball field.
There was an unrealistic expectation that from day one, he was supposed to dominate and have the game figured out at the pro level.
From 2013 to 2017, Appel struggled at what seemed like every level. The media started to portray him as a "bust" and there was a lost sense of what Appel was really going through.
From day one, Appel felt like he always had this weight hanging over his head.
"What I was feeling at the time was an overwhelming sense of urgency," Appel said. "From the moment I was drafted…there was just like this urgency that was in the background of my entire life for four or five years." 
That sense of pressure took a lot of the fun Appel had playing the game as a kid. "There's just so many things that I really enjoyed about playing baseball as a kid," Appel said.
The sense of freedom from pressure was what brought him joy in the game. It is what helped him find moments of success throughout his career. His identity wasn't fully wrapped in Mark Appel the baseball player.
Playing baseball at the professional level pushed him into moments where he struggled to find the love for the game. That pressure led Appel to decide to step away from the game in 2017.
"When I made that phone call…there were just so many things. Even just being home for Christmas that 2017…It's like 'I love this so much. I don't think I want to go back to baseball'," Appel said. "So there were just some things, some logical things or emotional things. I was like I just don't think that it's worth it and I need to let it go and just move on with my life and figure out who Mark is again without baseball being any part of that way to find any self worth."
That time away from the game helped Appel truly embrace who he was outside of the game. It gave him a moment to step away and reflect on what motivates and drives him. What helped him even more was sharing his reasons why with the world.
"I wasn't afraid to take down the mask a little bit. I was willing to let people in because I knew I needed people in my corner," Appel said.
His openness on what he was going through both mentally and physically truly helped to get many to rally around him. To know that he was going through a lot of things we all do on a daily basis. Trying to battle and overcome the pressures that come with life.
Next thing Appel knew he had the drive and urge to come back to baseball. With his new sense of self, he decided to make his way back to professional baseball in 2021. Appel was able to approach this second attempt at professional baseball with gratitude.
Just being thankful for the opportunity to play and not have this pressure looming in the background. In 2022, he started to find some success. 
"I was executing my pitches. In June I basically went the entire month without giving up a run and by the end of June it was like you're going to the big leagues for the first time," Appel said. "I was overwhelmed. I was not expecting it. I was at a point in my career where I was like I don't even need it. Just being back is a such a joy."
One June 29, 2022 at 30 years, 349 days old, Appel became the oldest first overall pick in baseball history to make his Major League Debut. His debut was covered by outlets everywhere. Everyone was wanting to see him succeed. He pitched a scoreless inning and even recorded his first strike out. The Phillies went on to make an incredible postseason run that year and Appel got to soak up many cool moments even though he wasn't on the playoff roster.
"And then everything the Phillies did last year too. So special," Appel said. "I got a National League Championship ring. It's crazy. So I feel really really blessed."
One thing Appel is trying to do now is help the next generation of athletes to make sure they don't have to go through the same adversity or struggles he did. His one piece of advice to them? Make sure to always find joy within the game.
"At some point when you get injured, when you start struggling, when that success leaves," Appel said. It's like that joy leaves as well and there's a lot of guys that gotten to a point where it;s like they have success but they don't even have joy anymore…I think the way out is to figure out how to enjoy it for the sake of enjoying it again."
YouTube: https://bit.ly/49e6h31
Apple: https://bit.ly/3Qnf1uW
Spotify: https://bit.ly/46U2QNa