Analysis
The NL Cy Young Is Still Up for Grabs
Three pitchers have separated themselves from the pack in the NL Cy Young race: Zac Gallen, Spencer Strider, and Blake Snell.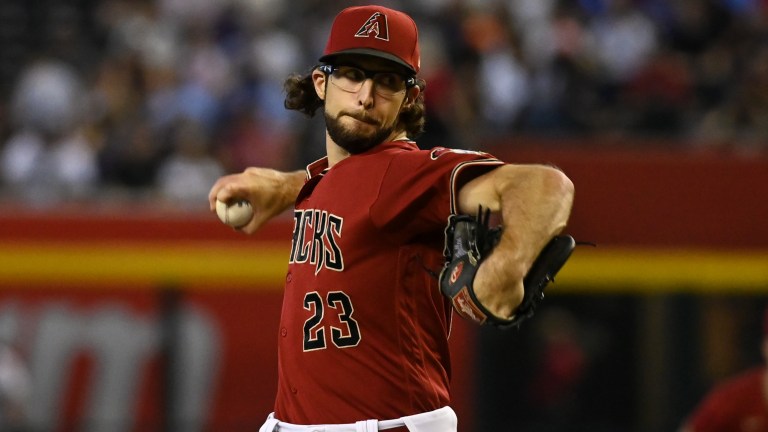 As we approach September, three pitchers have separated themselves from the rest of the pack in the National League Cy Young race, and it's time to dive in and look at each of their cases and see who has the best chance to take home the hardware.
The NL Cy Young race will be fascinating to track down the stretch of the season, as three pitchers who have had three very different years find themselves atop the odds to take home the NL's most prestigious pitching award. 
Zac Gallen has been consistent all season long for his Arizona Diamondbacks and finds himself with the best odds to win the award at -105. His dominance at the beginning of the season helped the D-backs jump out to an early division lead, and while his team has slowed down, Gallen has continued to throw the ball exceedingly well and kept them in the playoff hunt.
Gallen currently leads the National League in bWAR for pitchers at 4.2 and is also the league's WHIP leader with 1.06 walks and hits per inning pitched. He sits third in the league in ERA and second in FIP.
The D-backs ace also leads the National League in starts, meaning he has been healthy and able to take the ball every fifth day, which is important when looking at a season-long award. Gallen also leads the National League in Situational Wins Saved, which is WPA divided by Leverage Index.
Blake Snell struggled mightily at the beginning of the season but turned his performance around in mid-May and has been the best pitcher in the league since. The former Cy Young Award winner has been one of a select few bright spots for the San Diego Padres, and his performance has earned him the second-best odds to take home the award at +290.
Snell sits atop the National League in ERA and hits per nine, although he has also given up more walks than any other qualified pitcher in the league. He is second in the NL in total strikeouts and K/9, with an impressive 11.66.
The southpaw is also a top-10 NL pitcher in terms of FIP and leads the NL in Adj. Pitching Runs, Adj. Pitching Wins, and Base-Out Runs Saved. For Snell, the question will be whether he has been good enough since May to erase what was an abysmal April.
The third and final pitcher in true contention for the NL Cy Young is Spencer Strider of the Atlanta Braves. Strider has been arguably the best pitcher on the best team, and the odds reflect this as he sits at +360 to win the award as he continues to rack up strikeouts at an other-worldly pace. 
The second-year starter and fantasy baseball darling is one of the most unique Cy Young Award contenders we have seen in a long time. The flamethrower has some absolutely ridiculous numbers, compiling 227 strikeouts so far this year, which is 43 more than second-place Snell. His K/9 is also tops in the NL at 13.96, 2.3 better than the next-closest pitcher.
Strider also leads the National League in FIP at 2.87 (largely a result of his crazy strikeout numbers), which is more than a tenth of a point better than Gallen in second. 
However, all of these strikeouts have cost Strider a lot of pitches, meaning he rarely works deep into games and has thrown significantly fewer innings than the other two contenders. Additionally, Strider's ERA sits at 3.57, which is ninth in the National League and not even tops in his own team's rotation.
With Strider, it will come down to whether or not the voters are impressed enough with his strikeout numbers to overlook his lack of innings pitched and if his impressive FIP can nullify his good, but not elite, ERA.
As the season winds down, this NL Cy Young chase will heat up. The award is Gallen's to win if he is able to continue to produce at his current pace, but with Snell and Strider close behind, a slip-up could cost him.
If Snell continues to dominate, the voters may look past his slow start and weigh his larger, better sample more heavily. For Strider, the award is within reach if he can shave a few points off his ERA and work deeper into a few of his final starts.
One thing that is certain, though, is that each pitcher has had a fantastic season in his own right, and it will be great to watch as all three of them try to push their teams into October and beyond.