Analysis
The Most Underrated Trade Piece of 2022: Eugenio Suarez
Once considered a "salary dump" in the Jesse Winker trade, Eugenio Suarez has become a key cog in the middle of the Mariners lineup.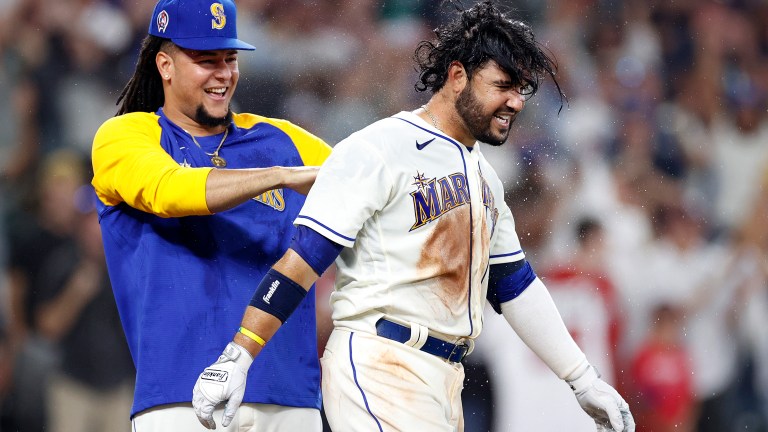 When Seattle made the blockbuster deal to acquire Jesse Winker and Eugenio Suarez from the Reds in March, many saw Suarez as the secondary piece. A power bat with strikeout issues and mediocre defense coming off an injury-riddled 2021 season. The third baseman was viewed by many in the media as more of a salary dump than an asset that would help Seattle reach the playoffs first the first time since 2001.
However, Suarez has blossomed into the most productive player of the trade thus far. He's already reached the 30 home run mark for the fourth time in the past five years (15 HR in 2020 Covid year) proving his power can play outside of Great American Ballpark. His .235/.336/.468 slash line is good for a 135 wRC+, matching a career-high.
While it might look like Suarez has changed something that resulted in his success, he's really just being the same Suarez Reds fans grew to love.

As you can see from the graphic above, "Geno" is putting together a similar profile as he did in 2020. His data is not drastically far off from his 2021 injury and position change year, where he slashed .198/.286/.428, either. He's winning in the same way he always has: hitting the ball hard and taking his walks. This formula has lead to a 4.2 fWAR, good for seventh amongst third basemen.
A major difference has been his ability to hit sinkers, a pitch he struggled with in 2021. In 2021, Suarez saw 421 sinkers hitting .129 off the pitch good for a -17 run value. In 2022, he's seen 455 sinkers and is batting .330, good for a +11 run value.
Known as a fantastic locker room guy, Suarez has provided the Mariners clubhouse with his infectious smile and much-needed bat in the lineup. Third base was a hole in their lineup after the department of Kyle Seager and Suarez has filled his shoes nicely.
Seattle deserves more credit than they have received. Jerry Dipoto, the Mariners General Manager, took advantage of the Reds rebuild and capitalized on acquiring an impact bat at a discount.
Suarez's career numbers speak for themselves. A 30-plus home run bat that walks at a 10% clip for only $11 million per year through 2024 ('25 option) is the perfect type of risk for a team to take. They knew a couple injuries and a terrible decision to briefly move Suarez to short in 2021 held back his production with Cincinnati. The Mariners were able to solidify third base for the next few years at a very reasonable cost.
As for the Reds, well, it stings. Moving off Suarez's contract made sense for a team going into a rebuild. Clearing up money and getting younger is part of the equation. Including him in a deal with Winker might not have been the right choice. Of course, hindsight is 20/20.
Seattle likely did not see it as a straight salary dump. They wanted Suarez and saw him as a valuable part of their lineup for 2022 and the future.
While Winker has been disappointing, the trade has been successful for Seattle because of Suarez. Otherwise, we'd be looking at Jake Fraley, who has a higher WAR than Winker, and would maybe view the deal in an entirely different lens.
If the Mariners finally break their 20-year playoff drought this season, Suarez will have played a large part in making that possible. Not bad for the "throw-in" of the trade.