Analysis
The Marlins Have Taken a Massive Step Back in 2022
What was supposed to mark the end of a rebuild has turned into a nightmare for the Miami Marlins, who's path to contention is murkier ever.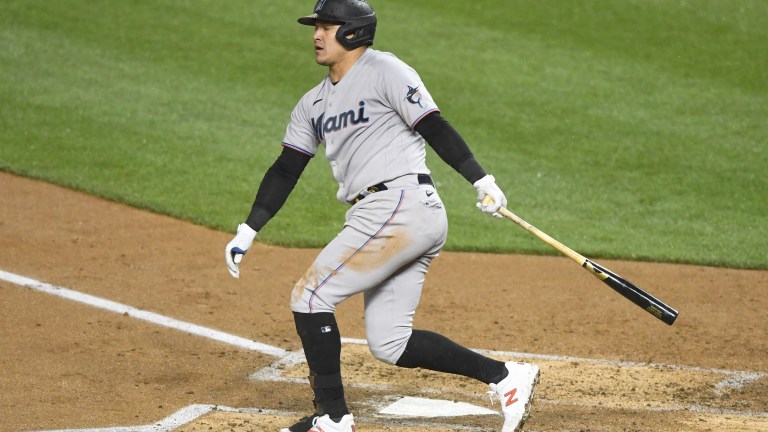 I am fed up. Since I have started covering baseball I have become more a fan of the sport, and less of teams. My heart will always lie with certain ones, but at this point I root for players and drama over one particular team.
One of the places that will always have a place in my heart is my native South Florida. More specifically, the Miami Marlins. Inside of me there will always be that young Marlins fan dreaming of the day Hanley Ramirez lifts the World Series trophy for the seventh year running.
However, those days are long gone. Not just Hanley's career in a Marlins uniform, but the days I dreamed about the Marlins being successful. The idea of the Marlins winning anything of note is no longer just a dream, it is ludicrous. It is outlandish. And in the words of the great American poet, Stephen A. Smith, it is even preposterous.
The Marlins are terrible. At the time of writing, they sit at 55-80, 25-games under .500, and have lost nine in a row. This comes after an offseason where the Marlins spent big—by their standards—to improve the club.
It has failed miserably.
The Marlins are somehow worse than they were last year, needing to go 12-15 the rest of the way to match 2021's total of 67 wins. That would seem pretty doable for most teams, but not for Miami. Consider that they have won just 12 games since the All-Star Break, and you will realize how much of an uphill climb this team has.
Miami is somehow worse than the Cubs—who we all expected to be terrible this year—and are just one game better than both the Royals and Reds. The Reds started 3-22 this year!
Considering the teams behind the Marlins in the standings—the, Reds, Royals, Tigers, Pirates, A's and Nationals—all had expectations of cellar dwelling, you could make the argument that the Marlins are the worst team in baseball. Or if nothing else, the biggest disappointment.
It is only by their own doing that the Marlins find themselves in this situation: five years into a rebuild with nothing to show for it.
Development Disaster
Everyone knows the Miami Marlins offense is terrible, but not everyone knows how much of a disaster it is. Their 86 wRC+ as a team is 27th in the league, but there's a case to be made – especially if you simply, well, watch them – that it's MUCH worse.
Miami hit .196 (!) as a team in August; no other team hit worse than .218. And their 66 wRC+ in August? It was 11 points lower than the next-worst team.
The Marlins currently have four important prospects on their roster as they try and see what they have in the future. Early results suggest: not much. Only two of them—Jerar Encarnacion and Charles LeBlanc—are hitting over .200. Encarnacion is hitting .216. The other two—JJ Bleday, and Lewin Díaz—are hitting .189 and .167, respectively. They just sent Peyton Burdick down after hitting .171 with a .554 OPS in 26 games.
Bleday and Burdick are both Top-15 prospects in the organization, according to MLB Pipeline, while Díaz has graduated. They are currently averaging a .559 OPS. Not great!
Not to mention, one of their in-house guys they believed could make it at the Major League level, Jesús Sánchez, completely floundered in his first full big league season. Sánchez showed great potential last year in 64 games, posting a 114 wRC+ and slugging 14 homers.
This year was a disaster. Sánchez hit just .205 with a .658 OPS and 12 homers in 93 games, good for a measly 86 wRC+. He was demoted to Triple-A Jacksonville, and has a 47 wRC+ in 21 games. A complete waste of a year.
In five years, the Marlins have found just one player that has shown he can be an everyday player at the Major League level. That player, of course, is Jazz Chisholm Jr., who sadly played just 60 games this year due to back issues.
As great as Miami has been at developing elite pitching, they have been just as great at not developing hitting. They may have all the pitching in the world, but their inability to hit makes it useless. They do not have the foundation of a club that many once thought they did.
Offseason Failure
Of course, the Marlins have not gotten much from their offseason acquisitions either. So far they get a big giant thumbs down.
I have discussed the struggles of Avisail García and Jorge Soler in previous articles, but it is worth re-visiting. Soler has played in just 72 games this season, slashing .207/.295/.400 with 13 HR, 98 wRC+ and a 29.4 K%.
García has been arguably the worst free agent signing not just of the winter, but in franchise history. After posting an .820 OPS with 29 homers and 115 wRC+ in 2021, he has completely floundered in 2022. He is having by far the worst year of his career, slashing .227/.263/.314, with a .577 OPS and 64 wRC+. He has hit just seven home runs, less than Nico Hoerner of the Cubs and just one more than teammate Miguel Rojas.
Want some more good news?
Soler has a player option worth $15 million for 2023 and another for $9 million in 2024! García is on the hook to receive $12 million for the next three years, with a club option for $12 million more in 2026! Incredible!
They also scooped up catcher Jacob Stallings in a trade with the Pittsburgh Pirates. That seemed like a great move at the time, but Stallings has had an unforeseen regression of epic proportions. He is currently posting 68 wRC+, down from 93 in 2021 and dropping his career wRC+ from 95 to 82.
Even more shocking is his defensive regression. Stallings posted 21 defensive runs saved (DRS) on his way to a Gold Glove last season. This year, he has -5 DRS (!) and ranks in the 31st percentile in framing according to Baseball Savant.
Their final offseason acquisition, Joey Wendle, is a fine player who does a lot of things well. I really like his game, but his injury struggles have shown up at the plate to the tune of just 81 wRC+. When he produces like he can, every team needs a player like Joey Wendle. However, he simply cannot be your best offseason pickup when he is producing the way he has in 2022.
Of course the biggest misstep this Marlins regime has made is not bringing back Starling Marte. While they did very well in scooping up Jesús Luzardo for Marte, they had their chance to bring him back and failed. I have said this a million times before and I will say this again: the Marlins had the exact player they are searching for on their roster and they let him go.
Just to make matters worse, Marte has matched his career-best 134 wRC+ from last season for the division rival Mets. Nice going, Marlins.
Wake Up And Smell The Cafecito
Year five of the rebuild is coming to an end and the Marlins have absolutely nothing to show for it. They are 25 games under again and have almost no chance of eclipsing 70 wins. They will likely only go backwards in 2022, even after all the movement in the offseason.
Meanwhile, the Orioles—who started their rebuild in 2017 as well and had a much taller task—are in the mix in the AL Wild Card race. There are no excuses for the Marlins. There is no more patience. No more "just wait and see." To be this far away in year five is a massive indictment of the front office.
The scariest thing is it is not clear if the Marlins see an issue. It seems they actually thought this team was close to contention, and still may be. They made just one move at the trade deadline, acquiring Jordan Groshans from the Blue Jays for a pair of relievers.
Back in June, Marlins Assistant GM Dan Greenlee went on the Swings and Mishes Podcast with Craig Mish and Jeremy Taché. At the time the Marlins were 12th in wRC+ but sat at just 21-28. Greenlee took the opportunity to urge fans not to panic because the underlying numbers showed the Marlins offense was not as bad as results suggested. His argument was basically "I would rather have a team that creates traffic consistently than a team that really only hits with runners in scoring position."
I mean, what?! How has that worked out for them?
Since that date the Marlins have a league worst 75 wRC+ and a .679 OPS with runners in scoring position. At least they were 12th in wRC+ on June 2nd. They should fly a banner.
The incredible thing about all this is I am reluctant to call this rebuild a failure because of how quickly they can turn it around. They can use their surplus of pitching to acquire a few star hitters and make up for their lack of development. They can stop halting the development of young players by choosing to give unproductive veterans ABs at the Major League level over them.
Miami can spend their money wisely, instead of on high-risk, moderate reward signings. The problem is their is no indication they will do any of these things.
There seems to be no plan, no vision, no way forward. They have so much pitching and they are not slowing down any time soon. All they need is a sense of urgency and a big leap in the right direction.
Until then, they will continue to be what they are now: a failure of a rebuild and a terrible baseball team.