Analysis
After Years of Struggle, Marlins Fans Deserve This Playoff Run
For the first time in two decades, the Miami Marlins have made the playoffs in a full 162-game season. No fan base deserves this more.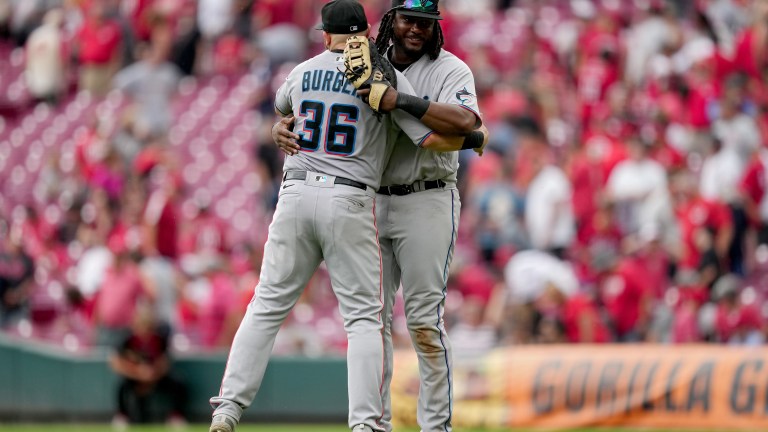 I like three baseball teams. It's weird, it's hard to explain and I take a lot of heat for it in the Just Baseball group chat, but it's true. I especially took a lot of heat when all three–the Marlins, Giants and Cubs–were locked in the heat of an incredible NL Wild Card race this season.
It became a running joke about who I was really rooting for to make it, and especially how much I care about my hometown Marlins.
This is something that I have struggled with for a few years ever since I started covering the team.
As I got more entrenched on the beat and had to be impartial, some of that passion I felt for the Marlins slipped away. Not to mention all the years of losing, irrelevance and turnover of rosters that never lent itself to much attachment.
However, I always knew that somewhere inside of me, that little kid who grew up loving the Marlins was still there. That kid who would convince himself on Opening Day every year–no matter how purely pathetic the roster was–the Fish could do something magical.
The kid whose baseball dreams started in '03, watching Josh Beckett tag out Jorge Posada to win a title. Who suffered through the pain of his heroes like Miguel Cabrera, Mike Lowell, Dontrelle Willis, Juan Pierre, Josh Johnson, Hanley Ramirez and Beckett be shipped off for a bunch of kids he had never heard of.
That kid made a re-appearance Saturday night as the Miami Marlins clinched their first full-season playoff berth since 2003. It's just the fourth time–including the COVID-shortened 2020 season–in franchise history the Marlins have made the Postseason.
As the last out was made, my heart was racing in my chest. I felt a level of nerves and excitement and joy that team hadn't brought me in a long time. I was a kid once again. The Marlins made me believe. It was something I was genuinely unsure would ever happen again.
As I popped an old bottle of champagne that was taking up space in my fridge and drank it in, I reflected on how the Marlins got here. Man, that was some season huh?
Burger Bell Combination
The Marlins would simply not be in the Postseason if they had not traded for Josh Bell and Jake Burger. Many people were surprised they were buyers at the deadline. At that point, Miami was in a free fall. Their offense was putrid, they lost eight-straight games after the All-Star break. It was all coming apart right in front of our eyes.
Yet, Kim Ng decided they could still make a push if they got a boost on offense and got aggressive.
Insert Bell and Burger, who as a pair have revitalized the Marlins offense. Both of them seem revitalized in Miami as well.
In his time with Cleveland, Bell slashed .233/.318/.383 with 11 HR, a .701 OPS and just 96 wRC+.
He was always a positive regression candidate, but I'm not sure anybody could have predicted his turnaround in Miami. In just 53 games, Bell matched his home run total with Cleveland and slashed .270/.338/.480 with an .818 OPS and 119 wRC+. He, along with Burger, brought much-needed pop to help drive in runs to this Marlins lineup.
As for Burger, he was already having a nice year in Chicago but has become a different hitter in Miami. He had 25 homers in 88 games with the Sox, but slashed just .214/.279/.527 with an .806 OPS and 113 wRC+. Burger also struck out 31.6% of the time.
Compare that to Miami where he had just nine homers, but slashed .298/.350/.500 with an .850 OPS and 128 wRC+. He also cut his strikeout rate to 21.7%.
He's had so many big hits for the Marlins, especially down the stretch, including the game-winning hit Friday night that set up the Fish to clinch Saturday.
I also think Bell and Burger have brought something to the locker room that the Marlins needed. Dan LeBatard has called them a "buddy cop movie" and I could not agree more. I mean just look at them. They have the same initials, Burger has his mustache, Bell has his giant humanness. The two both have said they quickly became really good friends and both have quickly become fan favorites.
Not to mention, the Marlins believe they can be a part of their core for the next few years. Bell has a player option worth $16.5 million. I find it hard to believe he'll find a better deal on the open market, and he has expressed how much he loves Miami. I think it's likely he picks up that option or the Marlins find a solution to keep him.
Burger is under team control until 2028 and will not even enter arbitration until 2026. The Marlins needed a third baseman desperately and now they have that position locked up for the foreseeable future.
Credit to Kim Ng and Marlins owner, Bruce Sherman. They put their name on being aggressive and adding if they felt they could make the postseason. They fulfilled that promise by not punting after a rough stretch and making the upgrades necessary to get themselves there.
Bell and Burger just happened to be the perfect combo to do it.
A Change in Philosophy
The Marlins made it known that they would be completely changing their philosophy when it came to hitters this year. The Marlins no longer wanted to put together a roster of all-or-nothing hitters that were more athletes than baseball players.
They wanted to acquire high-contact guys that put the ball in play and make weird things happen.
Mission accomplished.
Nobody made weirder things happen around the league this year than the Miami Marlins. They played a lot of small ball on their way to whacky wins and a 33-13 record in one-run games.
It started, of course, with the NL batting champion, Luis Arráez. For a minute there, it looked like he may take a run at .400, though that fizzled out quickly. Nevertheless, he changed the Marlins offense. Without him, the Marlins would be nowhere.
Just look at the way he came off the bench Friday night on one ankle to get a base hit that jump-started their comeback.
I've discussed how great this trade was for both sides plenty of times, but it's worth emphasizing one last time that it is one of the most balanced trades in recent history. Arráez finished his season .354/.393/.469 with an .861 OPS and 132 wRC+.
Time and time again he came through when the Marlins needed him most, posting an absurd 1.085 OPS with runners in scoring position in the seventh inning or later.
Good things happen when you put the ball in play and the Marlins showed that this year. There are so many examples when you look back at their season of teams seemingly forgetting how to play baseball against them. You can call it good luck, you can call it chaos, I call it good baseball. The Marlins make things happen when they put the ball in play and it was a big part of their success.
Limping To The Finish
I genuinely have no idea how the Marlins actually made it in. The Marlins finished the second-half eight games under .500, they lost two of their starting pitchers to injury and Luis Arráez has barely played the last week or so. Jorge Soler has also been banged up and their closer went on paternity leave in the second to last series of the year.
They also had the widely-publicized nightmare series in New York which nearly led to them playing a game for their lives Monday. So many things seemed to be going against them–check that–everything seemed to be going against them at the end, yet they found a way.
So much of the credit deserves to go to rookie manager, Skip Schumacher. The new skipper has been widely heralded by his players for his leadership ability and he has clearly brought new life to a clubhouse that needed it.
His season was not without flaws, but growing pains are to be expected from a rookie manager. In the end, it was his leadership and ability to keep the clubhouse believing–even when it seemed like it was slipping away–that helped the Marlins get here.
However, I do have major concerns about just how beat up the Marlins are heading into the postseason. First off, they are not going anywhere without Arráez. Second, the loss of Sandy Alcantara is absolutely massive, and not just on the field. His killer mentality rubs off on this team and he had some of his best performances this year in the biggest games.
I can only imagine how locked in he would have been for a postseason start and it is a shame he is not getting the ball Tuesday. Nobody deserves to be here more than Sandy, and the fact that he is not is really upsetting.
Beyond Sandy, it is unlikely the Marlins will have Eury Pérez as well. He showed signs of fatigue at the end of the year leading to him being placed on the IL. He is not currently scheduled to pitch in the Wild Card round.
That leaves the Marlins with two reliable starters: Jesús Luzardo and Braxton Garrett. They have had to throw a ton of bullpen games at the end of the year, with guys like Edward Cabrera, Johnny Cueto and Brian Hoeing eating big chunks of innings.
Cabrera is the most likely option to be the third starter, but his season has been quite the roller coaster. He got demoted to Triple-A late in the year after struggling with command, posting a 2.22 ERA in five starts. He has come back and looked like a different pitcher in some starts but shown signs of struggle in others.
Cabrera could be an X-Factor for Miami, should the series get to a decisive third game. If he dominates like he's capable of, they might just make their way to the NLDS. If he struggles like we have seen at times it will be a long night for Miami.
It Comes Down To The Pen
The Marlins bullpen has been a strength for much of the year. They are going to need it to make any noise at all this October.
Garrett and Luzardo are unlikely to give you more than six innings, meaning the Fish are going to need some huge innings out of their guys.
The good news is the Marlins are set up well to rely on the pen. I mean, they've kinda done it all year. Tanner Scott and Andrew Nardi have been absolute nails at the back end, two of the most underrated high-leverage guys in the league.
The Marlins' pen finished fifth in Win Probability Added (WPA) in clutch situations this year, and Nardi and Scott were both in the top 20 among relievers.
David Robertson was a disaster when he first came over from the Mets, but has been much better since being demoted from the closer role. He only allowed two runs in all of September, posting a 1.74 ERA, 1.32 FIP and 19 strikeouts in 10.1 innings (16.55 K/9). If the Marlins get a dominant Robertson for three days this week, they have a great shot to move ahead.
The X-Factor for the Marlins in the bullpen has to be A.J. Puk. What are they going to get from their big lefty? He was so good to start the year, one of the best closers in the game good. He was so good in fact, you can argue the Marlins would not be in this position without him.
However, since going on the IL his season has been an absolute roller-coaster ride. His role has been switched around and his performance has been inconsistent at best.
Puk no doubt has the stuff to be dominant, but the only question is whether he can keep the ball in the ballpark. Puk's numbers are not that bad, he posted a 3.97 ERA and 3.50 FIP plus a career best 12.39 K/9. His 32.2 K% is nearly five points higher than his previous career best.
The issue is the homers. His 16.9% home run to fly ball ratio is more than five points higher than his previous career low. Puk has to pitch at some point in this series, right? When he will get the ball and how good he is with it will go a long way in determining the Marlins' success.
Marlins Fans Deserve This
Marlins fans have waited so long for this. It has been twenty years since their last full-season postseason appearance. TWENTY YEARS! Marlins fans get a bad rap, but there is a really solid base of fans that have been loyal to this team through so much.
I know Marlins Twitter and I can tell you those fans LOVE this team. All they have wanted for so long is a product worth rooting for. They have been through it all with the Marlins and they still show up and they still care. All the trades, the death of José Fernandez, the losses, the rebuilds, the controversies, the superstars have come and gone.
Plenty of fans have been driven away, but plenty have stuck through it all. All of those fans deserve this. The city of Miami deserves this. The Marlins have a fanbase and a demographic that is waiting to fall in love with baseball again I can promise you that. They just need something to convince themselves that things will be different this time.
Hopefully this can be that team. Maybe this time they won't move on from fan favorites like Jazz and Sandy and Eury. Maybe this time the Marlins will actually put together a core that sticks around for a while and does some real winning. Hopefully this is the start of something in Miami and not just a one off.
The reactions of Marlins fans on Twitter were so pure. Some people might make fun for celebrating like it's the World Series, but ya know what: this is their World Series. This is (literally) the closest they have been in years. They have been so hungry for this, they have gone through so much to get here and they deserve to celebrate like it's 2003.
Marlins fans have been through hell and back with this team and that patience is finally paying off. The Marlins have given them joy that many of them have never felt from their baseball team before. A new generation of Marlins fans is growing up with this team and dreaming the way I did for so long.
Well Marlins fans, dream on. Dream big! That's the best thing about baseball isn't it? What sport gives you the hope and joy that this one does? That regular season is such a grind and to see it pay off is just wonderful.
The Marlins are not likely to threaten for a World Series title, but that's not the point. The Marlins now have something to build on and Marlins fans now have something to dream about.
Also, just because it's not likely, doesn't mean it's not possible. That is the beauty of October: every fanbase enters with a dream. For a long time Marlins fans have not been able to have that dream. Now they do, and nobody deserves it more than them.