Feature
30 Years of Fish: A Look at the Greatest Moments in Marlins History
For a franchise that hasn't had much luck making it to the postseason, the Miami Marlins have made the most of their limited opportunities.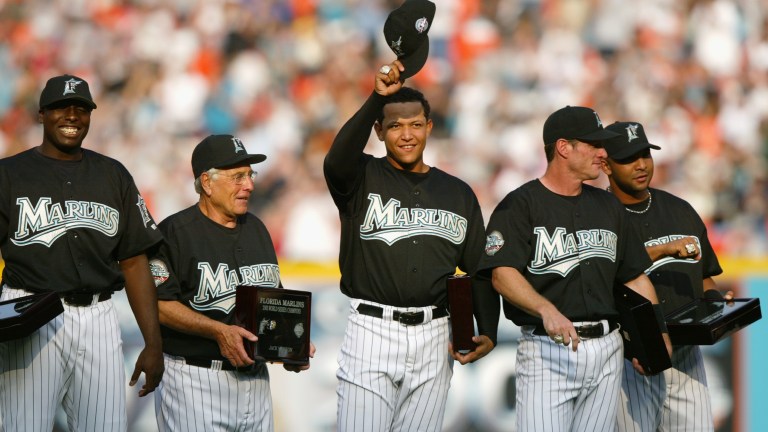 The introduction of the Florida-turned-Miami Marlins ensured that Major League Baseball in the Sunshine State wouldn't just be limited to February and March.
Sporting teal hats, the early Marlins looked the part for the area they represented. Fan support has been tough to come by, one of many unique qualities over their three decades. This is a franchise without a division title. But they've made three postseason appearances with two World Series titles to show for it.
First Game, First Win: April 5, 1993
The opening pitch in the Marlins' existence before 42,334 fans at Joe Robbie Stadium came from the the 45-year-old arm of Charlie Hough, a knuckleball called for a strike.
The first run was driven in by Walt Weiss, a two-run triple down the right-field line. The first home run was by Tim Wallach on the enemy side. But that Dodger homer was rendered relatively meaningless thanks to Weiss and Scott Pose notching two RBIs each and the solid pitching from Hough, a Hialeah, Fla. native.
Bryan Harvey got Jose Offerman on strikes in the ninth and the Marlins had a 6-3 victory that gave fans another reason to party in South Florida.
Conine Right on Time: July 11, 1995
After closer Bryan Harvey and outfielder Gary Sheffield were All-Stars for 1993, Jeff Conine took the mantle as the lone representative for the next two years. In '94, he didn't play.
The man known as "Mr. Marlin" for his long service to the organization was an All-Star again in '95 at The Ballpark in Arlington. Conine got his chance as he entered in the top of the eighth as a pinch-hitter and wasted no time.
On the first pitch from Oakland's Steve Ontiveros, he lifted it over the left field fence. It was a game in which all the scoring came on home runs, with Conine providing the most important one. It gave the NL a 3-2 win and earned Conine the MVP award.
Brown Says 'No-No': June 10, 1997
Less than a year after Al Leiter tossed the franchise's first no-hitter, Kevin Brown did it in San Francisco. This had a chance to be even more impressive, as Brown took a perfect game into the eighth until he plunked Marvin Benard on a 1-2 pitch. It would be the only Giant to reach base.
The Marlins offense couldn't muster get a hit until the seventh, but they came alive and blew it open late and gave Brown ample breathing room. It took just six pitches to complete the ninth inning, with the final out coming on a strikeout of Darryl Hamilton. As it turned out, this was one of many monumental events for the Fish in '97.
No Playoff Jitters: September 30 – October 3, 1997
Owner Wayne Huizenga made significant investments to try and build a winner: Bobby Bonilla, Moises Alou, and Alex Fernandez among others.
In '97, they went 92-70 and clinched their first postseason berth via the wild card. They had a better record than their NLDS opponent, the NL West champion San Francisco Giants.
Over three games, Florida was clearly the better team. The opener happened to be on the Marlins' turf and ended as a 2-1 win on a ninth-inning single from Édgar Rentería. Game 2 had more offense, but the same result: the Marlins victorious on a walk-off, 7-6 was the final. At Candlestick Park, the Marlins took the lead (and the series for good) on Devon White's sixth-inning grand slam.
Livan the Dream: October 12, 1997
The emergence of Liván Hernández came at the perfect time for the Marlins and the worst time for the Atlanta Braves. A defector from Cuba, he was remarkably composed. He was happy to have his life and freedoms, never mind be pitching in a crucial postseason game.
Kevin Brown's illness forced manager Jim Leyland to start the 22-year-old righty. Using home plate umpire Eric Gregg's generous (and we mean REALLY generous) strike zone to his advantage, Hernandez mowed down Braves hitters and finished by getting lefty Fred McGriff to look at a pitch that might've hit a right-handed batter.
Nonetheless, Gregg called strike three and Hernandez had K No. 15 — setting a NLCS record. The Marlins were one win from the pennant, a win they'd get two days later in Atlanta.
First World Title: October 26, 1997
It took five seasons to get to the brink of a World Series championship. Some franchises are much older and still waiting. The Marlins might've been satisfied to be here, even if it didn't result in a title. But if you're this close, you might as well take it.
In what many viewed as a dull match-up, Cleveland and Florida provided a back-and-forth World Series capped by a classic Game 7. The Marlins rallied to tie in the bottom of the ninth with a sacrifice fly by rookie Craig Counsell.
Then, with Counsell on third and two down in 11th, Édgar Rentería got his sixth walk-off of the year — and the biggest of his life. His hit barely touched the glove of pitcher Charles Nagy and found its way into center field to send Pro Player Stadium into euphoria.
However the public perceived this quick-fix attempt at a championship and the aftermath — false claims by Huizenga of losses and a '98 fire sale — it was, in the moment, money well spent.
Miggy's Debut: June 20, 2003
Twenty years ago, a 20-year-old Miguel Cabrera stepped on a major league field for the first time. If Cabrera wanted to personally generate an ideal scenario for the first game of what would be a Hall of Fame career, he couldn't have scripted it any better.
In an at-bat in the bottom of the ninth, Cabrera went to dead center and over the wall to give his team a win over Tampa Bay. He became just the third player since 1900 to hit a game-winning homer in his big-league debut.
Baseball wise beyond his years, Cabrera quickly established himself in the Marlins lineup. By July, he was the cleanup hitter on a club that was making another postseason run.
Pudge's Series: September 30 – October 4, 2003
In this team sport, it's rare for a player to dominate. That's what makes Ivan Rodriguez's performance in the Division Series so remarkable. At the plate, he was 6-for-17 with a homer, six RBIs, three walks, delivering the winning hit in the 11th inning of Game 3, and scoring the go-ahead run in Game 4. Behind the plate, his defense was unparalleled as usual.
The signature moment came in the series-clinching out, when he literally protected the Marlins lead by absorbing the collision with J.T. Snow at home plate and holding on to the ball after Jeff Conine's throw from right. Back to feel the pain of another LDS defeat at the hands of the Marlins, six years later, was the San Francisco Giants.
Thank You, Bartman: October 14 – 15, 2003
The Marlins are the beneficiaries of this fateful night in Chicago that prolonged the agony on the North Side. Florida was five outs from elimination in Game 6 of the NLCS before Cubs fan Steve Bartman prevented Moises Alou from possibly catching a foul ball.
A 3-0 game became 8-3 after a string of hits, plus a crucial error by Chicago shortstop Alex Gonzalez which should've been a double play. Game 7 saw another comeback, this one not as dramatic but nonetheless satisfying. Kerry Wood was tagged for seven earned runs and Josh Beckett pitched four key innings of relief. The Marlins were headed to their second World Series in a decade, while the Cubs' Fall Classic appearance drought reached 58.
Beckett's Brilliance: October 25, 2003
Josh Beckett's reputation as a big-game pitcher was firmly established at Yankee Stadium. The 23-year-old had spent the year overshadowed on a staff that featured young standouts like Dontrelle Willis and Carl Pavano. The '03 postseason is when Beckett separated himself.
He threw seven terrific innings against the Giants and was a major factor in the deciding game versus the Cubs. After matching well with Mike Mussina in Game 3, he out-dueled Andy Pettitte and silenced Yankee bats in Game 6, doing so on three days rest.
Holding a 2-0 lead, Beckett finished a complete game five-hitter and became an instant legend on hallowed grounds.
A New Home: April 4, 2012
For a franchise used to rebuilds, this was a massive facelift by comparison. New name, new uniforms, many new players, and a new park. The rebranded Miami Marlins got a home of their own adjacent to the Little Havana neighborhood following an endless timeline of planning, political disagreements and eventual compromise.
The grand opening of this $515 million facility — fit with a home run statute, a fish tank, and pink flamingos — took place before a crowd of 36,601 including Muhammad Ali and commissioner Bud Selig. Miami was unable to muster much offense and fell to the St. Louis Cardinals, 4-1.
Walk-off No-No: September 29, 2013
The Marlins have had five of these. None as unique as this one. Almost all no-hitters are completed by the person on the mound. Henderson Alvarez's day of pitching excellence ended with him on the on-deck circle. After nine hittless innings against the Detroit Tigers, Alvarez couldn't savor the accomplishment just yet. Miami had yet to score, but loaded the bases in the bottom of the ninth. With Alvarez next to bat, a wild pitch brought in Giancarlo Stanton. The Marlins and Alvarez could now celebrate. Quite a way to finish the regular season — or any game for that matter.
For No. 16: September 26, 2016
The remarkable story of José Fernández, a budding ace who was imprisoned at 15 after attempting to defect from Cuba to the United States, ended in tragedy. His death at 24 years old left the baseball world and the Marlins in shock.
Moving on for the final games of the 2016 season was an understandably impossible task. With each grieving Miami player sporting a uniform with their late teammate's name and number on the back, the Marlins took the field in front of an emotional home crowd.
Those emotions were heightened when leadoff hitter Dee Gordon hit a home run. It was his first homer all year. Gordon made a tearful trip around the bases and into the dugout.