Analysis
Anthony Bass Needs to Turn Things Around in Toronto
Veteran reliever Anthony Bass has struggled to start the season, and he needs to improve if he wants to stick in the Blue Jays bullpen.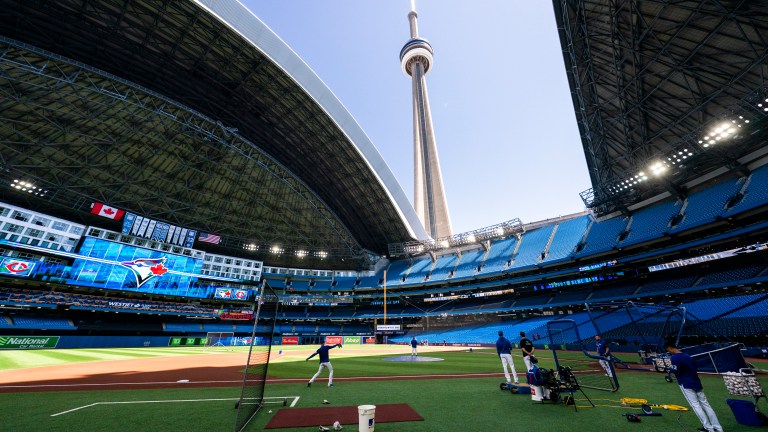 At the trade deadline last year, the Toronto Blue Jays bullpen was sporting a 3.89 ERA (18th in baseball), as the club was knee-deep in the postseason race within a tough AL East division. The Jays sat second in the division, 11 games back of the New York Yankees, with the Tampa Bay Rays and Baltimore Orioles still within striking distance with just over two months left in the season.
The Jays needed a boost in the bullpen and made two separate trades to add some depth, acquiring Mitch White from the Los Angeles Dodgers for prospect Nick Frasso (who is currently tearing it up in Double-A) while also trading for Anthony Bass and Zach Pop from the Miami Marlins, sending former top prospect Jordan Groshans the opposite way.
For Bass, this was his second stint with the Blue Jays, as the right-hander was claimed off of waivers from the Seattle Mariners during the 2019-20 offseason and spent the shortened season with the Jays as one of their go-to relievers. Through 26 outings, Bass amassed seven saves in 25 2/3 innings with just 10 earned runs allowed while striking out 21 batters and walking nine.
Bass would leave the Jays the following offseason and sign with the Marlins on a two-year deal worth $5 million (with a $3 million club option for 2023). The right-hander continued to pitch well with the Marlins, posting a 3.82 ERA in 2021 and a 1.41 ERA through 45 outings in 2022 prior to the trade. After the deal to Toronto, the Michigan product picked up right where he left off, allowing just five earned runs through 25 2/3 innings, with each run coming via a solo home run. Unfortunately, he fizzled out in the postseason, as Bass allowed three runs in his lone outing against the Seattle Mariners, unable to register an out before being pulled in favor of Jordan Romano (who did not fare much better).
Fast forward to the 2023 season, and Bass was supposed to be part of a solid core of relievers in Toronto. The bullpen lost only David Phelps (who retired) and gained Erik Swanson, who has been a stellar addition to the club so far this year.
While Bass had a successful end to the 2022 season for the Blue Jays, things have not gone so well this year, as the once dependable arm has struggled to get outs and is slowly starting to fall out of the 'circle of trust.' Through 13 relief appearances, Bass has allowed 15 hits and eight earned runs in 11 innings, amassing a 1.727 WHIP while posting a career-high 12.3 H/9.
Since April 13th, Bass has allowed ten hits and five earned runs, including three consecutive outings in mid-April where he allowed at least one run. He may have been the victim of bad luck, given his 4.10 FIP during that stretch, but opponents currently own a .319 average and a .919 OPS against Bass this season.
Looking at his Statcast metrics, Bass sits in the 1st percentile in xBA while sitting below the 20th percentile in Avg Exit Velocity (9th), xSLG (10th), xERA/xwOBA (11th), and HardHit% (15th). Opponents are lighting up his sinker and four-seam fastball, with a .600 and .625 batting average against the two pitches, respectively. Both offerings have been hit hard – each has a hard-hit rate above 70% – and neither has been an effective putaway pitch.
On the flip side, his offspeed pitches are doing well. His slider is generating a 41.7% whiff rate, while opponents have yet to record a hit off his splitter.
Bass is following the same formula with his pitch mix as he did in 2022, using his slider around 55% of the time and his sinker at the 27-30% mark. With hitters having so much more success against his fastballs, it makes you wonder if he is tipping his pitches to a degree or if his four-seam and sinker aren't moving enough to fool opposing hitters like his offspeed pitches do.
Regardless of the reason, Bass is not having a strong start to the year. Combine that with his Twitter post regarding the United flight popcorn incident, and Bass is quickly drawing the ire of Blue Jays fans.
With Adam Cimber slated to come off of the IL in the near future and with Mitch White also looking for a roster spot before month's end, some tough decisions will need to be made in the bullpen, especially if Nate Pearson continues to pitch well.
There is still time for Bass to turn things around before any decisions need to be made, and his last two outings have produced zero hits with three strikeouts. However, a few more outings like we saw in mid-April could spell an early end to his second go-round with the Blue Jays.