Analysis
Jorge Alfaro Has Become a San Diego Padres Cult Hero
The night is darkest just before the dawn, and the dawn has arrived in the form of Padres catcher Jorge Alfaro.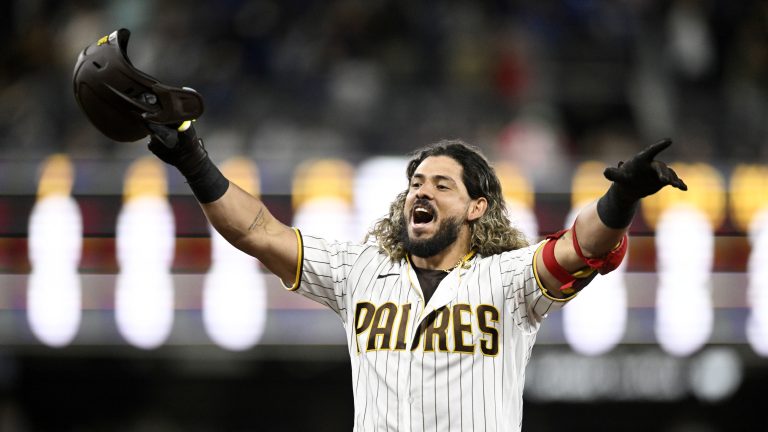 You gaze upon the near-apocalyptic scene before you. Houses are set ablaze, children are screaming for aid, and the sky is painted blood-orange. All of the jokes on Twitter about imminent societal collapse came true. All hope seems lost…until he appears.
Unexpected, but glorious, the sheer power of simply being in his presence illuminates your heart. The night is darkest just before the dawn, and the dawn has arrived in the form of Jorge Alfaro.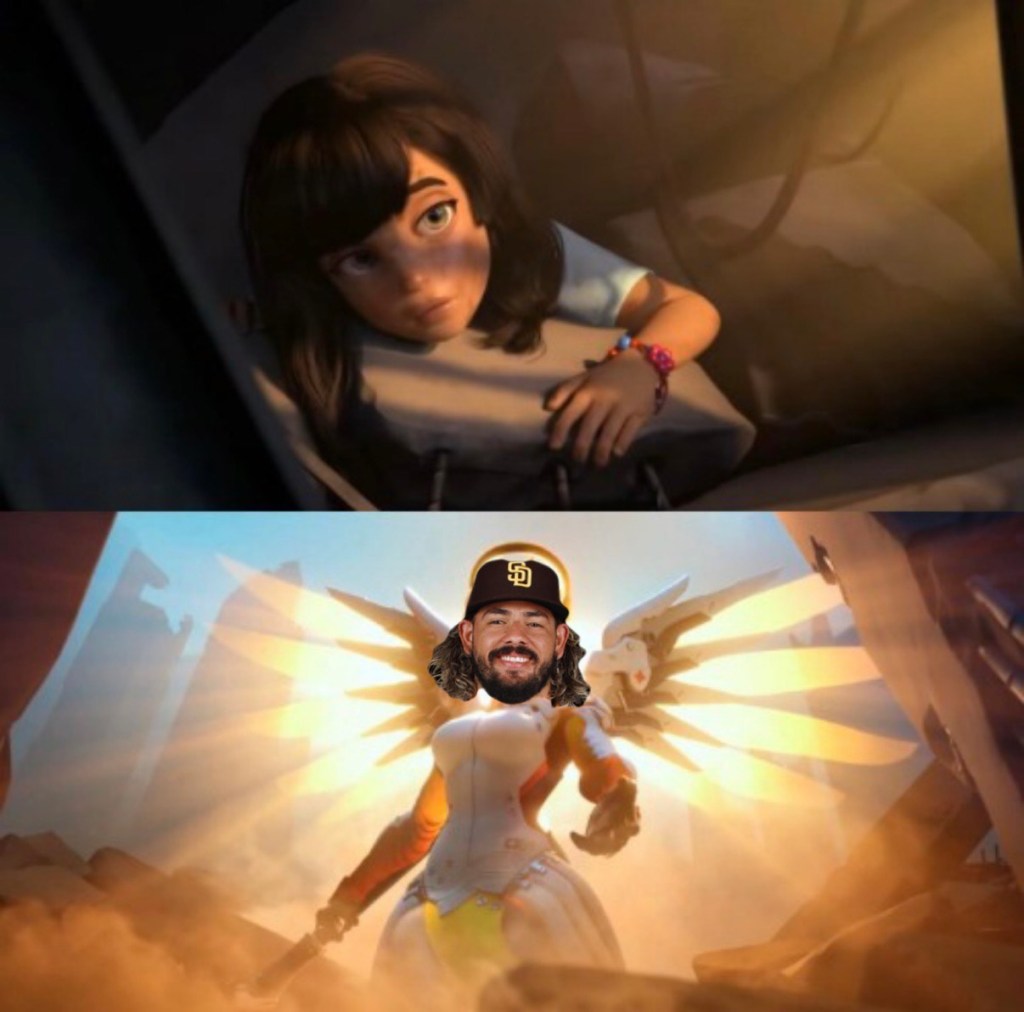 If you're confused, take solace in the fact that many mortals often don't recognize greatness at first glance. It goes beyond the stats. There isn't a known formula to capture his value. WAR is insignificant next to the power of his WAR against the haters. My dear friends, Jorge Alfaro is a reminder of how unexpectedly beautiful baseball can be.
But because this is a baseball website with plenty of party poopers, I'll (bitterly) touch on the traditional stat side of things. Alfaro, who was acquired by the Padres in the offseason for a player to be named later, is currently slashing .249/.286/.388 with a 90 wRC+. His 0.4 total fWAR ranks 22nd out of the 30 catchers who have had at least 250 plate appearances.
He's a freak athlete with a slight modicum of power that tends to swing at, well, everything; his 21.8 swinging-strike percentage is the highest among qualified players in MLB history. He's got great arm strength and pop time, but his inability to frame pitches prevents him from adding much defensively.
But this isn't an article about how effective Jorge Alfaro is as a player; it's an article about how effective Jorge Alfaro is at being a shepherd of pure, unadulterated alacrity. Who cares about numbers? Nerds are who care, and you don't want to be a nerd now, do you? Of course not. I am here to open your eyes. Sit back, take the red pill, and learn.
Jorge Alfaro's legend is largely predicated on one simple factor: the man is simply a winner.
Last week's walk-off single against the Diamondbacks capped off a comeback win that saw the Padres being down by five runs before the bottom of the fifth inning. With questions surrounding the slumps of their main trade deadline additions (Juan Soto, Josh Bell, and Brandon Drury), it should be expected that the catcher with the highest strikeout rate at his position would be the hero.
Because of his aforementioned statistical shortcomings, everything Alfaro has given the Padres this season has been gravy. Part of the legend is that he isn't that great!
The Padres catching situation has been dark for a while now, with Austin Nola's presence behind the dish serving as not only a literal negative (-0.1 fWAR) but also as a sick reminder of what was given up (Ty France!!) for him.
Moreover, the Padres also created the great Austin Hedges/Francisco Mejia debate, which was essentially like deciding between being slowly dipped into a volcano or being run over by a bullet train. When you take all of this into account, Alfaro's heroics feel like a much-needed respite from torture. He even managed to hit a walk-off homer against his former team, the Marlins, sending Just Baseball co-founder Aram Leighton spiraling into depression.
Alfaro is what happens when what is ostensibly a meme actually turns out well. Think of Alfaro's season as a smaller-scale version of the Tebow Time era. They're both heavily flawed, once-heralded prospects that tripped into winning opportunities on teams with stars far greater than them. Instead of the Tebowing gesture, Alfaro has his radiant hair and tradition of cursing after each win — much to the delight of both the team and the sea of San Diegans in the stands.
As a second catcher, Alfaro has been as memorable a player as the Padres have had in the AJ Preller era, which is both hilarious, sad, and beautiful all at the same time. He's the kind of player you'll bring up with your friends when the traditional "just say former athlete's names" conversation pops arises.
The only negative side to Alfaro, although it isn't his fault, is that it's somehow become a barricade for top prospect Luis Campusano to get some much-deserved experience.
In 2021, he slashed .295/.365/.541 with a 122 wRC+ and in 2022 had a similarly good .298/.363/.483 line with a 109 wRC+ mark — both in Triple-A. I won't pretend to know exactly how a prospect's skills will or won't translate to major league competition, but it's hard to understand how you can definitively believe that Austin Nola is so much better.
Do the Padres just not want to admit they so disastrously lost the Austin Nola trade?
I get super stubborn when a fantasy football trade blows up in my face (e.g. when I traded 2015 Devonta Freeman for past-his-prime Demaryius Thomas), so I can understand how the Padres might feel. But the difference between me and the Padres — aside from my obviously superior looks — is that I can afford to be an idiot, while they can most certainly not. I'll stand for Alfaro, but I won't stand for Aaron Nola's brother.
Perhaps I'm growing soft in my old age (26), but Alfaro's season genuinely brings a smile to my face. It's not about a good season, but a memorable one. He'll serve as nostalgia fuel for Padres fans going forward, which feels like a great compensation prize for a player that's largely fallen short of expectations. I think, deep down, some of us just want to be remembered.
Jorge Alfaro isn't just a cult hero, he's an entire way of life.