Analysis
The Best Under the Radar Trade Targets
Nobody saw the Noah Syndergaard for Amed Rosario trade coming yesterday, so here are some more under the radar trade targets at the deadline.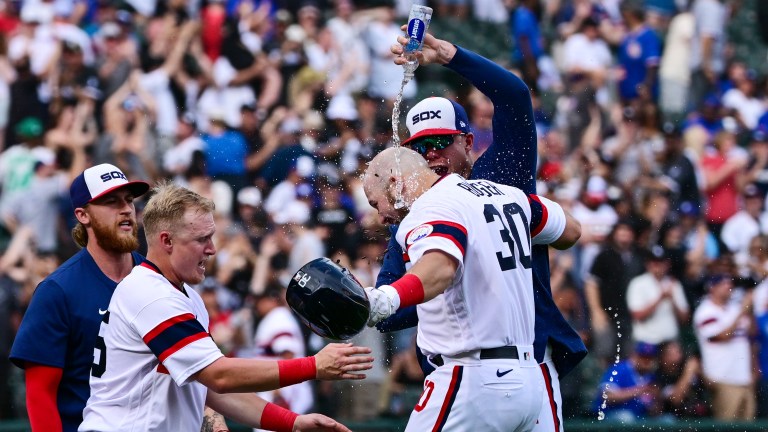 We are less than one week away from the trade deadline, and some big names are already being pulled off the market. Shohei Ohtani, Dylan Cease, Shane Bieber, and so on.
While other names you keep hearing about over and over again will certainly get moved, I wanted to highlight some players who are less likely traded, but worth keeping an eye on.
Players who could round out a roster, need a change of scenery, or end up being swapped for a big leaguer (See Guardians/Dodgers trade).
Catcher
Jake Rogers – Detroit Tigers
2023 Stats: .222/.305/.455, 12 HR, 30 RBI, 109 wRC+
The Tigers are in a unique position where they have some promising young talent, are not exactly eliminated, but need to sell a few pieces. Catcher's market is thin, and Rogers comes with three years of control after this season.
A power bat that also calls a good game, Detroit won't be in a rush to move him. If a team needs help this year, and wants to solidify the position for the next couple of seasons, Rogers is a great fit.
Elias Diaz – Colorado Rockies
2023 Stats: .270/.327/.421, 10 HR, 48 RBI, 88 wRC+
Diaz is under contract through next year at $6 million, making him more than a rental. Colorado always plays trades in a weird unpredictable way and they love holding onto their own players. If they do decide to move him, I think plenty of teams would be very interested. Power will play down outside of Coors, but a reliable veterans carries value.
First Base
Carlos Santana – Pittsburgh Pirates
2023 Stats: .235/.321/.412, 12 HR, 53 RBI, 99 wRC+
Santana was moved to Seattle last year providing some depth and power as a switch-hitter off the bench. I see him in the same way this season, and hell Seattle might even be interested. I doubt he will be expensive, and we all know the demand for bench bats who can provide pop. We see them acquired every deadline.
Garrett Cooper – Miami Marlins
2023 Stats: .259/.298/.425, 12 HR, 44 RBI, 97 wRC+
Cooper's a talented hitter who can play first and corner, but struggles to stay healthy. The Marlins already showed they are willing to get creative doing a swap of big league bullpen arms. Flipping Cooper, on an expiring deal, for a player who can help them this year is possible. Cooper is a career .286 hitter off lefties, and has hit .344 off them this season. A great platoon option.
C.J. Cron – Colorado Rockies
2023 Stats: .255/.299/.480, 11 HR, 31 RBI, 92 wRC+
Injuries have slowed down Cron's season, but his track record is good enough for someone to be interested. Be cautious, Cron has made his name off Coors field. Last season, .303 at home and .214 on the road. This season, .271 at home and .240 on the road. A veteran DH/1B who pop could hit many teams, even if he's moved to the bench. Could be a good option for Philly.
Gavin Sheets – Chicago White Sox
2023 Stats: .215/.289/.359, 8 HR, 26 RBI, 76 wRC+
I'd be very interested in a Sheets if I were a contender, or hell, anyone really. He has not had a fair shot in Chicago, being forced to the outfield and having inconsistent playing time. He's shown the ability to draw walks, not strikeout an egregious amount, and flash some power. A change of scenery candidate.
Second
Ramon Urias – Baltimore Orioles
2023 Stats: .251/.319/.383, 4 HR, 33 RBI, 96 wRC+
I have a feeling Baltimore is going to hoard their prospects, and potentially move them in the offseason. Urias can play all over, can be a high level utility guy, and decent enough starter. With three years of control left, I think he's moved to help upgrade this team in 2023.
Third
Jake Burger – Chicago White Sox
2023 Stats: .212/.267/.505, 22 HR, 48 RBI, 106 wRC+
Who knows how much the White Sox will deplete their roster, but Burger is a sneaky name to keep an eye on. Why would a rebuilding team want to keep a player who doesn't really have a position, strikes out A LOT, and doesn't walk. It's home run or nothing. I would try to capitalize on a weak market and stick to the rebuild.
Patrick Wisdom – Chicago Cubs
2023 Stats: .194/.293/.479, 17 HR, 35 RBI, 106 wRC+
If Burger is not available, you can get Wisdom. Wisdom can play a couple different positions, but the bat is similar to Burger. He's also a sneaky 31 years old, so I doubt the Cubs need to keep him around.
Jose Miranda – Minnesota Twins
2023 Stats: .211/.263/.303, 3 HR, 13 RBI, 58 wRC+
The Twins have an opportunity to improve and distance themselves from the rest of the AL Central. The farm system isn't top tier, and frankly Miranda has been passed up. I still think he's talented, and other teams would love to see if they can tap into his talent. This has more to do with the current roster being pretty full, and a need to improve now.
Shortstop
Paul DeJong – St. Louis Cardinals
2023: .238/.304/.424, 13 HR, 32 RBI, 101 wRC+
DeJong has a 30 home run season under his belt (2019 bouncy ball), and I think we all forget that. He's been awful the past few years, and has bounced back enough to be a fine back up/spot starter. I doubt the return will be great, but hey, the market at short is BLEAK!
Utility
Ildemaro Vargas – Washington Nationals
2023 Stats: .270/.311/.410, 2 HR, 14 RBI, 94 wRC+
I know, I know, not exactly exciting. But, this is exactly the type of player we see moved every deadline. He can play all over the infield and outfield, is a good defender, and comes cheap. Even if he's just a bench fill in to get you to the playoffs, it's worth it.
Josh Rojas – Arizona Diamondbacks
2023 Stats: .235/.301/.306, 0 HR, 26 RBI, 66 wRC+
The Diamondbacks tried to make Rojas something he isn't – an everyday starter. I do think he's a high level bench bat from the left side who can play all over. In 2021, his first full season, he had a 102 wRC+ and a 108 last year. The type of glue guy I could really see being a great pickup to round out a roster.
Outfield
Lane Thomas – Washington Nationals
2023 Stats: .293/.341/.486, 16 HR, 54 RBI, 122 wRC+
Thomas has always been a lefty masher, and this season he's done much more than just that. Weak market plus career year could entice the Nationals to move him at his highest value. He's only 27 with two more years of control so they could keep him, but man I'm sure the current landscape of the deadline will have plenty of calls.
Seth Brown – Oakland Athletics
2023 Stats: .197/.278/.394, 10 HR, 28 RBI, 90 wRC+
This is the perfect time to buy Brown. He started the year slowly due to injury and I think that's hampered his production. Even cautious buyers should be in on Brown, who's under control through 2026. A lefty bat who can play OF/1B and has hit 20+ home runs each of the past two seasons. Oakland should hold, and trade next year but it's the A's we are talking about here.
Mark Canha – New York Mets
2023 Stats: .237/.337/.376, 6 HR, 27 RBI, 104 wRC+
Canha is a fine bench player who you can move around and hunt matchups against lefties. From all accounts, a great teammate and clubhouse guy. As our own Ryan Finkelstein continues to say, the Mets can afford to pay full salaries to move guys. Could be a good fit for a small market team.
Randal Grichuk – Colorado Rockies
2023 Stats: .307/.364/.478, 6 HR, 25 RBI, 113 wRC+
Grichuk was once known for his power, but has transitioned into more of a singles and gaps hitter. Another platoon type player, Grinchuk feels like the type of player that is extremely likely to be moved. I think he could bring more value than most give him credit for.
Max Kepler – Minnesota Twins
2023 Stats: .229/.293/.431, 14 HR, 38 RBI, 99 wRC+
The idea of Max Kepler has always been better than the actual player. The Twins have a lot of lefty bats that need playing time, especially in the outfield, and I think it's time to move on from Kepler. He comes with a $10 million club option for next year, so more than likely will be an expiring contract with a $1 million buyout.
Starting Pitcher
Rich Hill – Pittsburgh Pirates
2023 Stats: 4.82 ERA, 4.42 FIP, 114 IP, 97 K
Rich Hill is 43 years old and has been in the league since 2005. You know what he is, a crafty lefty on his last leg who can eat some innings, and have a surprisingly good outing on occasion. Get him off the Pirates.
Kyle Hendricks – Chicago Cubs
2023 Stats: 3.45 ERA, 4.05 FIP, 70.1 IP, 46 K
I love Kyle Hendricks. Something about his craft and lack of velocity is a great change of pace. Oh yeah, he's pitching pretty well, too! Cubs might have to eat some money here, but he makes since for a team needing a back of the rotation guy. Will likely have to pay his $1.5 Million buyout to avoid the $16 million club option for next season.
Drew Smyly – Chicago Cubs
2023 Stats: 4.69 ERA, 4.82 FIP, 103.2 IP, 91 K
A similar profile to Hendricks, but the difference is Smyly comes with a contract for $8.5 million next season. He'll be 35 years old, and it's not an egregious amount of money, but I could see teams wanting to spend that coin elsewhere. If the market runs dry, I guess he's a cheap last resort.
Trevor Williams – Washington Nationals
2023 Stats: 4.47 ERA, 5.45 FIP, 104.2 IP, 77 K
Another innings eater who doesn't strike many out. Williams is a typical number five who can get you through the dog days and pitch multiple roles. He's been used out of the bullpen and as the long man. You are on the hook for $7 million next year, so take that into consideration.
Bullpen
Jose Cisnero – Detroit Tigers
2023 Stats: 3.96 ERA, 4.40 FIP, 38.2 IP, 43 K
Cisnero is a rental who has filled some high leverage innings at times. The 34 year-old veteran is consistent and has a solid track record. A low cost option.
Jason Foley – Detroit Tigers
2023 Stats: 2.03 ERA, 2.27 FIP, 44.1 IP, 39 K
The groundball machine! Foley has had a groundball rate over 57% in his career thanks to a great sinker. With multiple years of control and plus production, he won't come cheap, but he's worth it. A seventh or eighth inning guy you can rely on.
Isiah Campbell – Seattle Mariners
2023 Stats: 1.50 ERA, 3.12 FIP, 6 IP, 8 K
Campell is the only "prospect" I added to this list. I think he could slot into a bullpen today and give you production. The Mariners will need to get creative if they want to add and their bullpen has enough pieces they could stomach this move. With this much control and upside, he'd come with a steep price.
Sam Moll – Oakland Athletics
2023 Stats: 4.46 ERA, 3.28 FIP, 36.1 IP, 44 K
Brooks Raley – New York Mets
2023 Stats: 2.57 ERA, 4.11 FIP, 35 IP, 38 K
Brent Suter – Colorado Rockies
2023 Stats: 2.51 ERA, 3.18 FIP, 46.2 IP, 38 K
Let's finish up with some lefty relivers. All three are not exactly sexy names, but effective enough to find their way on contenders.