Rankings
The Best MLB Utility Players for 2023
The firefighters of the roster often go under-appreciated. Here are the best Swiss Army Knives in the game.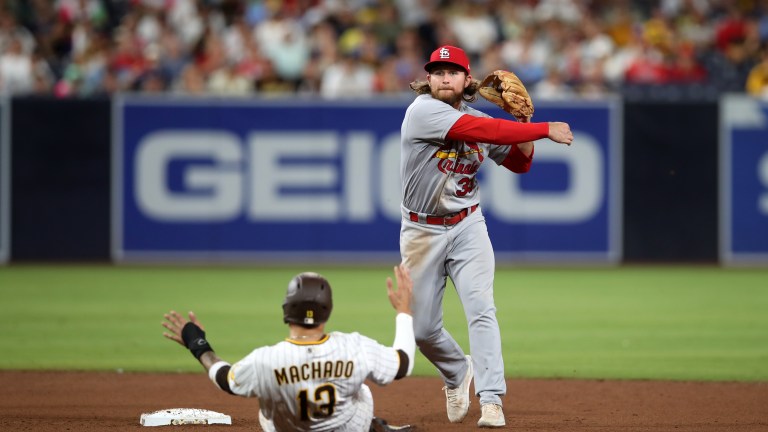 All 30 clubs consistently clamor for a "super-utility" man who can provide good-to-great defense at a handful of positions while also carrying their weight offensively. Few teams actually find these players, but when they do, they tend to be the unsung heroes of World Series caliber rosters.
Honorable Mention: Whit Merrifield – Toronto Blue Jays
2022 Traditional Stats: 139 GP, .250/.298/.375, 11 HR, 58 RBI, 16 SB
2022 Advanced Stats: 1.5 fWAR, 88 wRC+, 15.5% K%, 6.9% BB%, 6 OAA
Positions (Career Games Played): 2B (634), RF (175), CF (88), LF (38), 1B (15), 3B (6)
One of the most prolific base stealers in Major League Baseball in recent memory, Merrifield has logged three 30+ stolen base seasons, including an incredible 40-44 SB season during an All-Star campaign in 2021. However, Merrifield's production tumbled last year in large part due to his .298 OBP, over 30 points below his career mark.
Regardless of plate discipline or impact on the basepaths, Merrifield is as reliable as they come in regards to availability. From the start of the 2019 season to the end of the 2021 campaign, Merrifield didn't miss a single game. After playing in 139 games in 2022, it seems that he may be ready to be on John Schneider's lineup card every single night, if given the opportunity.
Honorable Mention: Santiago Espinal – Toronto Blue Jays
2022 Traditional Stats: 135 GP, .267/.322/.370, 7 HR, 51 RBI, 6 SB
2022 Advanced Stats: 2.3 fWAR, 99 wRC+, 13.8% K%, 7.3% BB%, 9 OAA
Positions (Career Games Played): 2B (120), 3B (94), SS (32)
What's better than having one super utility player? Having TWO super utility players! That's the Blue Jay blessing with both Merrifield and Espinal, who is a bit more pigeon-holed in the infield dirt. However, Espinal can give Chapman, Bichette, or Merrifield/Biggio a day off their feet on any given night, and may even challenge for the starting second baseman job out of camp.
Slugging is sparse for Espinal, but he makes up for lack of impact with consistent contact. Espinal's strikeout rate sat under 14% last season, and he find s the holes in the infield and walks enough to hit at a league-average level. Espinal, while maybe not the most flashy, is one of the safest bets in Major League Baseball.
5. Chris Taylor – Los Angeles Dodgers
2022 Traditional Stats: 118 GP, .221/.304/.373, 10 HR, 43 RBI, 10 SB
2022 Advanced Stats: 1.9 fWAR, 93 wRC+, 35.2% K%, 9.7% BB%, 3 OAA
Positions (Career Games Played): SS (259), LF (257), CF (196), 2B (146), 3B (39), RF (21)
2022 was a down year for Taylor after putting pen to paper on a four-year, $60 million contract last offseason. He saw his OPS drop over 100 points, in large part because he got on base at the worst clip of his career in years that he played 50 or more games.
While the strikeout bug has always nibbled at Taylor, it took a mammoth bite out of his last season, as he punched out at a 35% clip. If Taylor cuts the K's back to his mid-to-high 20% range, his impact will be much more positive for a team that needs him to be great in the wake of Gavin Lux's injury news.
4. Brandon Drury – Los Angeles Angels
2022 Traditional Stats: 138 GP, .263/.320/.492, 28 HR, 87 RBI, 2 SB
2022 Advanced Stats: 3.0 fWAR, 123 wRC+, 22.2% K%, 6.7% BB%, 1 OAA
Positions (Career Games Played): 3B (211), 2B (192), LF (76), RF (57), 1B (48), SS (11)
A breakout star for the Cincinnati Reds last year, Drury used an All-Star caliber season and a Silver Slugger honor to ink a two-year, $17 million deal to play all over for the Angels. While he may serve as the primary second baseman this season, Drury can serve as a firefighter if Anthony Rendon struggles to make it through the season, or Hunter Renfroe or Taylor Ward struggle to stay on the field.
3. Luis Urias – Milwaukee Brewers
2022 Traditional Stats: 119 GP, .239/.335/.404, 16 HR, 47 RBI, 1 SB
2022 Advanced Stats: 2.3 fWAR, 110 wRC+, 21.0% K%, 10.6% BB%, -2 OAA
Positions (Career Games Played): 3B (172), SS (141), 2B (119)
One of the more underrated players in the National League, Urias has been an exciting piece in Milwaukee for a couple of years now. His career .728 OPS is hampered by some early struggles in San Diego, as he's logged a .766 OPS with 42 doubles, 39 home runs, and 122 RBIs over the last two seasons. Brewers fans certainly understand and appreciate Urias' value, but the baseball world may come to know him if Mexico shows strong in the World Baseball Classic.
2. Ha-Seong Kim – San Diego Padres
2022 Traditional Stats: 150 GP, .251/.325/.383, 11 HR, 59 RBI, 12 SB
2022 Advanced Stats: 3.7 fWAR, 105 wRC+, 17.2% K%, 8.8% BB%, 8 OAA
Positions (Career Games Played): SS (166), 3B (47), 2B (21)
Never have I ever seen a shortstop with a 105 wRC+ displace Fernando Tatis Jr., until now! Ha-Seong Kim struggled mightily in his first season stateside in 2021, but rebounded beautifully to accumulate nearly four WAR in 2022.
Kim's prowess shows defensively, grading out as one of the better defensive shortstops in all of baseball last year by many advanced metrics. With $280 million man Xander Bogaerts' arrival in San Diego, Kim will be shifted to second. Expect a Nico Hoerner-type narrative around Kim this year; excellent shortstop, turned all-world second baseman.
1. Brendan Donovan – St. Louis Cardinals
2022 Traditional Stats: 126 GP, .281/.394/.379, 5 HR, 45 RBI, 2 SB
2022 Advanced Stats: 2.7 fWAR, 129 wRC+, 15.0% K%, 12.8% BB%, -3 OAA
Positions (Career Games Played): 2B (38), 3B (31), RF (20), LF (19), 1B (16), SS (7)
Donovan quickly became one of the safest bets in all of baseball during his rookie season in 2022. While his power may not show in droves, Donovan got on base at an elite level, logging a .394 OBP with a 13% walk rate and a 15% strikeout clip. His consistent presence on base certainly helps the Cardinals lineup, but his true value comes in how much he can do with the glove. Donovan played six positions, with no more than 38 appearances (second base) and no fewer than seven appearances (shortstop) at every spot. He was ultimately deserving of the first Utility Gold Glove handed out in the National League.