Analysis
The Astros Have a Decision to Make in Center Field
Between Chas McCormick and Jake Meters, the Houston Astros have a few different options they can turn to for playing time in center field.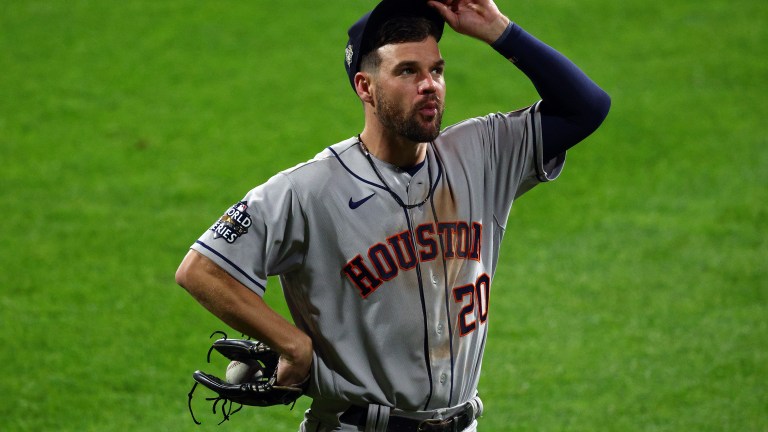 Written By: Tomas Romo
Houston Astros manager Dusty Baker will have a decision to make in center field come Opening Day. Chas McCormick became a hero overnight after his game-saving catch in Game 5 of the World Series. He came into Spring Training with the advantage over Jake Meyers, who hasn't gotten back to form since tearing his labrum during the 2021 ALDS. However, Meyers is back at full strength and will compete with McCormick for the starting role in center field for the defending champions.
Both players will likely make the Opening Day roster due to outfielder Michael Brantley still recovering from offseason shoulder surgery. For the Astros they still haven't gotten consistent production out of that position since George Springer left for Toronto in free agency back in 2020.'
Last season the Astros tried to find production from multiple players such as McCormick, Meyers, Mauricio Dubon, and Jose Siri. Those four combined to hit .210 with a .598 OPS. Those numbers won't cut it for a team looking to win back-to-back World Series titles, as they will need more production from that position going forward.
Many forget how productive Meyers was for the Astros upon getting called up back in 2021. He appeared in 49 games and batted .260 with six homeruns, twenty-eight RBIs, and a .761 OPS.
Going into the 2021 postseason Meyers was one of the Astros' hottest hitters and it looked like he had the center field spot locked up for the foreseeable future. That all changed after his injury, but heading into camp this is the healthiest Meyers has been in the last two years.
McCormick on the other hand has been an above average defensive centerfielder finishing sixth in outs above average and eighth in WRC+ over the last two seasons. He hit .245 with a .738 OPS but will need to improve against right-handed pitching. Against right-handers last year he had a .645 OPS and will need to be more disciplined at the plate. He strikes out more than most Houston hitters but finished 2022 in the 61st percentile in xwOBA.
Frankly, the job is McCormick's to lose. With centerfield being Houston's one question mark heading into the season one of these players will have to step up and show that they can remain healthy and consistent over the course of the year. The Astros can't afford another mediocre season out of their centerfielders if they want to repeat as World Series champions.