Analysis
Houston Astros' Chas McCormick Is Quietly Having a Great Season
Fresh of winning his first ever AL Player of the Week, Astros' Chas McCormick is starting to get noticed for his breakout season in Houston.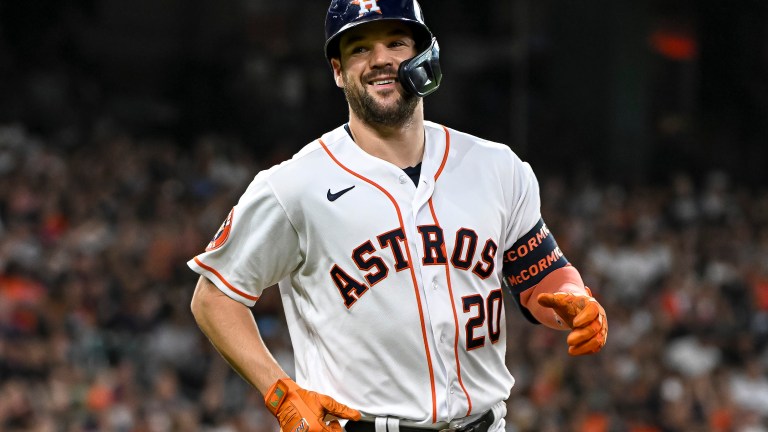 On Monday, MLB announced that Houston Astros outfielder Chas McCormick had been selected the AL Player of the Week. That would make sense given that he went 7 for 11 last weekend against the Los Angeles Angels. He also hit three home runs — two of them in the series finale.
Add to those homers five RBI, and three walks, so not bad. Coming out of the All-Star Break, McCormick has been on fire.
Now in his third season, it was McCormick's first career Player of the Week Award.
"It feels awesome," he said of winning the award.
He continued, "It's awesome because there's a lot of good hitters in this league, and it's super tough. To be able to have those good three games after the All-Star Break was huge for me — just to carry momentum after the break, it means a lot."
But he gives credit to his coaches and teammates as well: "I think just the work's starting to pay off, and I've got to give credit to the hitting coaches and some of my teammates, so that's amazing."
His play last weekend should come as no surprise.
So far in 2023, McCormick is slashing .286/.372/.531with a wRC+ of 151 (His career average 111 coming into the year). On the Astros roster, he is tied with Yordan Alvarez as the team's second-most-valuable player, worth 2.2 fWAR. His wRC+ is third, and he is third in stolen bases.
To be fair, he's always been a solid player, but what's different this year?
Much of it, he credits to experience.
"You learn a lot in the big leagues year after year," he said. "You just kind of know how hard this league is. So even when you have sort-of-okay games or not-the-best games, you've got to take it, find the positive in each at-bat, and move on. You can't be upset with things because this game moves too fast, the game's too tough and every day, you have chance to create an opportunity that no one else really can."
McCormick added, "I think learning the ups and downs, the mental approach throughout the big leagues. I think that's helped me a lot."
He also likes MLB's new rules — though it's taken some adjustment.
"At first, I didn't like the pitch clock that much," he said. "I remember in Spring Training this year, the first game was so different. But it's actually grown on me. I like the pitch clock, it keeps the game moving, and I'm starting to enjoy it."
The larger-sized bases are helpful as well. He's also already stolen nine bases. (In each of the last two seasons, he stole four.)
"You know," he said, "my agent told me I needed to start stealing some bags, and it's been helpful with the bigger bags."
Meanwhile, his defensive game remains solid. His five DRS are second only to Mauricio Dubon's seven on the Astros' roster.
It's worth noting, too, that McCormick is the product of a DII school, Millersville's University of Pennsylvania.
For him, it was a key experience, teaching him to play with "a chip on his shoulder."
"I remember coming out of high school," McCormick said, "I wanted to play Division I as all kids do. I didn't get that many Division I looks, and obviously I went to a good Division II program. We went to the World Series my junior year, and we went to the Division II championship my sophomore year, so it was a good Division II program."
He added, "Baseball is kind of the game that anything can happen, and anyone can can surprise you in this game. So I think it just helped me mentally stay strong."
McCormick is part of a team feeling good about itself after the Angels series.
"You go through a lot in the season," McCormick said. "Obviously, we're missing some firepower, but we have a lot of guys that can step up. It's kind of like the next-man-up mentality."
Being familiar with his teammates and the organization's strategy helps.
"I played with a lot of these guys in the minor leagues," McCormick said. "It's cool to see a lot of new guys on this team. And it just tells you about our character. It's kind of how our organization runs. I've been in the playoffs these past two years, and you can just tell when stuff hits the fan, we don't get give up or drag our towel or be upset about anything because we know we're a good team, even if we're missing a couple guys."
Plus, the Astros recognize that their competition is good.
"You just know how hard this league is," McCormick said, "So you kind of have to know every team is good in this league. So we can win a couple, lose a couple, but every day that's just going to happen. You have to be ready to go."
For an Astros team that has experienced its share of injuries, players like Chas McCormick finding a next gear has helped keep them in the hunt for postseason play.