Analysis
Houston Astros Offseason Outlook for 2023-2024 Free Agency
The Houston Astros won the AL West and came within one win of returning to the World Series. Let's check out their upcoming offseason plans.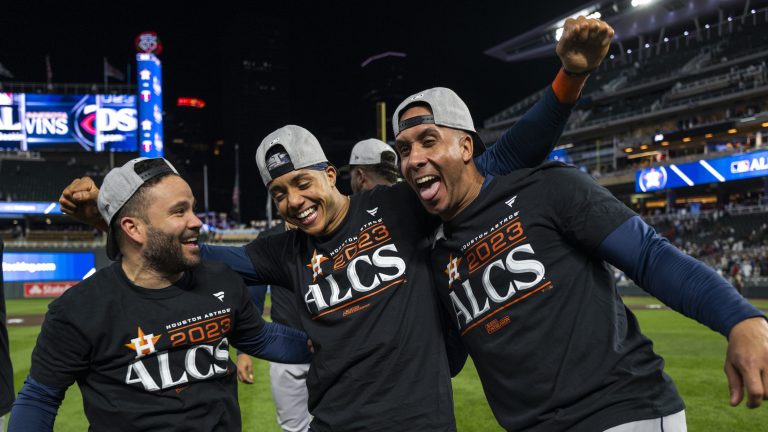 It wasn't so long ago that the Houston Astros were the laughing stock of Major League Baseball. At one time, they played the role of annual cellar-dwellers in the NL Central and eventually the AL West.
For the past eight years now, the organization has been remade into a consistent threat to win the World Series. As a matter of fact, they have done so twice in that span; beating out the Dodgers in 2017 and the Phillies in 2022. The Astros had also made it to the Fall Classic in 2019 and 2021 but lost to the Nationals and Braves, respectively.
Entering the 2023 campaign, the Astros were very much expected to go back-to-back as champions. A returning core of position players Jose Altuve, Alex Bregman, Kyle Tucker and Yordan Alvarez; as well as pitchers Framber Valdez, Luis Garcia and Cristian Javier seemed to be more than enough to get the team back to the promised land.
Thanks to some breakout performances from unheralded names like Yanier Diaz and Chas McCormick, most of the Astros' offense remained elite. Justin Verlander was brought back to Houston at the trade deadline and things seemed to be trending in the right direction.
In the end, it just wasn't enough. The defending champions made it to the ALCS but lost to their division rival Rangers in 4-3 fashion. This missed opportunity led to manager Dusty Baker officially announcing his retirement from the game after 26 seasons.
What Went Wrong for the Astros in 2023
For a 90-win team that nearly made it back to the World Series, there's a large list of things that didn't go their way.
Offensive contributors
José Abreu, the big offensive free agent acquisition, flopped in a big way. Jeremy Peña was "just okay" after a promising rookie campaign the year prior. Corey Julks and Jake Meyers, who got a ton of playing time in the outfield, both hit under .250 with an OPS+ below 90.
Then there's catcher Martín Maldonado, who has always had a poor bat but is excellent defensively. This year, he hit .191 with a .606 OPS which makes him one of the weakest bats in the game. Behind the plate, the former Gold Glove-winner was statistically the worst framing catcher in all of baseball. At -17, his Catcher Framing Runs was easily the lowest in the game. That's quite the fall from grace from someone whose only tool worth noting comes from his defense.
Question marks on the pitching staff
On the pitching side of things, Javier was not able to replicate his incredible 2022 performance. Instead, he finished the year with a 4.56 ERA and 92 ERA+ in 31 starts.
Same goes for Hunter Brown, who had a 0.89 ERA in 20+ innings last year. He posted an ERA above 5.00 and an ERA+ of 83 in 2023. Both were expected to be crucial parts of the Astros' rotation but they did more harm than good.
Above all, though, it was the injury bug that did the Astros in more than anything else. Altuve made it into just 90 games and while he was dominant when he played, his presence was sorely missed. The oft-injured Michael Brantley made just 15 appearances of his own, as he continues to spend much more time on the shelf than on the field.
Pitchers Luis Garcia (elbow discomfort that led to Tommy John surgery) and José Urquidy (shoulder soreness) made a combined 16 starts along the way and were of little to no help to an Astros squad that could've used their contributions.
What Went Right for the Astros in 2023
With the amount of things that went wrong for this Astros team, you may not believe that anything went right for them this year.
However, the offense banded together to rank fifth in the American League in home runs, third in runs scored and third in batting average. The offensive unit also had the second-lowest strikeout percentage in the AL.
A total of 10 position players appeared in 100 or more games for this year's Astros. Of that group, five of them had an OPS+ north of 100 and seven had 15 or more home runs.
When it comes to the pitching staff, things weren't quite as strong as they were on the offensive side, but there were still some encouraging marks. For instance, the staff was fifth in the AL in strikeouts, third in left on base-percentage and had the sixth-lowest batting average against.
On an individual basis, Valdez was the ace-like presence atop the Astros' rotation that they needed after Verlander signed with the Mets. The former made 31 starts and had a 3.45 ERA and 122 ERA+ this year, while the latter returned at the deadline and made 11 starts of 3.31 ERA-ball.
The bullpen was excellent, too, especially the quartet of Ryan Pressly, Bryan Abreu, Hector Neris and Phil Maton. Amongst this group, the highest ERA was 3.58 and each of them had an ERA+ of 118 or higher.
Pending Free Agents
C Martín Maldonado, RHP Phil Maton, RHP Ryne Stanek, OF Michael Brantley
Option decisions: RHP Hector Neris ($8.5M player option, $1M buyout)
Fortunately for the Astros, nearly all of their big names are locked up to guaranteed contracts. This means none of the pending free agents are likely to leave a huge hole on the roster if they depart.
Maton and Stanek were both heavily relied upon relievers who played key roles this year, but both are replaceable.
Maldonado's previously mentioned struggles likely mean that he's gone as well. For years, Dusty Baker had an affinity for him and now that Baker's retiring, Maldy's days in Houston are likely done.
Arbitration-Eligible Players
This list is courtesy of MLB Trade Rumors. MLBTR provides their estimates of what the player should earn in arbitration as well.
RHP Luis Garcia, $2.1M
LHP Framber Valdez, $12.1M
RHP Jose Urquidy, $3.5M
OF Kyle Tucker, $12.6M
OF Chas McCormick, $3.1M
RHP Bryan Abreu, $2M
INF/OF Mauricio Dubon, $3.1M
The Astros are one of only a few teams in the league that have zero obvious non-tender candidates. Each of the above group are expected to return and fill prominent roles on the 2024 team.
What Do the Astros Need From Free Agency This Offseason?
A quick look at their depth chart suggests that the answer to this is, "not much".
As of right now, the infield is completely set with Bregman, Peña, Altuve and Abreu on-hand from left to right.
In the outfield, there feels like a potential opening in center field. With Meyers failing to take any substantial steps forward in his development, he should not be guaranteed a starting spot next year. Dubon is on-hand as a utility-type backup, but let him bounce around the diamond instead of being tied to one spot.
There's also going to be an opening at catcher. Maldonado is all but guaranteed to be moved on from, which would move Diaz to a starting role; one he has more than earned. A backup catcher is absolutely going to need to be brought in.
Other than that, left-handed relief pitching needs to be targeted as well. Current 40-man options in the 'pen include the likes of Bennett Sousa, Parker Mushinski and Matt Gage. Nothing to write home about.
Offseason Free Agent Targets
Starting with center field, Kevin Kiermaier feels like a strong fit for the Astros. The defensive wizard had a strong season up north in Toronto, posting a 104 OPS+ while appearing in 129 games. His slight offensive boost above career norms may allow him to ask for a bit more money this offseason, but the Astros should pay up if they're serious about an upgrade. Realistically, he should only command a two-year deal, as he is already 33 years old.
Mitch Garver is the premier catcher available in free agency this offseason. His strong season likely means he'll demand a starting catcher's salary, which the Astros likely won't want to guarantee. Second-tier options include Victor Caratini, Gary Sanchez, Tom Murphy and Austin Hedges. Hedges is another defensive stalwart but Houston may not want to bring aboard Maldonado 2.0.
The relief-pitching free agent market isn't going to be filled with household names. Josh Hader, Matt Moore and Aroldis Chapman are going to be the best-available southpaws. As of right now, all three of them are fits in Houston. Brent Suter, old friend Will Smith and Andrew Chafin (should the Brewers decline his club option) are also fits. In this case, the Astros should go big or go home.
As of right now, the Astros are firmly in their contention window. Luckily for them, it's been a long-term window and it doesn't seem to be in danger of closing anytime soon. In the least amount of words possible, their goal this offseason should be to target the best-available options to fill the few roster holes they have moving forward.