Analysis
The 2016 Dodgers Draft Class Could Be the Best Ever
When it comes to drafting in Major League Baseball, it is hard for any team to do better than the Los Angeles Dodgers did back in 2016.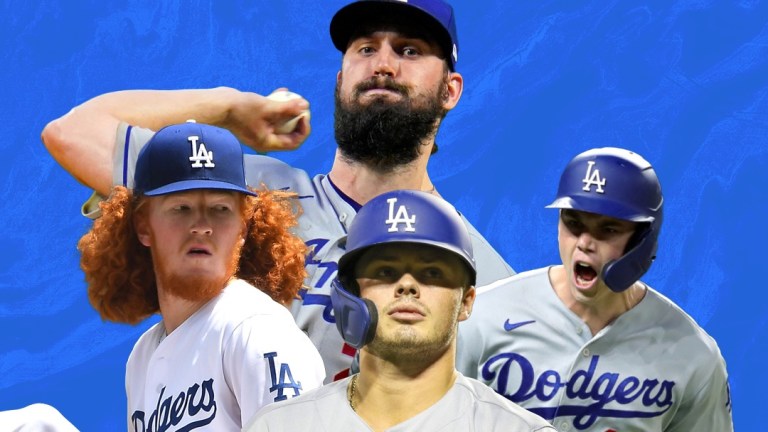 It may sound hyperbolic, however already less than six years after the 2016 MLB Draft, the Los Angeles Dodgers have churned out an absurd number of big leaguers from one class. Several players are no longer with the team, either traded over the last five seasons or selected in the Rule 5 Draft, but that does not take away from how impressive it is that the Dodgers identified 13 future MLB players, with more likely to come.
A half century ago, the Dodgers put together what is widely considered as the best draft class ever. The 1968 group included Bill Buckner, Steve Garvey, Bobby Valentine, Davey Lopes, Tom Paciorek, Doyle Alexander, Geoff Zahn and Joe Ferguson. That group may never be topped, however since 2000, you will be hard pressed to find a better draft than the 2016 Dodgers.
One other absurd class that is worthy of recognition is the 2009 Angels. Of course Mike Trout instantly makes it an all-time group, especially when you consider the fact that he was drafted 25th overall. Trout was joined by Garrett Richards, Randal Grichuk, Patrick Corbin and the late Tyler Skaggs, which is right up there with any group in recent memory.
The amazing thing about this 2016 Dodgers draft is that it is only going to get better as we go on. Will Smith is quickly developing into one of the best catchers in baseball, Dustin May was looking like a potential frontline starter before going down with Tommy John surgery and Gavin Lux has All-Star upside if he can put it all together.
Beyond the star power, the sheer volume is what is most impressive. According to Baseball America, less than 10% of MLB draftees who sign in a 40-round draft will ever manage more than 0.1 WAR; for context, that is a little over 80 players per class.
Gavin Lux (SS/2B) – 1st Round (20)
Former No. 2 overall prospect in baseball after putting up video game numbers in the Minor Leagues, Lux is still working to put it all together at the highest level. Despite a light-hitting year, Lux posted a 1.6 bWAR last season and has appeared in each of the last two postseasons for the Dodgers.
The jury is out on whether Lux can achieve his All-Star ceiling, however he is still a more than solid MLB piece with plenty of upside.
Will Smith (C) – 1st Round (32)
The best player in this Dodgers draft class and arguably one of the best catchers in baseball already, Smith would probably be the top overall pick if we did a redraft. Instead, all 29 other teams passed on the star catcher who has already launched 48 home runs in his 221 game career.
Jordan Sheffield (RHP) – 1st Round (36)
As always, the Dodgers 40-man roster was loaded in 2020 and as a result, Jordan Sheffield was the odd man out. The Rockies took Sheffield in the Rule 5 draft and the right-hander was great for them in relief in 2021, pitching to a 3.38 ERA in 29 1/3 innings.
Mitchell White (RHP) – 2nd Round (65)
Only four pitchers from the second round have made MLB debuts and White is the only arm with an ERA below 4.00. White made 21 appearances for the Dodgers last year, including four starts, pitching to a 3.66 ERA in 46 2/3 innings.
Dustin May (RHP) – 3rd Round (101)
The only guy in this draft class who could have a chance to give Will Smith a run for his money is Dustin May. The flame throwing 24-year-old looked to have put it all together in 2021, dominating through his first five starts before unfortunately seeing his season end due to Tommy John surgery.
May saw himself ascend to a consensus top-100 prospect as his sinker ticked up to triple digits helping him dominate the upper minors. We probably won't see the right-hander until later in the 2022 season, but May has frontline upside and has already given us a taste of it.
D.J. Peters (OF) – 4th Round (131)
Peters dominated MiLB pitching, hitting 52 home runs over 257 games in Double and Triple-A in 2018 and 2019. Due to early season injuries in 2021, Peters made 18 starts for the Dodgers before being claimed off wavers by the Texas Rangers. In 70 games last year, Peters hit 13 homers, however posted a weak line of just .197/.242/.422.
Devin Smeltzer (LHP) – 5th Round (161)
Drafted out of JuCo power house San Jacinto Community College, Smeltzer looked strong as a starter at the lower levels for the Dodgers before being traded to the Twins as part of the package for Brian Dozier.
Smeltzer has now pitched in parts of three MLB seasons, recording a 4.26 ERA in 69 2/3 innings. As they say, left-handed pitchers tend to stick around and I have a feeling Smeltzer will hang around the big leagues for some time.
Errol Robinson (INF) – 6th Round (191)
Didn't crack the big leagues, but made this catch in independent league baseball.
Luke Raley (OF) – 7th Round (221)
Another player thrusted into the lineup for the Dodgers due to their litany of injuries in 2021, Raley struggled to just a .538 OPS in 33 games. Raley was sent back down to Triple-A in May where he hit .294/.393/.570 with 19 HR in 318 PA's. His performance earned him a promotion again at the end of the season, homering in his final regular season game.
Though an overall disappointing MLB campaign in 2021, Raley could be a good left-handed bat off the bench for the Dodgers and will likely get a look this spring to potentially crack the Opening Day roster.
Andre Scrubb (RHP) – 8th Round (251)
Traded to the Astros for Tyler White, Scrubb has thrown 41 1/3 innings in relief for Houston with a 3.32 ERA. A shoulder injury held Scrubb back in 2021, however the righty should still get plenty of opportunity out of the Astros bullpen in 2022.
Tony Gonsolin (RHP) – 9th Round (281)
Gonsolin missed much of 2021 with a shoulder injury, but has been great while on the field. The former ninth rounder out of St. Mary has a 2.85 ERA in 142.1 IP over the last three seasons. Gonsolin should compete for a rotation spot in 2022.
AJ Alexy (RHP) – 11th Round (341)
Drafted out of High School and signed away from Radford University for $500K, Alexy had a great start to his professional career before being packaged in a trade with Willie Calhoun to go get Yu Darvish from the Rangers.
Alexy made his MLB debut last season, pitching to a 4.70 ERA in 23 IP. The 23-year-old showed enough last year in spurts to get some more innings next year either out of the bullpen or in a swingman role.
Cody Thomas (OF) – 13th Round (431)
Traded to the Athletics for Sheldon Neuse. Posted a 1.028 OPS in Triple-A with 18 HR in 59 games. Thomas should get a big league look next year as the A's rebuild.
Dean Kremer (RHP) – 14th Round (431)
Kremer had an insane 2018 season in High-A and Double-A, striking out 12.2 batters per nine innings, boosting his stock, before being packaged for Manny Machado. Kremer has not been great at the MLB level, pitching to a 6.94 ERA in 72.1 innings, but hey, he still helped the Dodgers get Machado and he is a big leaguer.
Zach McKinstry (UTIL) – 33rd Round (1001)
Not the most exciting player in the world, however he still appeared in 60 games for a 105-win Dodgers team and hit seven home runs. McKinstry looks to be a bench piece for the Dodgers next season as well.
Drafted But Not Signed
Graham Ashcraft (RHP) – 12th Round
Did not sign, but it was a great pick. Ended up pitching at UAB where he was later selected in the sixth round by the Reds. Now our No. 5 prospect in their system and one of my favorite underrated arms in the minors.
Bailey Ober (RHP) – 23rd Round
Went to college of Charleston where he was later selected by the Twins in the 12th round of the 2017 MLB Draft. Made 20 starts last year, pitching to a 4.19 ERA.