Analysis
Breakout Pitching Prospects For 2022
These pitching prospects could make huge leaps in 2022.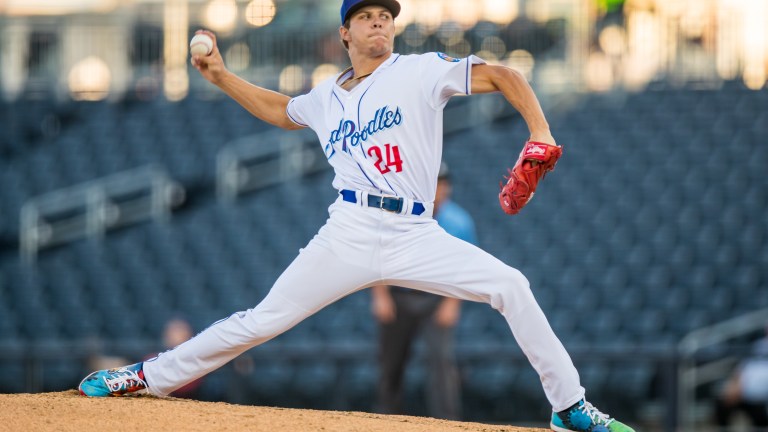 The stock of pitching prospects tends to be even more fluid than position players because there are so many different ways to take that next step. A pitcher can improve his command, add a new pitch, add velocity, improve his secondaries or a little bit of everything. The point being, there are a lot of candidates who could explode this season. Here are some of my favorites.
Drey Jameson – RHP – Arizona Diamondbacks
The 34th overall selection in 2019's MLB Draft, Jameson struggled with command a bit in his very brief pro debut in 2019, but looked the part of a top 100 prospect in many outings last year. Jameson's fastball ticked up to 96-98 mph with a ton of life.
The 24-year-old gets plenty of swings and misses up in the zone on the pitch, but also freezes a ton of hitters at the knees thanks to the lack of vertical drop. Jameson struggled at times to hit his spots with the heater which resulted in a bit of susceptibility to the long ball though Jameson has improved mightily with his overall control.
The former Ball State Cardinal has a pair of nasty breaking balls that he deploys as well. The slider boasts sharp and late bite in the 85-87 mph range and Jameson locates the offering well to his glove side. Jameson's sweeping curveball is a bit more devastating break wise and as a result, he struggles to command the pitch as well as his slider.
Jameson will also mix in a changeup which is his distant fourth pitch. The offering can get a bit firm on him though it flashes average. With a plus heater and two above average to plus breaking balls, there is plenty to like here with Jameson. If the right-hander's changeup can even progress to average and or his command improves a tick, expect Jameson to light up the K column next season.
Dax Fulton – LHP – Miami Marlins
A second round pick in Miami's loaded 2020 draft class of pitchers, Fulton was on the mend from Tommy John surgery when he heard his name called. Standing at a towering 6-foot-7, 230 pounds, Fulton has a ton of projection in him and already exciting stuff.
The southpaw's fastball sat 92-94 mph in his return from TJ last season, though the Marlins believe there is plenty more velocity in the tank. Even in the low 90s, Fulton's fastball gets in on hitters quickly thanks to its high spin and the extension he creates.
Fulton's calling card is his 1-7 breaking ball which is a good swing and miss pitch to both lefties and righties. A big focus for Fulton has been his changeup and he showed progress in that regard as the season went on. The 20-year-old has an above average three pitch mix and now with his surgery and first professional season in the rearview mirror, watch out for the tall left-hander to take it to the next level next year.
Gavin Williams – RHP – Cleveland Guardians
Not quite as much of a "breakout" candidate given the fact that he was drafted 23rd overall in last year's draft, Williams makes the list because I think he is going to exceed expectations from the jump.
The former East Carolina Pirate really shot up draft boards after matching Kumar Rocker in the Super Regional while sitting in the upper 90s. Williams was lights out all season for ECU, punching out more than 14 batters per nine while only walking a little over two.
On top of his plus plus heater, the 6-foot-6 right-hander possesses a plus curveball, above average slider and average changeup. Williams' curveball has big time 11-5 break that just dives under barrels while his less devastating slider is spotted well enough to help it play up. I expect Williams to overpower hitters in the lower levels and find his way in Double-A as quickly as anyone in the draft class not named Jack Leiter.
Gavin Stone/Nick Nastrini – RHP – Los Angeles Dodgers
It is only natural that the Dodgers give us a pair of exciting right-handers given their absurd ability to identify and develop talent. Starting with Gavin Stone, the Central Arkansas product has shown a lot of promise in the early going of his professional career. Stone possesses a mid 90s fastball along with an above average slider in the upper 80s and above average changeup which has a chance to be his best offering.
Nick Nastrini is less likely to stick in a rotation, however his stuff stacks up with just about anyone in the minors. The 22-year-old's fastball sits 96-98 mph and his big power curve with 12-6 break is on the verge of unhittable. A fourth round pick in last year's draft, Nastrini struck out an unfathomable 30 batters in just 13 innings (that's 20.77 K/9 if you're wondering).
Command was a major issue for Nastrini at UCLA, in fact, it was probably the only thing that kept him outside of the top two rounds. To put in perspective just how highly the Dodgers regard Nastrini's stuff, they took him in the fourth round despite his 38 walks in 31 1/3 innings. The Dodgers bet on their ability to develop and I'm going to do the same here by putting him on our breakout list.
Listen to the full episode on Apple Podcasts by clicking here!