List
The Dodgers Should Target These Five Players Prior to the Deadline
While the Dodgers may play it cool at this year's deadline, here are a couple "big fish" fans can dream on.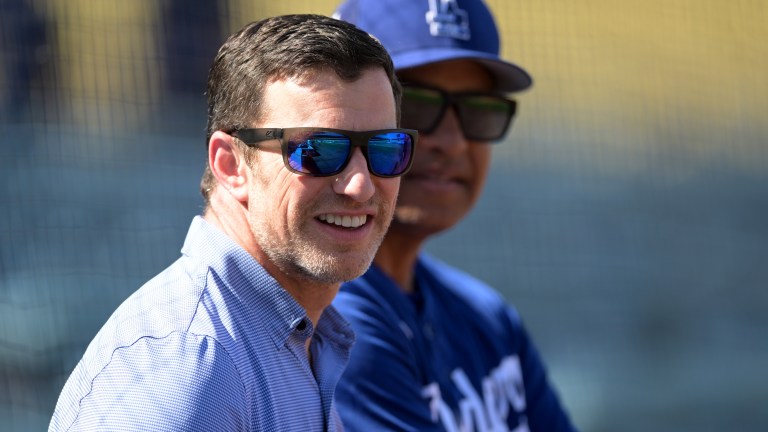 Andrew Friedman is an absolute wizard when it comes to building an MLB team. It helps that Friedman has nearly unlimited funds and an incredibly deep farm system to work with. During his time with Los Angeles, Friedman has helped net names like Yu Darvish, Brian Dozier, Manny Machado, and most recently Trea Turner and Max Scherzer at the trade deadline. This year, it appears the Dodgers will once again be right in the thick of things as far as competing for a World Series ring. This very well could be the final year for Clayton Kershaw, and considering there is still talk of an asterisk on their ring in a COVID-shortened 2020, Dodgers fans desperately want to clinch a title while the window remains as open as it is.

While the rankings will soon change with the MLB Draft, the Dodgers currently have six players in Just Baseball's Top-100 prospects: INF Miguel Vargas (No. 41), RHP Bobby Miller (No.49), OF Andy Pages (No. 50), C Diego Cartaya (No. 63), INF Michael Busch (No. 81), and RHP Ryan Pepiot (No.89).
Doing Nothing Could Make Sense
Don't expect any of these names to be on the move. Why? Because the Dodgers could win the World Series without making a single move at the deadline. Heading into the day, they are tied for first in the league with the Yankees in team OPS at .768. That mark is without having Mookie Betts or Max Muncy for a full season, a slow start from Justin Turner, and having Chris Taylor currently on the shelf. The Dodgers are currently in the top-10 of every major offensive category other than strikeouts (11th).

Despite injuries over the course of the season to the pitching rotation, including to three key pieces in Walker Buehler, Andrew Heaney, and Blake Treinen, the Dodgers find themselves ranked in the top three of every statistical pitching category outside of hit batters (22nd) and strikeouts (ninth). Imagine how strong the pitching could be when Blake Treinen returns in August and when Dustin May makes his debut in 2022 following Tommy John surgery. Danny Duffy is also sitting there waiting for his chance to return, making him a potential spot starter for LA.

The Dodgers lineup on paper was as potent as it could get to open the season. Even after the valleys, the Dodgers lineup is showing that their peaks can be lethal. Will Smith is fully ingrained at catcher, Freddie Freeman at first, Gavin Lux is solidifying a role at second, Trea Turner firmly at shortstop, Justin Turner breaking out again at third, and a healthy outfield of Chris Taylor, Cody Bellinger, and Mookie Betts will play any day. Trayce Thompson has been a great fill-in for Taylor in his absence. Max Muncy can play first, second, and third when he is not the designated hitter. Not to mention, the Dodgers do have their young crop of talent waiting in the wings in the case of injury.


The truth is that it is hard to envision the Dodgers making a big splash unless there was some kind of discount. While the numbers make it seem like this team is impossible to beat, there is one glaring hole on the team: Who will pitch the ninth inning? Over the last month, Craig Kimbrel has struggled to prove he can be reliable to finish out ball games. However, Evan Phillips and Brusdar Graterol have stepped up when called upon and have delivered in the frame. Alex Vesia has shown he can settle in and deliver when called upon. If Blake Treinen can return to his old ways, he may very well wind up finishing games in the ninth inning. The Dodgers don't need to make a huge splash for a reliever. Instead, the Dodgers could use the addition of a reliever who can become a bridge to the ninth inning and allow Dave Roberts and Andrew Friedman to mix and match as they love to do.

With all things considered, I don't expect the Dodgers to sit on their hands at the deadline. However, a major splash does not appear imminent for this 2022 squad. Below are the five players that make the most sense for the Dodgers to pursue prior to the deadline.
Brandon Drury
Sorry fantasy baseball owners, if Drury is traded to LA, he very well may lose his starting gig and therefore plenty of fantasy value. However, for the Dodgers, they'd be acquiring a versatile player who can essentially play any position and can hit lefty pitching (.333/.349/.704 slash line against lefties in 2022). He is a free agent at the end of the year, and the Dodgers can poach him without having to deal the world for him.
Joc Pederson
Okay, I know this seems incredibly unlikely. However, Joc is a free agent at the end of the year and the Giants may want to deal him if they decide they are far enough out of contention. It's not often you see trades within the division. However, Joc could actually provide the Dodgers value with depth similar to what he had done for them for so long in his Dodgers. He will not be too expensive to acquire, even with his All-Star season, and the appeal is there for the Dodgers to bring back his bat to pound righty pitching as he has all year. Joc probably wouldn't want to be in a platoon again, however, he sure would offer value in a lineup that could be completely balanced on both sides of the plate. Andrew Friedman has had a knack for bringing back former Dodgers during his tenure (Matt Kemp, Russell Martin, Trayce Thompson, among others), and Joc would provide depth the Dodgers could use to put them over the top.
Chad Kuhl
If you can't beat them, join them. Kuhl absolutely owned the Dodgers the last time he faced them and could very well be a solid piece to help add length in the rotation. While the Rockies should be listening to offers for C.J. Cron and Daniel Bard (who would be a great fit for the Dodgers), they have announced Kuhl is on the market. An in-division trade here makes sense for LA.
Luis Castillo

This name is going to be thrown down on every contender's page, and rightfully so. Castillo has been phenomenal this season and should only improve on a better team in a ballpark where the ball doesn't fly like it does in Cincinnati. If the Dodgers do make the push for this front-line starter, they will almost certainly have to part with one of their top prospects to acquire him. I don't see that happening, making this name the least likely candidate of the group to be acquired. However, a lot can change from now until the deadline and the health of the Dodgers rotation could dictate how necessary a move for Castillo is. Expect them to be in the hunt for him until the finish.
Michael Fulmer
This guy would be a great addition for LA, specifically because he's pitched as a high-leverage reliever as well as a closer. The Dodgers losing Daniel Hudson earlier this year could in essence replace him with Fulmer, who has posted great numbers in the Detroit bullpen with a 1.89 ERA and 1.02 WHIP. He's a free agent at the end of the year and that is music to the ears of Friedman, who has made it known he doesn't like trading for relievers. That makes sense when two of his more notable trades included dealing Yordan Alvarez and Oneil Cruz for middle relievers.
One More: José Abreu

I know I said five players, I'm going to have to have fun with this one. This is my "Send It" pick. If the Dodgers want to shock everyone and reel in a huge bat, Abreu may be the guy. He's a free agent, nearing the end of his career, and the White Sox should move him this deadline. While I see the odds of this move at less than a percentage, the Dodgers have enough depth pieces to make a move. Abreu could permanently DH, Muncy could move to second, and Lux can play the utility role of hopping between second and the outfield. If Taylor can't stay healthy, just imagine this lineup:

1. Mookie Betts – RF
2. Freddie Freeman – 1B
3. Trea Turner – SS
4. Will Smith – C
5. José Abreu – DH
6. Max Muncy – 2B
7. Justin Turner – 3B
8. Cody Bellinger – CF
9. Gavin Lux/Chris Taylor – LF

Sorry, you may have caught me dreaming there.

While names like Frankie Montas, Tyler Mahle, Whit Merrifield, Andrew Benintendi, Jorge Lopez, David Bednar, and Daniel Bard may seem appealing at the deadline, I don't expect the Dodgers to make an aggressive push for them. Expect the Dodgers to be in on everyone, however, don't be surprised if they walk away with very little from the deadline.